Homemade Dog Treat Recipes
for Overweight Dogs
Overweight dogs are often told the same thing ... No more treats. But that doesn't have to be the case. Some may need to give up treats high in fat and sugar, but still have a dog biscuit every now and then.
Fat Dogs Can Still Enjoy Beef Glazed
Green Bean Dog Treats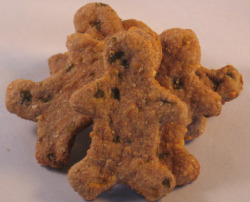 So, if you have overweight dogs that can have the occasional treat, make it a good one! Like this beef basted cheese and green bean dog treat recipe.
Ingredients:
1/2 cup shredded cheddar cheese, low or fat free
3 1/2 cups whole wheat flour
1/2 cup green beans, mashed (see note below)
1 cup beef broth, reduced sodium, plus 1/4 cup for glaze
1/4 cup milk, low or fat free
1 tbsp olive oil
Additional Flour for Rolling
Instructions:
Preheat oven to 350° F
Gently toss the cheddar cheese and the flour in a large bowl. Set aside.
In a small bowl, mash the green beans.
Stir in the broth, milk, and olive oil to the green bean mixture.
Make a well in the center of the cheese flour.
Pour in the green bean mixture and mix thoroughly.
Knead the dough in the bowl until combined.
Fold out onto a floured surface and continue to knead using extra flour.
Knead until you have a firm dough.
Roll out the dough to 1/4 inch thickness. Cut out preferred shapes.
Place the cut outs on a baking sheet that has been lightly sprayed with non-stick cooking spray.
Pour 1/4 cup of beef broth into a small bowl.
Using a pastry brush, lightly brush the broth onto the cut out cookies.
Bake for 30 minutes.
Storing - These homemade dog treats will keep fresh in the refrigerator for 3 weeks. They will be good in the freezer for 6 months.
Yield - Using a 1 1/2 inch dog cookie cutter makes 4 dozen dog treats.
Tips & Techniques
Green Beans - You will want to mash the green beans as thoroughly as possible. You can always use fresh green beans and steam them, but canned green beans work very well, too. If using canned, opt for the low sodium variety.


Rest the Dough - After rolling out the dough and cutting out the first set of shapes, let the dough rest. You can use this time to apply the beef glaze. By the time you're done, the dough will be ready to be rolled out again.
Overweight dogs can enjoy many rewards besides treats, like extra walks, longer belly rubs, and new toys. But with low fat dog treats like this green bean and cheese dog cookie, you can indulge your dog in all of his favorites.
What's Your Dog's Tastebud Feedback?
Have you made this recipe? What was your experience? Did your dog gobble it up or take a polite sniff and walk away?

Share your dog's Taste Bud Feedback with other dog treat bakers.

Share photos of your dog, or your dog eating this homemade dog treat, or how the finished dog treat looks! :)
Dog Treat Bakers Experiences:
Click below to see what other dog treat bakers are saying...