Homemade Dog Cookies -
with Heart Healthy Spinach
Green homemade dog cookies? You bet! Boost your dogs heart health with these delectable spinach and carrot cookies.
Spinach is the vegetable of choice for these heart healthy cookies. Did you know that spinach is extremely rich in antioxidants, a rich source of omega-3 fatty acids and contains over 20 other vitamins and minerals? Wow, with a veggie this healthy, we should all include this gem in our diets!
The carrots in this recipe add vitamins and a natural sweetness that most dogs love. The rolled oats also contain omega-3 fatty acids, and don't forget the healthy fat added by the extra virgin olive oil. We know what you're thinking, with such a heart healthy treat, we'll look the other way while you try a nibble.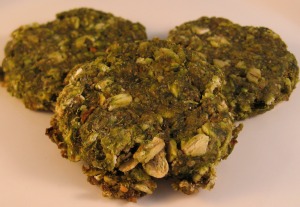 Ingredients:
1 cup whole wheat flour
1 cup rolled oats
1/8 cup Parmesan cheese
1 2/3 cup frozen spinach
1 cup grated carrot
1/8 cup chicken broth, low sodium
1 tbsp extra virgin olive oil
Instructions:
Preheat oven to 350° F
Whisk together the flour, oats and cheese.
Place the spinach in a microwave safe bowl. Add 1 tablespoon of water. cover and cook for 2 minutes, or until heated through. Stir and drain any excess water.
In a blender, puree the lightly cooked spinach, carrots and chicken broth.
Thoroughly scrape the pureed mixture out of the blender into the dry ingredients.
Add the extra virgin olive oil.
With a fork, break apart and stir together the spinach and flour mixtures.
Spray a baking sheet with non-stick cooking spray.
Using a tablespoon sized cookie scooper, place spinach balls on the prepared sheet.
Dip the bottom of a drinking glass (or something similar) in water. Next, gently press one spinach ball into a flattened cookie shape. Repeat process with each rounded ball.
Bake for 20 minutes.
Cool completely on a wire rack before serving.
Storing - These homemade dog cookies will keep fresh in the refrigerator for up to two weeks. Keep them for up to 6 months in your freezer.
Yield - Using a tablespoon sized cookie scooper, this recipe will make 24 dog cookies.
Tips & Techniques
Vegetarian & Vegan Dog Treat - Make this dog cookie recipe a true vegetarian treat by substituting the chicken broth with water. To make it a vegan dog treat, you will also want to substitute the Parmesan cheese with soy or almond cheese.


Blender or Food Processor? - Personally, my blender works much better at pureeing foods, so that is what this recipe calls for. If you find that your food processor works better, then by all means, use the kitchen appliance that works best. The idea is to achieve a thick liquid consistency to blend well with the dry ingredients.


Parmesan Cheese - To help make this an easy dog treat recipe, we used powdered Parmesan cheese. However, you can use pre-grated or freshly grated Parmesan, too. If you grate the cheese yourself, be sure that the pieces will fold well into the treat without sticking out, as they will most likely burn in the oven.


Fork or Spoon? - It may sound a little strange to stir the wet and dry ingredients together with a fork, but that's what's needed. The spinach mixture has a desire to clump together, but by using a fork you can break apart the little mounds of spinach.


Microwave Your Spinach - Research suggests that microwaving spinach is a better option than boiling. The reasoning is that by boiling the spinach you can decrease the amount of folate by up to half. Since these homemade dog cookies are all about their nutritional value, lets keep the vitamins in the cookie and in our dog's tummies.


With all of the nutrition available in these homemade dog cookies, the only thing left to decide is which day to make the recipe. Be sure to share these heart healthy treats with your dogs friends and family so they too can love and enjoy their dog by their side for years to come.
What's Your Dog's Tastebud Feedback?
Have you made this recipe? What was your experience? Did your dog gobble it up or take a polite sniff and walk away?

Share your dog's Taste Bud Feedback with other dog treat bakers.

Share photos of your dog, or your dog eating this homemade dog treat, or how the finished dog treat looks! :)
Dog Treat Bakers Experiences:
Click below to see what other dog treat bakers are saying...