Speedy Snacks &
Easy Dog Treat Recipes
Quick and easy dog treat recipes don't have to equal unhealthy and flavorless. These microwave dog treats have the sweetness of molasses. They also have all the wonderful health benefits of rolled oats, ground flax and wheat bran packed in every little snack.
The great thing about making your own homemade dog treats is the ability to tailor them to your dogs needs. You can customize the size of these dog treats to fit your dog. The recommended 1/2 inch size treat fits most medium to large dogs.
For smaller dogs or to make dog training treats, use a teaspoon to measure each scoop, and microwave for 2 minutes at 50% power. Or, if you have a large breed dog, make the dog treats with a 1 inch cookie scooper. Then microwave for 5 to 6 minutes at 50% power.
Make these homemade dog treats even more adorable by rolling them in oats before microwaving. After forming in the cookie scooper, release the little ball into a shallow bowl filled with rolled oats. Toss to coat and microwave as usual. You can also roll the treats in ground flax or wheat bran for an added punch of texture and healthy taste.
Another fun way to add variety to this easy dog treat recipe is to add two teaspoons of cinnamon, a teaspoon of ground ginger or a tablespoon of dried parsley. Add any of these additions while whisking the dry ingredients together.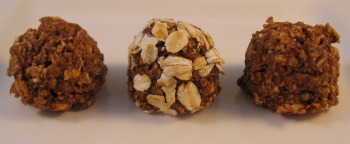 Ingredients:
1 1/4 cups rolled oats
3/4 cup nonfat dry milk
1/2 cup whole wheat flour
1/4 cup flaxseed meal
1/4 cup wheat bran
1 large egg
1/8 cup blackstrap molasses
1/8 cup canola oil
1/2 cup warm water
Instructions:
In a large bowl, whisk together the rolled oats, nonfat dry milk, wheat flour, flax seed meal and wheat bran.
In a small bowl, whisk the egg. Next stir in the molasses, canola oil and water.
Make a well in the dry ingredients, add the molasses mixture.
Using a firm spatula, fold together the wet and dry ingredients until thoroughly combined.
Using a 1/2 inch cookie scooper, scoop balls onto a microwave safe plate.
The little balls can be close together, but not touching, on the plate.
Make the treats in batches if they will not all fit on your plate. Between batches, wipe any excess moisture off of the plate.
Microwave at 50% power for 4 minutes.
Using an oven mitt, remove the plate from the microwave.
Carefully move each treat to a wire rack for cooling, using tongs if necessary.
Let cool and continue to dry completely before serving.
Storing - This easy dog treat recipe will keep fresh in the refrigerator for about 3 weeks. Freeze the cookies for up to 6 months.
Yield - Using a 1/2 inch cookie scooper, you will get 2 dozen, or 24 speedy dog snacks.
Tips & Techniques
Firm Spatula - Be sure that the spatula you use to fold the wet and dry ingredients together is a firm or thick spatula. You can also use this spatula to scrap every last bit of molasses mixture out of the small mixing bowl.


Uniform Dog Treats - You can easily make these treats more uniform shaped balls. Once the treat is molded using the cookie scooper, wet your hands. Then roll each ball in your hands until it's a more rounded shape. Wet your hands as needed to keep the mixture from sticking to your hands.


Microwave Ovens - Each microwave will vary in power. Please use your best judgement. If your microwave oven is usually hotter than others, bake for 2 to 3 minutes. If it's an older model and takes longer to heat, you may need to microwave the treats for 5 minutes. When in doubt, microwave for less time first. It's easier to cook the treats longer, than to undo burnt dog treats!
These and other easy dog treat recieps are just what you need for a last minute, yet healthy and delicious homemade dog treat. They also freeze beautifully, so make a big batch once and have dog treats all summer long for your activities with your dog.
What's Your Dog's Tastebud Feedback?
Have you made this recipe? What was your experience? Did your dog gobble it up or take a polite sniff and walk away?

Share your dog's Taste Bud Feedback with other dog treat bakers.

Share photos of your dog, or your dog eating this homemade dog treat, or how the finished dog treat looks! :)
Dog Treat Bakers Experiences:
Click below to see what other dog treat bakers are saying...