Easy Dog Treat Recipe
Cheesy Twists
Make this easy dog treat recipe when you want a homemade dog treat that will impress your fellow pet parents.
This dog treat recipe might have it all. Flavor, ease of preparation and it looks fancy. However, in the end it always comes down to taste. This homemade dog treat packs a taste explosion with three herbs, cheese and a savory puree.
Baking a batch of these cheesy dog treats is so quick and easy, you'll always have fresh dog treats for your pups, and some to share for all the good dogs in your life.
You can make your pastry from scratch if you like. We chose a packaged variety because of how easy it is to prepare.
This easy dog treat recipe would be a great choice for those that need to hide pills for their dog to take. The softer texture and overwhelming delicious flavor should make pill time a delight.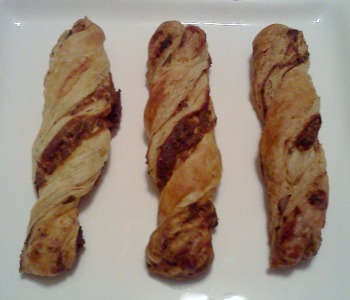 Ingredients:
1 lb puff pastry, thawed
4 oz organic chicken baby food
1 tbsp dried parsley
1/8 tsp dried basil
1/8 tsp dried oregano
1/8 cup grated Parmesan cheese
1/2 tsp cornstarch
Instructions:
Preheat oven to 375° F
Thaw the pastry according to the package directions.
In a small bowl, stir together the chicken puree, parsley, basil, oregano, cheese and cornstarch.
Unfold the pastry on a floured surface.
Spoon half of the mixture onto the dough and spread evenly.
Repeat the above two steps with the remaining pastry.
Cut into half inch thick slices.
Lightly spray a baking sheet with non-stick cooking spray.
Pick up one slice at a time and twist in opposite directions.
Place each twisted slice on the prepared baking sheet.
Bake for 20 minutes.
Turn off the oven and leave the twists in the oven to cool completely before serving.
Storing - The cheesy twists in this easy dog treat recipe must be kept in the refrigerator. In a sealed container they will stay fresh for about two weeks. You can store them in the freezer for up to 3 months.
Yield - Depending on how thick each slice is, you should be able to make at least a dozen dog treats.
Tips & Techniques
To Roll or Not to Roll - Should you roll the pastry dough? I'll leave that decision completely up to you. I did not roll my dough in the treats you see in the picture. The benefit of rolling your pastry to a thinner layer is that you will yield many more dog treats. A little more work for more homemade dog treats is a nice trade off.


Choosing a Knife - If you have a plastic or disposable knife in your kitchen, now's the time to use it. The pastry dough does not stick as much to a plastic knife as it does to a metal one. You can also lightly wet your traditional knife before each cut to help the dough release from the knife easier.


Make a Dessert - Easily adjust the ingredients in this easy dog treat recipe to create a sweet treat. One way is to use 4 oz of banana puree and a 1/2 tsp of cinnamon as your filling. You could also make one savory twist and one dessert twist by using half the amount for the filling since your puff pastry should come with two sections.
Finding the time to make homemade dog treats can be a challenge. Hopefully this easy dog treat recipe will inspire you to bake up the very best homemade treats for your dog.
What's Your Dog's Tastebud Feedback?
Have you made this recipe? What was your experience? Did your dog gobble it up or take a polite sniff and walk away?

Share your dog's Taste Bud Feedback with other dog treat bakers.

Share photos of your dog, or your dog eating this homemade dog treat, or how the finished dog treat looks! :)