Pumpkin & Carob Oatmeal
Dog Cookie Recipes
Using pumpkin in your dog cookie recipes is a wonderful idea. Pumpkin is low in fat and high in fiber. It's the perfect food for those pups that may need to shed a few pounds.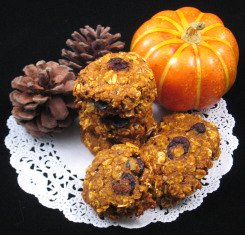 The sweetness of pumpkins is what will make your dogs' mouth water. Adding the carob chips doesn't hurt either. :)
Of all the dog cookie recipes out there, you'll be hard pressed to find one as appealing to the taste buds of dogs as well as humans!
Ingredients:
1 cup pumpkin puree (not the pie filling)
2 eggs, lightly beaten
1/4 cup packed brown sugar
1 1/2 cup whole wheat flour
1 tsp baking soda
1 tsp cinnamon
1/2 tsp ground cloves
3 cups rolled oats
1/2 cup carob chips, unsweetened
Instructions:
Preheat oven to 350° F
Lightly spray baking sheet with cooking spray with flour.
In a small bowl combine the pumpkin and eggs.
In a large bowl, whisk together the brown sugar, flour, baking soda, cinnamon and ground cloves.
Next, stir in the rolled oats and carob chips.
Make a well in the center of the oat mixture. Pour in the pumpkin mixture.
Thoroughly stir together until combined.
Using a cookie scoop, scoop the batter onto the cookie sheet. Flatten into a cookie shape with a small glass dipped in water so the cookie won't stick.
Bake for 15 minutes.
Cool completely on a wire rack.
Storing & Yield: This, like other dog cookie recipes, needs to be stored in an air tight container once cooled. These pumpkin dog treats will last for 2 weeks in the refrigerator and for up to 4 months in the freezer. The Yield for these dog cookies, using a 1 inch cookie scooper, is 4 dozen.
Tips & Techniques
Carob Chips - You can find carob chips in most health food stores. Check out their bulk area first, if they have one, as the prices will be more reasonable. The carob chips have a tendency to melt quickly, so don't keep this hidden in your hand too long while teaching your dog a new trick.


Human Cookies - If you're hosting a dog party, you can make the above recipe for your guests. Then, for the guests' parents, increase the amount of brown sugar to a full cup. Just remember to keep the two separate since your dog guests do not need that much sugar in their cookies.


Too Many Cookies - Four dozen cookies may be to much if you have just one dog. You can easily cut this recipe in half, freeze the extras for later, or give 1/2 dozen as a gift to that dog friendly neighbor, workmate, or other associate you've been meaning to get to know.
Dog cookie recipes that use pumpkin can help your dog cut back on unwanted calories, while not cutting back on flavor. Serve your dog a couple for a midnight snack, and don't worry, we won't tell anyone that you dunk yours in milk.
What's Your Dog's Tastebud Feedback?
Have you made this recipe? What was your experience? Did your dog gobble it up or take a polite sniff and walk away?

Share your dog's Taste Bud Feedback with other dog treat bakers.

Share photos of your dog, or your dog eating this homemade dog treat, or how the finished dog treat looks! :)
Dog Treat Bakers Experiences:
Click below to see what other dog treat bakers are saying...