Peachy Keen Chewy Oatmeal
Dog Cookie Recipe
When summer roles around, we are all less inclined to bake any kind of dog cookie recipe.
However, these cookies are only in the oven for 15 minutes. That is a short enough amount of time to bake and then cool off the house again. Plus this dog cookie recipe helps you take advantage of the delicious peach harvest season from May to September, with the peak being from June to August.
Peaches may not be your first thought when considering making homemade dog cookies. But, one great thing about them is that they are low in calories but high in the sweetness that many dogs love. Peaches are also a good source of potassium and calcium, two wonderful nutrietns for your dog.
If you have heard that peaches are on the list of foods poisonous to dogs that is only half true. The pit can be very dangerous for dogs if they chew or injest it. If you choose to use frozen or canned peaches, you won't have anything to worry about. If you use fresh peaches, see our note below to help keep your dog safe.
Peaches to Use in this Dog Cookie Recipe
Fresh Peaches ~ You will want to take extra precautions when using fresh peaches for these dog cookies. First, choose a peach that is firm. A firm peach will be easier to peel when you remove the skin. Lay out a paper towel, remove the stem, peel and remove the seed. Now wrap all of this up in the papertowel and take it out to your secured lid trash can. Or, put it all in a plastic sack and tie a knot or two in the sack and throw away. This will give you the peace of mind that the unhealthy parts of the peach are completely out of your dogs reach.


Frozen Peaches ~ This is the easiest kind to use, and the kind we used in the cookies pictured. Thaw the peaches in your refrigerator over night.


Canned Peaches ~ Most canned peaches are prepared in a syrup. Before cutting up the peaches, you will want to drain and rinse the peach slices with water. This will help remove the excess sugar in the syrup off of the peaches. Do this step first before the rest of the instructions.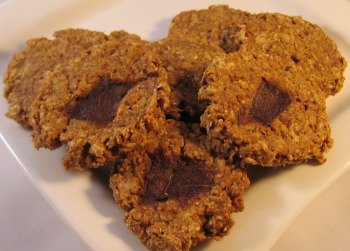 Ingredients:
2 cups rolled oats
3/4 cup water, divided
1/4 cup diced peaches, see note
1 tbsp canola oil
1 tbsp molasses, blackstrap
1/4 tsp vanilla extract
1 cup whole wheat flour
1 tsp cinnamon
Instructions:
Preheat oven to 350° F
In a large bowl, stir together the rolled oats and 1/2 cup of the water.
In a food processor, puree the peaches, canola oil, molasses, vanilla and 1/8 cup of water.
Stir the peach mixture into the oats.
Add the flour, cinnamon and 1/8 cup of water.
Using a large fork, combine all the ingredients. The oats will want to stick together.
Break apart the oats until all the flour is incorporated.
Spray a baking sheet with non-stick cooking spray.
Using a 1 inch cookie scooper, scoop cookies onto the prepared baking sheeet.
Flatten each scoop to make a flat round cookie shape.
Bake for 15 minutes.
Turn off the oven and let the cookies cool in the oven.
If you and your dog can't wait, cool completely on a wire rack before serving.
Storing - This dog cookie recipe will keep fresh in the refrigerator for about 2 weeks. Freeze the cookies for up to 6 months.
Yield - Using a 1 inch cookie scooper, you will get 2 dozen, or 24 dog cookies.
Tips & Techniques
Decorating Idea - To show what's inside this dog cookie recipe, place a thin slice of peach on the cookie before baking. Flatten the cookie half way, place the peach in the middle, then fully flatten the cookie. The peach slice will stay in the middle and be embedded in the cookie after it's baked.


How to Flatten Cookies - Using a cookie scooper is an easy way to scoop the same sized cookies from your dog treat dough. But to make the treats look like little cookies, you need to flatten them. You can do this by hand, but it takes awhile and they will not all be the same thickness which will effect the baking time. That's when you turn to a clear drinking glass or transparent measuring cup. Why choose something you can see through? It allows you to gauge how to make sure the cookies stay round while flattening, and to better gauge how thick they are. Before flattening each cookie, be sure to dip the cup into water. This will help the dough not stick to the measuring cup.


Use a Spatula - Use a rubber spatula to scrap out the food processor bowl after you have pureed all the wet ingredients. It may sound like an extra step, but these few ingredients contain the most flavor punch, so be sure to get every last drop.
This dog cookie recipe is perfect for the summer peach harvest season. With the options of using frozen or canned peaches, your dog can enjoy these healthy dog cookies anytime of year.
What's Your Dog's Tastebud Feedback?
Have you made this recipe? What was your experience? Did your dog gobble it up or take a polite sniff and walk away?

Share your dog's Taste Bud Feedback with other dog treat bakers.

Share photos of your dog, or your dog eating this homemade dog treat, or how the finished dog treat looks! :)
Dog Treat Bakers Experiences:
Click below to see what other dog treat bakers are saying...