Serve Your Little Party Animal Our
Banana & Peanut Butter Dog Cake Recipe
Our dog cake recipe is sure to make any party animal howl for more. How do you know if your dog is a party animal? Ask yourself these questions: Does my dog love to meet new dogs and people? Does my little one love attention? And last, does my dog love a homemade dog treat made just for him? If you answered Yes, you most definitely have a party animal on your hands.
Dog cakes make any occasion a special one. But if your next dog party plans are small, or your dog is small in stature, you may want to consider making this dog cake recipe into mini muffins. That's what is pictured below. We like to have several dogs test our homemade dog treats, so we made little treats to pass out to all our taste testers.
Make this dog cake extra rich with the optional cream cheese frosting. See our tips below for more fun ways of decorating the cakes and dog muffins.
Banana & Peanut Butter Dog Cake Recipe
in Mini Muffin Version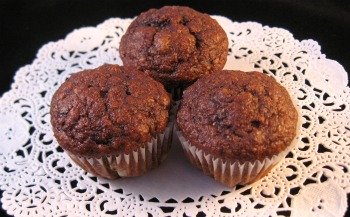 Ingredients:
1/2 cup canola oil
1/2 cup applesauce, unsweetened
1/4 cup molasses, blackstrap
1/4 cup peanut butter
4 eggs
2 cups whole wheat flour
2 tsp baking soda
2 tsp cinnamon
2 ripe bananas, mashed
Cream Cheese Dog Treat Frosting
Instructions:
Preheat oven to 350° F
In a stand mixer bowl, add the canola oil, applesauce and molasses.
On low-medium speed, thoroughly combine.
Add the peanut butter, and mix until combined.
Add the eggs one at a time, until all combined.
In a large bowl, whisk together the flour, baking soda and cinnamon.
Using the lowest setting, or the stir setting on your mixer, slowly add the dry ingredients.
In a small bowl, mash the bananas.
Take the mixing bowl off the stand. Fold in the mashed bananas, making sure they are well incorporated.
Using a baking spray with flour, generously spray each 8 inch pan.
Divide the batter between both pans.
Bake for 30 minutes, or until a toothpick comes clean. Rotate the pans on the racks half way through the baking time.
Cool on a wire rack for 10 minutes.
Remove the cakes from the pan, and cool completely on a wire rack.
Storing - This dog cake recipe will keep fresh in the refrigerator for about 5 days. Freeze the cakes for up to 3 months. If you choose to freeze the cakes, wrap each one individually with plastic wrap. Then wrap each one with heavy duty aluminum foil. Then place each one in a labeled freezer bag. It may seem like a lot of work, but it will keep the dog cakes delicate texture fresh longer.
Yield - Two 8 inch round cakes.
Tips & Techniques
Decorating Ideas - For an all out special dog cake, make enough cream cheese dog frosting to put between the two cakes, on top and the sides of the layered cake. Or, my favorite decorating idea is to cut half inch banana slices and place them as the layer between the two cakes. Then frost the top of the cake with cream cheese frosting. If your dog is watching his calorie intake, you should limit the amount of icing you put on the cake. One idea is to use the frosting to make small polka dots and write a happy note on top of the cake, like "#1 DOG". You can omit the frosting all together and use banana slices as the decoration.


Mini Muffins - Using a mini muffin pan with 24 cups, you will be able to fill your pan twice to get a total of 48 muffins. Bake at the same temperature, but for 10 minutes. Turn the pan half way for even baking. Let the pan cool on a wire rack for 5 minutes before removing the muffins. Cool the muffins on a wire rack. We like this version of creating mini muffins best because it is so versatile. If your dog is small, you can easily break apart one muffin for two servings. Or, for larger dogs, they get their very own muffin. The muffins also travel very well, so you can make extras for dog party favors, or gifts. We used a scant tablespoon cookie scooper to easily measure the right amount of batter into each cup. The muffins rise quite a bit, so don't overfill the muffin cups.


Paper Liners - We used plain paper liners, but it would be adorable to make these muffins with paw print cupcake liners. Or, match the colors of your dog party, or the season, to make your homemade dog treats more festive.


Stand Mixer - If you don't have a stand mixer, you can use a hand held one instead. But, we recommend the stand mixer due to its many speeds and large capacity for heavier dog treat batters.
Anytime is a good time to celebrate with your dog. Have a party just for the two of you. While the cake cools, take your dog out for a nice walk. Once you return and both have some water, dig into this delicious dog cake recipe and enjoy your dog for who she is.
What's Your Dog's Tastebud Feedback?
Have you made this recipe? What was your experience? Did your dog gobble it up or take a polite sniff and walk away?

Share your dog's Taste Bud Feedback with other dog treat bakers.

Share photos of your dog, or your dog eating this homemade dog treat, or how the finished dog treat looks! :)
Dog Treat Bakers Experiences:
Click below to see what other dog treat bakers are saying...