Triple Apple Dog Cake Recipe
with Cheddar Drizzle
Have you made a dog cake recipe for your special dog yet? No, well here's the recipe for you. A simple dog cake with a power punch of flavor. We've added three different forms of apple to this dog cake to keep your dog interested in the taste and texture.
So, why the cheddar cheese glaze, you may ask? If you've ever lived or known anyone from the Northeastern states of the United States, you know that a slice of fresh apple pie is not complete without a thick slice of pure delicious cheddar cheese.
To keep this dog cake recipe on the healthier side, we opted for a quick cheddar drizzle or glaze. You can also make a batch of our cream cheese dog treat icing instead.
Apples are a great treat for your dog. They have natural sugars that most dogs love. Plus they have antioxidant compounds and lots of fiber. The fiber helps keep your dogs tummy full with fewer calories. You'll love the aroma of the cinnamon as the homemade dog treat bakes.
You can make your own dried apple slices or purchase dog friendly apple slices, too. Whatever kind you use, make sure they are the "no sugar added" kind.
Dog Cake Ingredients:
1 cup whole wheat flour
1 tsp baking soda
2 tsp cinnamon
1/4 cup dried apple rings, finely diced
2 eggs, beaten
1/2 cup unsweetened applesauce
1/4 cup Granny Smith apple, peeled and finely diced
1/8 cup milk
Cheese Drizzle Ingredients:
3 tbsp milk
1 tsp flour
1/4 cup cheddar cheese, grated
Dog Cake Instructions:
Preheat oven to 350° F
In a large bowl, whisk together the flour, baking soda and cinnamon.
With a fork, stir in the dried apple pieces until coated with the flour mixture. Break apart the pieces if needed.
In a medium bowl, beat the eggs.
Stir together the eggs, applesauce, diced fresh apple and milk.
Make a well in the center of the dry ingredients and pour in the wet mixture.
Stir until thoroughly combined.
Lightly spray each muffin cup with non-stick cooking spray.
Using a teaspoon sized cookie scooper, scoop balls onto your prepared muffin tin.
Optional: Press a couple pieces of fresh or dried diced apple into the top of the unbaked treat.
Bake for 10 minutes.
Prepare a baking sheet with a cooling rack nested inside.
Let the treats rest in the pan for a couple minutes.
Put the muffins on the cooling rack.
Turn off the oven and put the dog cakes back in the oven to cool.
Cheese Drizzle Instructions:
Stir together the milk and flour in a microwave safe bowl.
Microwave on high for one minute (each microwave is different, you may need more or less time to warm the milk).
Stir in the cheese until melted and smooth.
Drizzle on the cooled dog cake.
Store unused glaze in the refrigerator for up to two weeks.
Storing - Keep this dog cake recipe in the refrigerator for up to two weeks. Wrap them up and keep them in the freezer for up to four months. Store without the cheddar cheese drizzle. Mix up a batch and decorate before serving.
Yield - 12 mini muffins, if you use a 12 cup mini muffin tin. See below for other baking and yield options.
Tips & Techniques
Mini Muffin Tins - You can easily use a 24 cup mini muffin tin if you want. You will need to double the recipe and increase the baking time by at least 5 minutes. You can also bake this dog cake in a standard 8 inch round cake pan. Use the recipe above and bake for 15 minutes.


Decorate with Apples - You don't have to use the cheddar cheese glaze or the cream cheese dog frosting to make these dog cakes extra special. We put a couple pieces of the fresh or dried apple onto the top of the unbaked dog cake. Push the little pieces gently into the unbaked dough and the finished product is adorable and decorated with the main ingredient.


Decorating with the Cheddar Glaze - It's easier to spread the cheddar cheese glaze when it is warm. If you make it ahead of time, warm it slightly in the microwave before decorating your dog cakes. We spooned ours into a sealable sandwich bag. Then cut the very tip off and drizzeled the little cakes with savory cheese sauce. It's easy to write names or letters on each cake or on the plate you serve the dog cakes on as an edible garnish.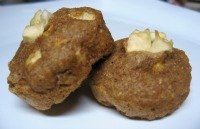 Enjoy the freshest treat with this dog cake recipe. With three different forms of sweet apple, we know your dog will jump for joy over her very own mini apple dog cake.
What's Your Dog's Tastebud Feedback?
Have you made this recipe? What was your experience? Did your dog gobble it up or take a polite sniff and walk away?

Share your dog's Taste Bud Feedback with other dog treat bakers.

Share photos of your dog, or your dog eating this homemade dog treat, or how the finished dog treat looks! :)