Problem: Bad Dog Breath
Solution: Mint Kiss Dog Cookies
Are you greeted each morning by a "halitosis hello" from your dog? Bad dog breath can be a real problem, but the solution is a mint kiss dog cookie.
The leaves of a mint plant have a sweet aromatic and fresh smell. Once the leaves are crushed or cut, they release even more of that pleasing aroma. The good news is that it will transfer to your dog's breath and help keep it fresh.
Even though your dog will adore these mint kisses, it's not a cure for bad breath. There are several reasons why your dog may have foul breath. Be sure to talk to your vet and have her do a dental exam, and a cleaning if needed. It's also a good idea to talk to her about your dog's diet, too.
Freshen Bad Dog Breath
with a Mint Kiss Dog Cookie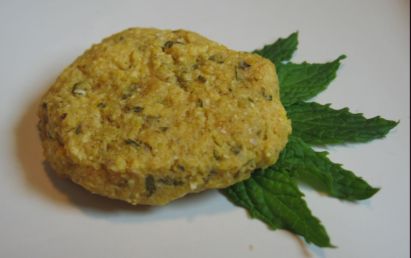 Ingredients:
1 cup stone ground yellow cornmeal
1 tbsp vegetable oil
3/4 cup chicken broth (low or no sodium is best)
1 egg
1 tbsp grated cheddar cheese
2 tbsp minced fresh mint
Instructions:
Preheat oven to 350° F.
Measure cornmeal into a small bowl.
In a sauce pan, bring the vegetable oil and chicken broth to a boil.
Remove pan from the heat and stir in the cornmeal.
Scoop the cornmeal mixture into a small bowl.
Allow the mixture to cool to the touch.
Spray the baking sheet with a non-stick cooking spray.
Once the cornmeal mixture is cool to the touch, stir in the egg, cheddar cheese and fresh mint.
Shape into 1" to 1 ½ " balls. Or, scoop with a 1 " cookie scooper.
Flatten balls into cookie shapes.
Bake for 30 minutes.
Turn off the oven and let the cookies cool and continue to dry in the oven for one hour.
Yield & Storing: This recipe makes 15, 2" dog cookies.
The mint dog cookies will last for 1 week in a air tight container, 3 weeks in the refrigerator and 3 months in the freezer. For more information on how to store homemade dog treats be sure to read our tips and techniques.
For occasional bad dog breath offenders, these mint dog cookies will make all the difference. Instead of a quick turn in the opposite direction, you can give your dog a warm embrace the next time she greets you with a kiss!
What's Your Dog's Tastebud Feedback?
Have you made this recipe? What was your experience? Did your dog gobble it up or take a polite sniff and walk away?

Share your dog's Taste Bud Feedback with other dog treat bakers.

Share photos of your dog, or your dog eating this homemade dog treat, or how the finished dog treat looks! :)
Dog Treat Bakers Experiences:
Click below to see what other dog treat bakers are saying...