Turkey Meatloaf (dog food)
by Elisabeth
(Buford, GA)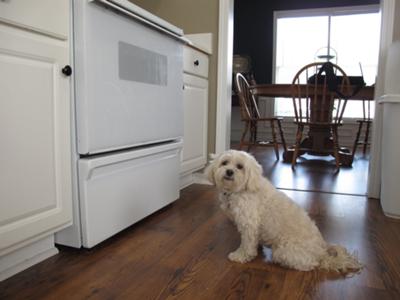 Annie Waiting on Her Treats
1.3 lb ground turkey
2 cups frozen green beans (thawed)
6 carrot stalks
1 egg

Process green beans & carrots in food processor. Mix vegetables with ground turkey and egg. Fill greased muffin tins with mixture. Bake on 325 for 25 minutes. Makes 12 mini-loaves at about 100 calories per loaf.

Wrap individually in plastic wrap. Keep what you need for the week in the refrigerator; freeze the rest.

These serve as Annie's evening meal - she get's 1/2 a loaf each night.
Join in and write your own page! It's easy to do. How? Simply click here to return to FAVORITE Dog Treat Recipes.