Spirit's Spectacular Double Carob Brownies
by Alicia
(Ridgetown, Ontario, Canada)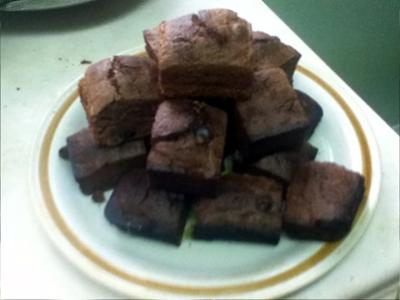 A plate full of brownies
Yield: This recipe yields 18 squares and can easily be modified to make more.

Ingredients:

1/4 cup and 2 tablespoons butter
1/4 cup and 2 tablespoons carob powder
1-1/2 cups white sugar
3 eggs
1-2/3 cups all-purpose flour
3/4 teaspoon baking powder
1/4 teaspoon salt
1/2 cup carob chips


Directions:

1. Preheat the oven to 375 degrees F (190 degrees C). Lightly grease the pan.
2. In medium saucepan over medium heat, melt butter. Remove from heat and immediately stir in the carob powder. In a large bowl, beat together the sugar and eggs. Stir in the melted carob powder mixture. Combine the flour, baking powder and salt; stir into the batter. Fold in carob chips if desired. Spread evenly into the prepared pan.
3. Bake for 35 to 40 minutes in the preheated oven, or until the top has crusted over. You want the tester to come out a with a little batter on it, not completely clean. Cool for a few minutes before cutting into bars.

Notes:

I actually used the "Perfect Brownie Pan"I got for Christmas a couple years ago.