Roxann- Cur & Heeler Mix
by Heather Granger
(Shreveport, Louisiana)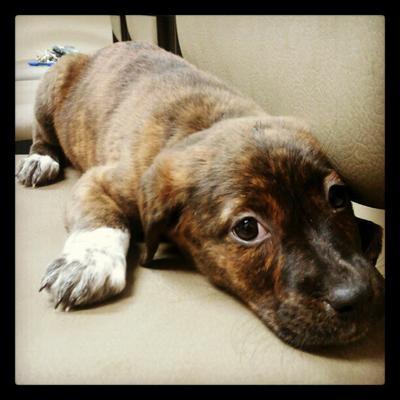 The day I got Roxann! So Little!
Roxann was born on 11/11/2011 (so easy to remember!)Roxann loves anything with peanut butter or bananas, which is how she got her nickname Banana Head.

Roxann knows over 10 tricks, including play dead, high 5 and high 10.

Roxann is only allowed to have two types of toy due to her destructiveness (aka they don't last very long!). She can have her Kong, which she has destroyed, and an antler (indestructible and the best purchase I've made).

Roxann is super smart, sometimes too much! She taught herself how to escape her crate and jump the fence! She is super sweet, almost licking your face off.

Roxann has been the most loyal dog I've ever had. She follows me everywhere and doesn't like me to be out of her sight. She loves to snuggle and "give hugs" (this is where she forces herself between your legs and waits for a hug). She loves everyone and everything! I think she's the best dog ever, but I'm pretty biased!