Peanut Butter and Carob Delights
by Beth LaPinta
(Tampa FL)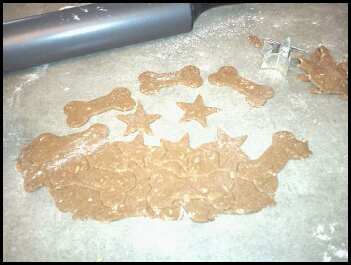 cut out and pull the dough from around cookies then lift cookies, it's much easier!
Ingredients:

2 c whole wheat flour
1 c rolled oats
1 tbsp ground flaxseed
1 ½ tbsp blackstrap molasses
½ c smooth peanut butter (unsalted/no sugar added is best)
1 ¼ c hot water
unsweetened carob chips

Additional flour for rolling

Directions:
1. Preheat oven to 350° F
2. Combine dry ingredients in a large mixing bowl.
3. In a separate bowl whisk peanut butter and hot water with a fork until well combined.
4. Add molasses and peanut butter mixture to dry ingredients.
5. Knead all ingredients together until a firm dough forms. (If you have a kitchen mixer, use it.)
6. Lightly flour area and roll out the dough to about ¼ inch thickness, you don't want them really thin, it's okay if they're a little thick and cut into shapes using dog cookie cutters.
7. Lightly spray cookie sheets with non-stick cooking spray.
8. After placing cookies on cookie sheets, gently press carob chips into cookies, whatever design you want, as many as you want, unsweetened carob chips are safe for dogs and they love them!
9. Bake for 25 minutes. Cookies can cool on the cookie sheet or on a cooling rack. If your dog is too excited to wait, put one in the freezer for about a minute and it will be cool enough to eat immediately!
Yield: About 75 cookies using a 2 inch cookie cutter.
Storage: In a sealed airtight container at room temperature for up to 1 week. Refrigerator for 3 weeks and in the freezer for up to 6 months.
A tip for excess dough, once you've ended up with a small ball of excess dough that's not big enough for a cookie cutter, try rolling it out and cutting it with a pizza cutter into small squares.