Flax Meal Sweet Potato Apple Doggie Biscuits/Gluten Free
by Sandy
(Georgia)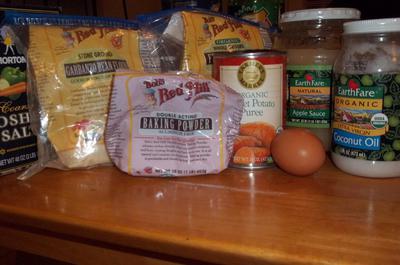 Ingredients
Flax Meal is gluten free and an excellent alternative for dog's on a grain free diet and provides essential fatty acids to help strengthen the immune system and fight off disease.

1-1/2 cups Organic Flax Meal
1 cup Garbanzo Bean Flour
1 tsp. Baking Soda
Dash of Salt
1 tsp. Cinnamon
1 egg
1 tbsp.plus 1 tsp. melted Organic Coconut Oil
1 tbsp. Organic Honey
1/4 cup Organic Sweet Potato Puree
1/4 cup Natural, Unsweetened Apple Sauce

Preheat oven to 300 degrees. Mix all ingredients in a mixing bowl with a large spoon (I use my hand to mush everything together). Roll dough out on a surface lightly sprinkled with flax meal to desired thickness(thinner for crunchy, thicker for chewy) Use cookie cutters to cut dough. Lightly coat baking pan with coconut oil and place cut out biscuits on pan. Bake for 7 minutes, then turn biscuits over and bake for 7 more minutes. Turn off oven and leave biscuits in the oven, until the oven has cooled (seems to help make biscuits crunchy). If you want a crunchier biscuit, bake longer and check often until biscuits are of desired crunchiness. I store my biscuits in a a glass jar with a screw on lid. Yields 20, 3 inch biscuits. My dogs enjoy them!
Join in and write your own page! It's easy to do. How? Simply click here to return to FAVORITE Dog Treat Recipes.