Charcoal Dog Cookie Recipe:
Black Beauties
You'll call our dog cookie recipe with charcoal your "Black Beauties". The charcoal makes the dog treats black and they help beautify the air you breath when living with a stinky dog.
Using activated charcoal is nothing new. As a food grade supplement, it works wonders on the intestinal tract. Besides helping with bad breath, charcoal can help your dog with the toots.
Plus, it may help a constipated dog get relief. However, keep in mind that what goes in black, may very well come out black, too.
For even more information regarding activated charcoal, talk to your Vet. You can also read this article on the benefits of activated charcoal for your dog.
Using activated charcoal tablets or capsules takes some patience. If you use the tablets you will need to have a steady mortar and pestle to grind the pills into a powder. We used gelatin capsules for our dog cookie recipe. Each capsule contained 280 mg of carbon. It took 30 capsules to equal the 1/8 cup needed for the homemade dog treats. Sit down with your favorite entertainment and slowly twist and pull apart each capsule into your measuring cup. This extra step is worth being able to get sweet dog kisses again.
You can purchase activated charcoal at most major health food stores. You can also buy activated carbon in capsules online.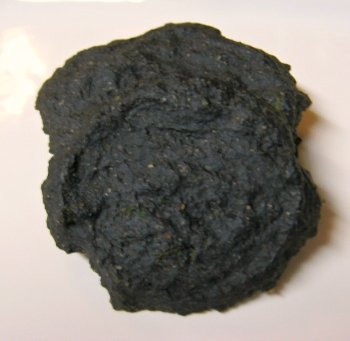 Ingredients:
3 cups whole wheat flour
1/8 cup activated charcoal
1/8 cup dried parsley
1 egg
1/4 cup canola oil
1/2 cup chicken broth
1/2 cup milk
1/8 cup water
Instructions:
Preheat oven to 325° F
In a large bowl, whisk together the flour, charcoal and parsley.
In a small bowl, beat the egg. Then stir together the egg, canola oil, chicken broth, milk and water.
Make a well in the center of the dry ingredients and pour in the wet mixture.
Stir until thoroughly combined.
Lightly spray a baking sheet with non-stick cooking spray.
Using a one inch cookie scooper, scoop balls onto your prepared baking sheet.
Use a drinking glass dipped in water and flatten each ball into a cookie shape.
Optional: You can use dog cookie cutters, too. See below for tips.
Bake for 25 minutes.
Turn off the oven and leave the charcoal dog biscuits in the oven to cool over night.
Storing - Keep these black beauties dog cookies in the refrigerator. In a sealed container they will stay fresh for about three weeks. You can store them in the freezer for up to 6 months.
Yield - Using a 1 inch scooper you should get 3 dozen dog cookies.
Tips & Techniques
Kinds of Charcoal - There's only one kind of charcoal you should use for this dog cookie recipe. You should be able to find activated charcoal in most health food stores. Do not use charcoal briquettes or charcoal that is used in aquarium filters.


Hard Dog Cookies - Since these dog cookies are aimed at improving your dogs breath, we made the finished treat very hard to aid in removal of food particles and such. If your dog needs a softer treat, bake for about half the time and let the treats cool on a wire rack before serving.


Dog Cookie Cutters - This is a great dog cookie recipe to use cute and themed cookie cutters. The dough is very sticky, so you will need to have additional flour for kneading, rolling and cutting. Depending on the size of your cookies you'll want to adjust the baking time.
This dog cookie recipe will help you get close to your dog again. Thank the charcoal in these treats for making them homemade breath busting black beauties.
What's Your Dog's Tastebud Feedback?
Have you made this recipe? What was your experience? Did your dog gobble it up or take a polite sniff and walk away?

Share your dog's Taste Bud Feedback with other dog treat bakers.

Share photos of your dog, or your dog eating this homemade dog treat, or how the finished dog treat looks! :)