Charlie- Chocolate Border collie.
by Rochelle Bishop
(New Zealand)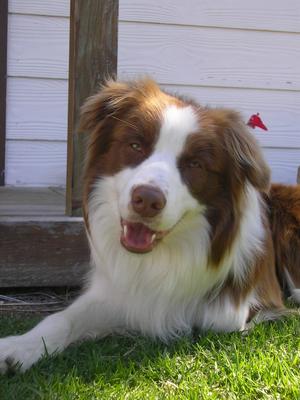 Charlie posing for the Camera
Charlie's 2 years old, and his birthday is on august the 18. He's a chocolate border collie and lives with his mum Rochelle bishop, dad mike Carroll, sister Charlize krause,and brother (his son but we call him charlies brother) Frankie.

Charlie loves food! His favorite food is peanut butter, waffles and ice cream. Charlie's a VERY active dog, and will be in a grump if he isn't out side for at least a hour.

Charlie loves to swim at the beach with his sister and will normally be in the water 1/4 of a kilometer away from the shore line.

Charlie's a loving dog and he always keeps us on our toes.
Join in and write your own page! It's easy to do. How? Simply click here to return to Dog of the Month.