Bingo's Homemade Ice Cream Sundae
by Alex Sanchez
(Mystic, Connecticut )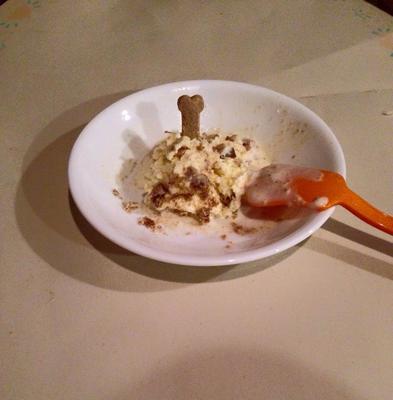 The final masterpiece!
Ingredients:
-French Vanilla Ice Cream
-Blue Blue bits dog treat~chicken or salmon flavor
-Chicken and Parmesan DogChewz "Toy" Temptations bone's

*You can use different kinds of soft treats and bones!*

Instructions:
First depending on the size of your furry friend and the amount they can consume put the ice cream in a bowl. Now take 2 of the soft dog treats and crumble them on top of the ice cream like sprinkles. Last take one small bone and put it sticking up on top like a cherry on top!! You can use plain vanilla ice cream also and any kind of small dog treats but preferably soft so you can crumble them on top of the ice cream. And for the bone you can use any kind of small bone! This doggy dessert is for a smaller dog but can be fitted to a bigger one! Have fun and enjoy!

Chef's Comments ~ Be very careful with this dog treat recipe as the vanilla ice cream will contain sugar, high amounts of dairy, and other ingredients that may cause an upset stomach. I highly recommend choosing a frozen dog treat recipe from my list of recipes and then sprinkling other healthy homemade or commercially made treats on top to mimic this recipe.



Join in and write your own page! It's easy to do. How? Simply click here to return to FAVORITE Dog Treat Recipes.