Decadent Pumpkin Donuts
Dog Treat Recipe
What's Cooking? Dog treats, of course! The Dog Treat Mixing Bowl newsletter will keep you up-to-date on the latest recipes, ingredients, tips and techniques. Our goal is to make baking homemade dog treats simple, fun, and nutritious.
You are receiving this email because you are a subscriber to the Dog Treat Mixing Bowl Newsletter.
You can also read this newsletter online.
---
Can a Donut be Healthy & Decadent? Yes!
When it's Our Original
Pumpkin Donut Dog Treat Recipe
When Fall comes a calling, and the leaves begin to change color, the sweet smell of baked dog treats should fill the air. Making this Pumpkin Donut Dog Treat Recipe will fill your house, and your dogs belly, with the sweet smell of cinnamon and pumpkin.

But can a doughnut really be healthy? You bet! We've packed ground flax seed into this little donut. Plus, pumpkin is naturally rich in Vitamin A, full of healthy fiber and very low in calories.

These doggy doughnuts are also baked, not fried like a typically human treat. But, we added a little indulgence with the glaze. A little almond milk, sweetened with honey and thickened with tapioca flour makes a hard glaze that is a perfect compliment to the pumpkin donut.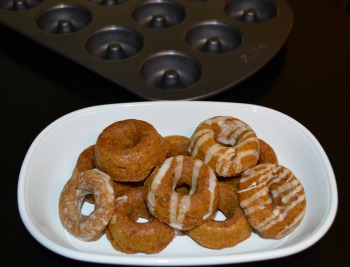 ---
NEW - Now on Kindle
Easy Dog Treat Recipes eBook
We are now able to offer our well received, Easy Dog Treat Recipes with 5 Ingredients or Less eBook on KINDLE!

Of course, it's still available as a download that you can print out and make quick and easy dog treats for your precious pup.

Check out my Easiest dog treat recipes, yet. Read more about all the features, like over 90 original photos, of our first eBook 15 Easy Dog Treat Recipes with 5 Ingredients or Less!.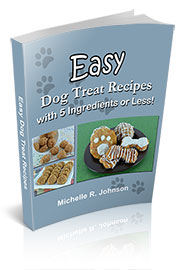 ---
More Pumpkin, Pumpkin, Pumpkin
Dog Treat Recipes
Pumpkin is not always available, so if your dog is in love with the orange fruit, make our other pumpkin recipes here:

Roll & Cut Dog Cookies with Peanut Butter & Pumpkin



Oatmeal, Carob & Pumpkin Cookies



Savory Pumpkin Treats made with Sausage



Dog Safe Traditional Turkey & Stuffing Treats



Frozen Pumpkin Pops - After all, it's not Fall everywhere!



Wheat Free Pumpkin Treats made with Oat Flour



No time to bake? That's OK, but don't deny your dog all of the health benefits of pumpkin. Choose from the many Premade Pumpkin Dog Treats available online.

---
YOUR Helpful Dog Tips
Sharing your life with a dog means you are learning something new almost every day. Sometimes our sweet companions teach us compassion, patience, or to simply relax and enjoy a good nap.

You want the very best for your dog, so learning about what we feed them is a big part of keeping them healthy and happy.

What has your dog taught you? Please share your tips with us so we can help more dogs (and their parents) have a rewarding life together.

Our tip this month is in regards to last months newsletter regarding peanut butter:


"On the peanut butter topic, I use powdered peanut butter in the dog treats I make. I originally bought the powdered stuff for myself, but now I'm using it when I make doggie treats. Reconstituted with water, I like the way it tastes. I moved to natural peanut butter long ago, discarding the oil instead of incorporating it. So reconstituted powdered peanut butter is, in my opinion, much healthier."


Thanks for the great information. I've seen powdered peanut butter online, but always been a little hesitant to try it. But now I'm excited by the possibilities. If any other dog treat bakers have tried it, I'd love to hear what you think! :)


---
DogTreatKitchen.com Testimonials
We get lots of feedback from our website visitors, just like you. Here's what some of them are saying . . .


"You have an amazing website!"


"I love your website and have tried a few of your recipes for my dogs. Thank you so much for sharing your great recipes with us."


What are your thoughts? Don't keep them to yourself, Contact Us and let us know what you like, or even dislike, about Dog Treat Kitchen.com. The more you share, the more you help all dog treat bakers, and their dogs.


---


Are you and your dog hungry for more? Let me know what you would like to see on the Dog Treat Kitchen.com.

Want more of a certain type of recipe? Need treat ideas for your next dog party? Let me know what's missing from the dog treat pantry and I'll get to it right away.

Thanks for reading. Until next time,

Happy Dog Treat Baking!

Michelle

www.dogtreatkitchen.com