Triple Apple Dog Cake
with Cheddar Cheese Drizzle
What's Cooking? Dog treats, of course! The Dog Treat Mixing Bowl newsletter will keep you up-to-date on the latest recipes, ingredients, tips and techniques. Our goal is to make baking homemade dog treats simple, fun, and nutritious.
You are receiving this email because you are a subscriber to the Dog Treat Mixing Bowl Newsletter.
Do you know a dog that would appreciate a homemade dog treat? Then forward a copy of this newsletter to your friend and their dog.
You can read this newsletter online, if you prefer.
I would love to know what you're thinking! Simply hit the reply button for your questions and comments about this newsletter.


---
Triple Apple Dog Cake Recipe
Triple Apple Dog Cake with Cheddar Drizzle Recipes - Simple ingredients make this dog cake recipe come together quick and easy.

Apples are full of nutritional value for your dog. Make this dog cake and watch your dog jump for joy over the texture and natural sweetness of apples.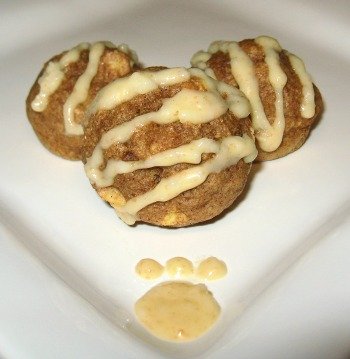 Many people won't eat a slice of apple pie without a slice of cheddar cheese on the side. So, for all of our two legged friends we created a dog friendly version of your favorite. The cheddar glaze makes a plain dog cake a show stopper.

Make your own dried apples for your dog and for this dog cake recipe.

Do you have great ideas for healthy, delicious and adorable homemade dog treats? Then maybe it's time you check into starting your own dog treat bakery. Start by reading my review of a timely book all about how to start your own business. Then release your creations to the world.


---
Apples, Apples & More Apples
We've got more dog treat recipes with apples, in case your dog falls head over tail for these treats.

Try the wheat free Apple & Carrot Nibbles or check out our homemade version of dried apple slices mentioned above.

Process all those apples quickly and easily with an Apple Peeler/Corer/Slicer. They're really invaluable if you've got lots of apple dog treats to make. :)

There are otherCharcoal Dog Treats to choose from.

No time to bake homemade treats this month? No need to fret, check out the healthy apple dog treats they have online so your dog can still enjoy the goodness and sweetness of apples.


---
Pumpkin Dog Treat Recipes
If the cooler air of October makes you want to bake, I really hope you bake for your four and two legged family members.

We skipped the traditional pumpkin dog treats this October because, well, we've made several! :) Check out our past pumpkin recipes for all kinds of delicious pumpkin fall baking:

Bake up a storm, leave your dogs taste-bud feedback and get ready for next months tasty newsletter.


---
DogTreatKitchen.com Testimonials
We get lots of feedback from our website visitors, just like you. Here's what some of them are saying . . .


"I LOVE your recipes... my doggy's LOVE LOVE LOVE your recipes!"


"My dog and all their friends loved these dog treats. Thanks again for these wonderful recipes. I never have to worry about my dogs with these wonderful treats."


What are your thoughts? Don't keep them to yourself, Contact Us and let us know what you like, or even dislike, about Dog Treat Kitchen.com. The more you share, the more you help all dog treat bakers, and their dogs.


---
Newsletter Sneak Peek
What's New for the November issue?

Next month we'll have Decorated turkey and pumpkin dog treats that will make you want to make extras and give as gifts.

See you here in a month! :)


---


Are you and your dog hungry for more? Let me know what you would like to see on the Dog Treat Kitchen.com.

Want more of a certain type of recipe? Need treat ideas for your next dog party? Let me know what's missing from the dog treat pantry and I'll get to it right away.

Thanks for reading. Until next time,

Happy Dog Treat Baking!

Michelle

www.dogtreatkitchen.com