Keep Your Dog Safe with Our
Jerky Dog Treat Recipes
What's Cooking? Dog treats, of course! The Dog Treat Mixing Bowl newsletter will keep you up-to-date on the latest recipes, ingredients, tips and techniques. Our goal is to make baking homemade dog treats simple, fun, and nutritious.
You can also read this newsletter online.
---
Protect Your Dog with
Safe Jerky Dog Treats
The safety of commercial dog treats has once again been brought into question. Unfortunately many more dogs have become ill, and some have passed away.

The FDA has recalled many brands of jerky dog treats. They have even put together a handy Fact Sheet to help those who may have had contact with any jerky treats.

Please review this information so that your dog, or a dog you know, can be protected from tainted treats.

After educating yourself on the potential dangers, why not rest easy knowing that your dogs jerky treats have come from YOUR kitchen!

We have many jerky dog treat recipes that you can choose from:

Chicken Jerky Dog Treats - This is by far the most popular jerky dog treat to make. You can even see how other dog lovers have made their own treats like Olivia from Sweden.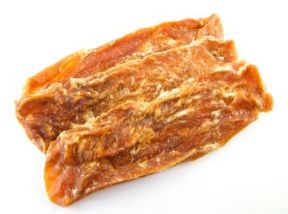 Dried Sweet Potato Treats - Not all jerky dog treats need to be meat based. Try out this healthy and budget friendly treat, too. Have your dog feel like Lucky from Milwaukee.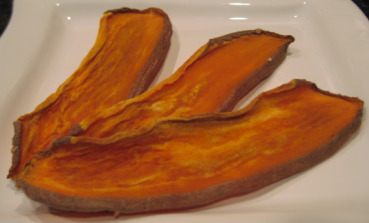 Liver Jerky Dog Treats - Liver takes a little longer to dry than other meats, but your dog will love you more than you ever thought possible! :) Try organic chicken livers or other organic organ meat, once you get the hang of dehydrating liver.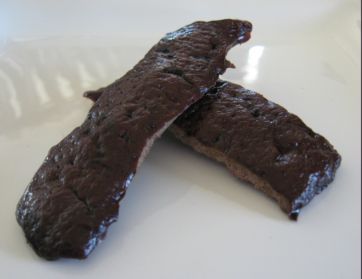 Easy Beet Chips - These are as easy as opening a can of sliced beets. You can use fresh beets, too. Although they end up small, they make the perfect training reward.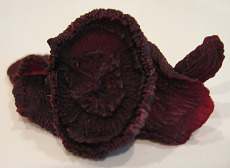 Dried Apple Slices - Last, but not least, a treat the whole family will enjoy. Don't take it from me, Lizi & Preci, love them, too!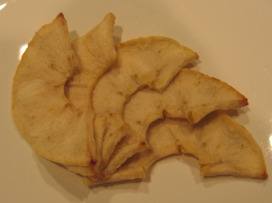 ---
Safe Dog Treats are Also
Easy to Make!
It is now safer than ever to make your own homemade dog treats. If time or experience is standing in your way, push it aside because I have the answer for you!

My eBook is full of super EASY (and very healthy) dog treat recipes. There are step by step photos of every recipe so you will know exactly how to make each original recipe.

Check out my Easiest dog treat recipes, yet. Read more about all the features, like over 90 original photos, of our first eBook 15 Easy Dog Treat Recipes with 5 Ingredients or Less!.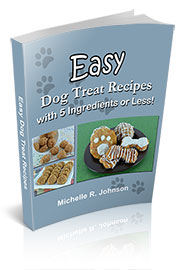 ---
Be Safe for the Upcoming Holidays
(Plus Turkey Recipes!)
Later this month is a food filled holiday. Be sure you keep your dog safe and secure no matter what your plans.

Share some of the food festivities with these dog friendly seasonal recipes:

Cut Outs of Turkeys, Wheat Free, too



Turkey is a lean and healthful meat choice for most dogs. If you can't fit it into your dogs treats, why not try some Canned Turkey Dog Food for a special treat.

Or, if your dog is watching his weight, how about a fun new Turkey Dog Toy to be a part of the season.

---
YOUR Helpful Dog Tips
What has your dog taught you? Please share your tips with us so we can help more dogs (and their parents) have a rewarding life together.

Our tip this month is a Question and Answer regarding homemade peanut butter:


"My question is can I use other raw peanuts as I am not sure whether I will be able to source red Spanish peanuts here in South Africa. I just want to check whether others will be fine."


"Chef's Answer: Yes, you can use Virginia or Valencia peanuts to make homemade peanut butter. I recommended the red Spanish peanuts because they have a higher oil content. If you use the other varieties of peanuts you may need to add a little more coconut oil. Start with the tablespoon in the recipe and see how the butter comes together. If it seems dry, add 1 teaspoon extra at a time and continue to process and scrape the bowl."

Look for Raw, Shelled Peanuts online if you can not source any in your local area.


---
DogTreatKitchen.com Testimonials
We get lots of feedback from our website visitors, just like you. Here's what some of them are saying . . .


"I want to thank you for all the newsletters and recipes. I have made a lot of the treats for my dogs, and they love them. "


"I just wanted to let you know, that I am addicted to your website and newsletter!!!! I am baking my Stardust homemade treats, and having a blast! I am also recommending this to all my friends and family who have dogs as well....please continue, and know that you are now on my bookmark list next to Vogue:) Thank you for this website!!!"


What are your thoughts? Don't keep them to yourself, Contact Us and let us know what you like, or even dislike, about Dog Treat Kitchen.com. The more you share, the more you help all dog treat bakers, and their dogs.


---


Are you and your dog hungry for more? Let me know what you would like to see on the Dog Treat Kitchen.com.

Want more of a certain type of recipe? Need treat ideas for your next dog party? Let me know what's missing from the dog treat pantry and I'll get to it right away.

Thanks for reading. Until next time,

Happy Dog Treat Baking!

Michelle

www.dogtreatkitchen.com