6 Pumpkin Dog Treat Recipes,
Walk Your Dog Week &
Pet Obesity Awareness Month
---
Make These 6 Pumpkin Dog Treats
All Season Long!
Pumpkin fever is not just for lattes, cookies and other treats for the two-legged family members. Nope, pumpkin is in season and it's time to make some yummy pumpkin dog treat recipes.

If you make only one pumpkin dog treat, make this one! Pumpkin Biscotti is always a huge hit. It is baked twice so it is nice and crunchy for those dogs that love a good chew. If you have a gentle nibbler you can always dunk these in water to soften them up a bit.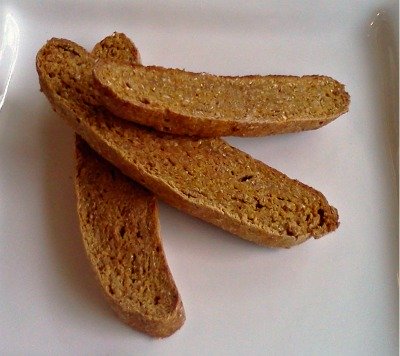 If your dog has never tasted pumpkin before, and you're not sure she'll like it, you need to make my next recipe. Crunchy Pumpkin and Sausage Bites are perfect for those dogs that prefer a savory treat. Make them crunchy by adding pepitas to the top of each tasty bite.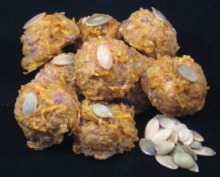 Third on our pumpkin list is a classic, Pumpkin Pie Dog Biscuits. You'll fool your family into thinking there's pumpkin pie waiting for them. Nope! This little treat is just for the furry members of the family. :)

These dog biscuits can be made with any shape cookie cutter you have. Please don't use pumpkin pie spice mix as it contains nutmeg and this isn't safe for our dogs.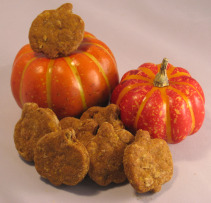 Do you have a "sweet tooth dog" waiting for his daily treat? Then the fourth recipe will need to be made as soon as possible.

My Pumpkin & Carob Dog Cookies are sure to hit the spot of any sweets loving pup. It's one of the only dog treat recipes that include sugar. But at only a 1/4 cup for 4 dozen cookies, that's not too much per cookie.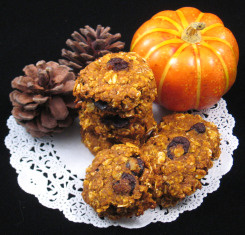 Fifth on the pumpkin list is a website favorite. My Pumpkin & Peanut Butter Dog Treats have been satisfying dogs for years. With only 6 ingredients, one of which is optional (the cinnamon), you'll be able to keep these biscuits on hand whenever your dog is deserving of a homemade treat.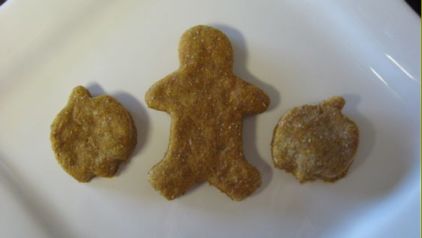 Last but not least, is our sixth pumpkin dog treat to make. The adorable Pumpkin Donuts Dog Treats. Please don't let the shape deter you. If you don't have a mini doughnut pan, this batter can be put into a mini muffin tin instead. However they are shaped, make this dog treat recipe for your dog, she'll thank you for it.
---
October Dog Events
October 1st -7th - National Walk Your Dog Week - Life can get busy and walking your dog everyday can unfortunately suffer. Be determined to make walking with your dog a priority. Read more about the benefits of walking and ways to celebrate at this website:

October 11th - Pet Obesity Awareness Day - Is your dog overweight? Do you know how to check? Make sure your dog is in the healthy weight range by going to the Pet Obesity Prevention website here:

You can also answer an anonymous survey and be entered to win a free book on pet nutrition. More importantly you'll be helping to determine the cause of so many obese pets. More information can be found here:
---
The Secret is Out ...
Homemade Dog Treats are the Best!
There are a lot of free or very inexpensive dog treat recipe eBooks out there these days. But, are you really getting a good recipe? Are they healthy treats good for your dog? Will your dog even like the finished dog biscuit?

I have taste tested every one of my dog treat recipes on multiple dogs (plus I taste test them, too!). If my panel of testers turn their nose up to a treat, I go back to the drawing board to make a healthy and delicious dog biscuit. You will only get healthy recipes that will actually work in a regular kitchen.

So, what are you waiting for? Get to baking with tested dog treat recipes developed and written for beginner bakers.

Check out my eBook 15 Easy Dog Treat Recipes with 5 Ingredients or Less! Or, make any day special with a celebration dog cake with my Dog Cake Recipes for Every Occasion.

If you have questions, contact me on Facebook and I would be happy to help you in any way I can. Or, join the hundreds of people who have already started making their own easy, healthy and delicious dog treats by buying my recipe eBooks today.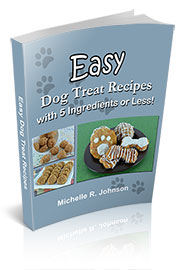 ---
Are you and your dog hungry for more? Let me know what you would like to see on the Dog Treat Kitchen.com.

Want more of a certain type of recipe? Need treat ideas for your next dog party? Let me know what's missing from the dog treat pantry and I'll get to it right away.

Thanks for reading. Until next time,

Happy Dog Treat Baking!

Michelle

www.dogtreatkitchen.com