Dog Training Treats,
Weight Loss for Your Dog
& National Train Your Dog Month
Have you joined us on Facebook yet? Be sure to check us out, after reading this newsletter, to keep up with new dog treat recipes. Plus, read my answers to other dog treat bakers questions.
Facebook is also a wonderful place to share pictures of your own homemade dog treats! :) And don't forget about your treat recipients, share photos of your dogs, too. :)
*Special Note* Click the reply button and let me know what dog treat recipes you'd like to see on Dog Treat Kitchen. What recipes do you want to see in the following months? It's as easy as hitting reply and letting me know! :)
As always, you can also read this newsletter online.
---
Dog Training Treats & Weight Loss Treat Recipes
Many people consider cutting back, starting new habits and putting a new foot forward at the beginning of a new year. The same concept is important for your dog, too.

Our dogs can get into a routine of bad manners if we allow them. Those sweet sad eyes can make us give them extra treats, and let little things slide when it comes to their obedience.

That's why a new year is a good time to help our four legged friends cut back on unwanted calories, become more active and maybe learn a new command or trick.

To get your dog excited about a new training program, we suggest you start with these low fat, but very tempting dog treat recipes.

First is our Beef Glazed Green Bean Treats: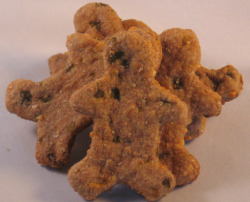 The second recipe to make has four different vegetables packed into one yummy treat. Our Salad Dog Treat Recipe: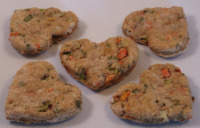 If your dog has more of a sweet tooth, you'll want to make our Carrot & Banana Treats: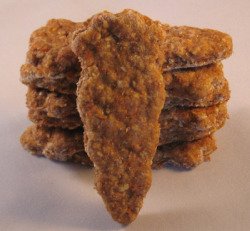 If your heart is warmed by giving healthy homemade dog treats, you may be ready to take your passion to the next level. Starting your own dog treat business can seem overwhelming, but it doesn't have to be.

Start by reading my review of a very helpful book on How to Start Your Own Dog Bakery Business.

Before you know it, you could be delivering healthy, tasty homemade dog treats to dogs all over the country. :)


---
National Train Your Dog Month
January is National Train Your Dog Month. You may be thinking, but my dog already knows the command for sit and down and she walks great on a leash, what else does she need to know?

How about these great tips on how to Help Your Dog Love Visiting the Veterinarian.

Or, another fun concept, Teaching Your Dog to Play with Toys.

These and many more tips, videos and resources can be found on the website - http://www.trainyourdogmonth.com/


---
January Featured Fans ~ Mya & Meeko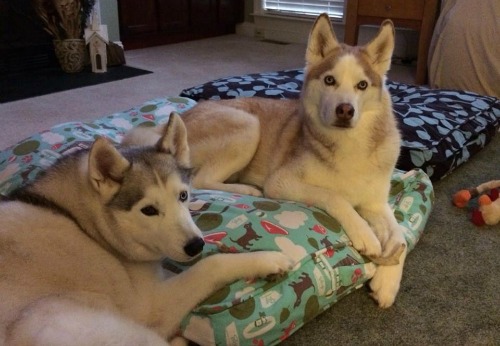 Our Featured Fans for January are Mya & Meeko. They even shared a picture of one of their favorite treats, my Pumpkin & Peanut Butter Dog Treats.

Their Mom has this to say, "My pups love the "Pumpkin & Peanut Butter Cut Out" treats. I add some yogurt in them and cinnamon and they go crazy for them! I make their treats for them every 2 weeks. Here is a picture of their cookie cut outs in the form of a sled dog and their yogurt/pumpkin treat."

What a wonderful pair of pups, and so fortunate to have a loving dog-mom to make them sled dog cut out homemade dog treats. :)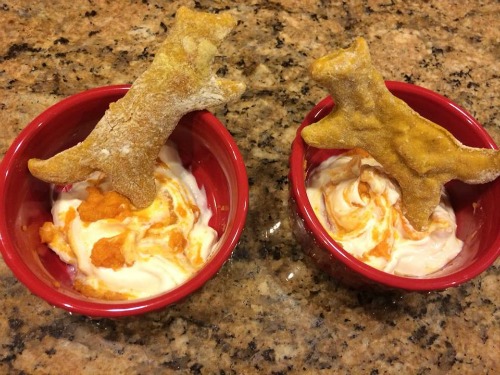 ---
Be Our Next Featured Fan!
Shine the spotlight on your special dog by entering him or her into our Featured Fan newsletter feature. This newsletter goes out to thousands of people every month, why not share your adorable pup with us. :)

If you'd like to have your dog be our next Featured Fan, send in a photo, description and information regarding what homemade dog treat your dog loves.

Hit Reply to this newsletter, or use our Contact Us form to enter your dog to be next months Featured Fan.


---
Reviews for Easy Dog Treat Recipes eBook
For the cost of a box of commercial dog treats, you can have my eBook,
15 Easy Dog Treat Recipes with 5 Ingredients or Less! Then you can make endless amounts of healthy, yummy, tested dog treat recipes that are already being enjoyed by countless dogs.

Here is a recent review for my eBook:

"This is a compilation of some very tasty sounding and easy recipes that any and every dog would love to chomp!"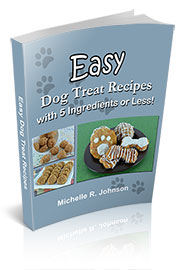 ---
DogTreatKitchen.com Testimonials
We get lots of feedback from our website visitors, just like you. Here's what some of them are saying . . .


"I found a great recipe for dog treats in your site which were suitable for a pooch with Addison's disease. He tolerates them with no effects - HOORAY!!! Thank you."


"I love your newsletter and site. Thanks so much for all the information. I'm kind of a novice, but your site has inspired me for my little dog."


What are your thoughts? Don't keep them to yourself, Contact Us and let us know what you like, or even dislike, about Dog Treat Kitchen.com. The more you share, the more you help all dog treat bakers, and their dogs.


---
Are you and your dog hungry for more? Let me know what you would like to see on the Dog Treat Kitchen.com.

Want more of a certain type of recipe? Need treat ideas for your next dog party? Let me know what's missing from the dog treat pantry and I'll get to it right away.

Thanks for reading. Until next time,

Happy Dog Treat Baking!

Michelle

www.dogtreatkitchen.com