Easy Seasonal Dog Treats
Make the Perfect Gift
What's Cooking? Dog treats, of course! The Dog Treat Mixing Bowl newsletter will keep you up-to-date on the latest recipes, ingredients, tips and techniques. Our goal is to make baking homemade dog treats simple, fun, and nutritious.
You can also read this newsletter online.
---
Seasonal Favorites made with
Dog Safe Ingredients
Food is a central theme this time of year. When you are making and giving homemade goodies, don't forget about your four legged friends.

The traditional cookies that fill our memories aren't suitable for our dogs, but we can make dog cookies that look like our favorites with dog safe ingredients.

How about a Sugar Free Candy Cane Dog Treat - Twist plain and red dough for a familiar shape. Sherri from Canada had a great experience making this recipe. Read her review and see Tyler enjoying the results!.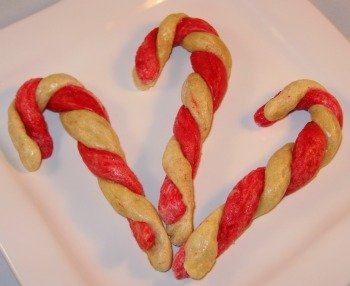 A second and delicious traditional cookie is the Gingerbread Man - These have none of the unhealthy sugars as their seasonal counterparts. There's no need to keep the shape of the gingerbread man, Hollie from Montana used all different shapes and her dogs loved them!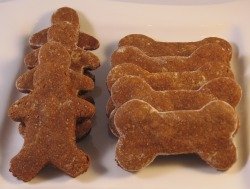 ---
Make an Edible Gift Tag
Whether your gift is homemade dog treats or not, you can make an edible gift tag dog treat. It's really simple, and super customizable. Our Gluten Free Dog Treat Recipe is a good place to start.

Roll out the dough, cut out a circle or other simple shape. Before the dog treat is baked, use a straw to cut out a tiny hole at the top.

Next, make a batch of our egg paint icing and write the dogs name on the unbaked cookie.

Once the treat is baked you can thread the hole with ribbon and attach it to the gift.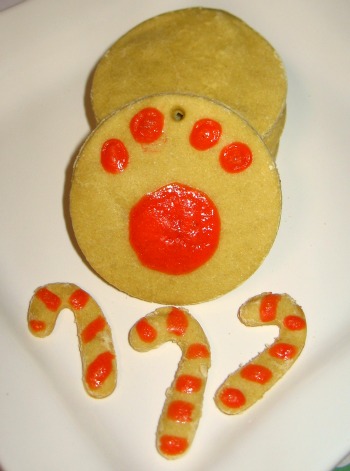 ---
Treat Yourself to Easy Dog Treat Recipes
A gift for yourself is also a gift for your dog. If you have a busy schedule (and who doesn't) then you need quick and easy dog treat recipes. Treat yourself, and your dog, to my first eBook full of easy, quick and healthy dog treats.

Step by step photos help you see how to make each recipe. Plus there are substitutions to customize each recipe to better fit your individual dog.

Read more about all the features, like over 90 original photos, of my eBook 15 Easy Dog Treat Recipes with 5 Ingredients or Less!.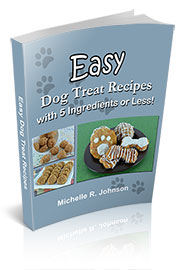 ---
How to Ship Homemade Dog Treats
Don't let distance determine whether or not you give healthy homemade dog treats as a gift.

Review my helpful tips on how to ship dog cookies, then pick a recipe and send a little love to a very fortunate dog.


---
DogTreatKitchen.com Testimonials
We get lots of feedback from our website visitors, just like you. Here's what some of them are saying . . .


"You are so helpful, thank you so much! Nobody has given me anything but short answers and I don't knows, except you. Thank you for your help!"


"Wanted to let you know that I have used some of your recipes and told neighbors about you. We have a wonderful neighborhood and I started a Critter Coop where we help each other with our animals.

I generally have a couple of Coop parties a year. This year I had a Cookie Exchange and everyone had to bring Homemade Dog snacks. We had so much fun trading our goodies. Now a lot of us are baking at home for our critters and the dogs LOVE it. Thanks for your site!"


What are your thoughts? Don't keep them to yourself, Contact Us and let us know what you like, or even dislike, about Dog Treat Kitchen.com. The more you share, the more you help all dog treat bakers, and their dogs.


---


Are you and your dog hungry for more? Let me know what you would like to see on the Dog Treat Kitchen.com.

Want more of a certain type of recipe? Need treat ideas for your next dog party? Let me know what's missing from the dog treat pantry and I'll get to it right away.

Thanks for reading. Until next time,

Happy Dog Treat Baking!

Michelle

www.dogtreatkitchen.com