Fall Favorites Recipes &
Pet Obesity Awareness Week
Have you joined us on Facebook yet? Be sure to check us out, after reading this newsletter, to keep up with new dog treat recipes. Plus, read my answers to other dog treat bakers questions.
Facebook is also a wonderful place to share pictures of your own homemade dog treats! :) And don't forget about your treat recipients, share photos of your dogs, too. :)
*Special Note* Click the reply button and let me know what dog treat recipes you'd like to see on Dog Treat Kitchen. What recipes do you want to see in the following months? It's as easy as hitting reply and letting me know! :)
As always, you can also read this newsletter online.
---
Fall Favorites Dog Treat Recipes
Fall is to baking, as treats are to dogs ... made for each other. :)

As the weather cools, you may begin to ponder the busy months ahead. Take time now to bake a few dozen homemade dog treats and stock your freezer full of these fall favorites.

Everywhere you look, pumpkin reigns as the requested flavor in everything from coffee, to chips and beer! Share the sweet and savory flavors of pumpkin with your dog with our pumpkin recipes.

You can also use pumpkin shaped cookie cutters or pumpkin pans to make any flavored dog treat recipe a little more festive.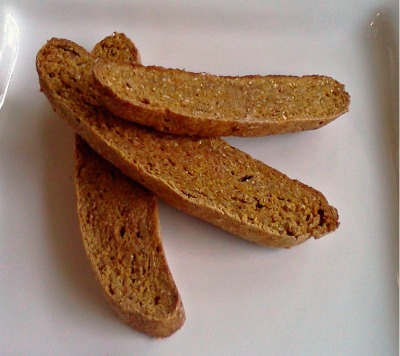 Pumpkin & Carob Dog Cookies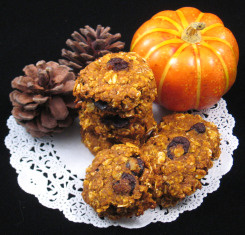 Pumpkin & Peanut Butter Cut Out Treats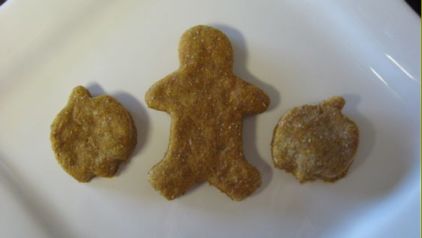 Another sweet treat especially enjoyed during the fall months are apple dog treats. We have several recipes to choose from, why not start with one of these:

Triple Apple Dog Treats with Cheese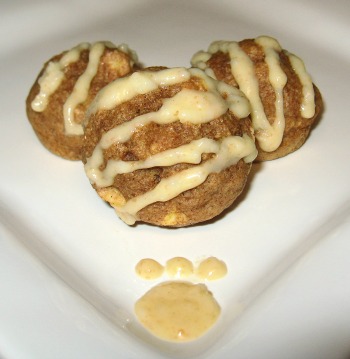 Or try these quick and easy dried apple slices. These treats can be enjoyed by everyone in the family.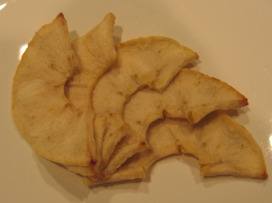 If you're ready to take your homemade dog treats to the next level, consider reading my review of the best eBook on How to Start Your Own Dog Bakery Business.


---
National Pet Obesity Awareness Day
Pet obesity is a growing concern for pet parents around the globe. According to some studies, over half of all dogs are overweight. We love our dogs so much, that we can sometimes unknowingly be hurting their health and well being by overfeeding them.

Do you know how to tell if your dog is overweight? First, look at your dog from above while they are standing. Can you see a clearly defined waist? If not, your dog may be overweight.

Second, can you feel his ribs when you pet his side? You should be able to feel the ribs, not see them, but feel them when you pet and touch their side.

October 8th is National Pet Obesity Awareness Day. Check out this website for more information:

http://www.petobesityprevention.org/

You can download several helpful PDF's from the above site. For example, they have a chart of how many calories are in common dry and wet dog foods so you can properly monitor how much you are giving your dog.

The first full week in October is also National Walk Your Dog Week. Extra walks that are brisk and approximately 20 minutes or more can help your dog (and you) lose a couple unwanted pounds. Read more about the health benefits of walking on their website:

http://www.walkyourdogweek.com/

Remember, food is not love. We show our dogs how much we love them by caring for them physically, mentally and emotionally. Please love your dog with extra hugs, special toys and long walks ... and an occasional healthy homemade dog treat. :)


---
Be Our Next Featured Fan!
Shine the spotlight on your special dog by entering him or her into our Featured Fan newsletter feature. This newsletter goes out to thousands of people every month, why not share your adorable pup with us. :)

If you'd like to have your dog be our next Featured Fan, send in a photo, description and information regarding what homemade dog treat your dog loves.

Hit Reply to this email newsletter, or use our Contact Us form to enter your dog to be next months Featured Fan.


---
Reviews for Easy Dog Treat Recipes eBook
For the cost of a box of commercial dog treats, you can have my eBook,
15 Easy Dog Treat Recipes with 5 Ingredients or Less! Then you can make endless amounts of healthy, yummy, tested dog treat recipes that are already being enjoyed by countless dogs.

Here is a recent review for my eBook:

"Wonderful recipes for all sorts of dog treats! Even if you've never baked a thing before, the author gives you a list of ingredients, substitutes and where to find the ingredients. She also gives you a list of simple things you need like baking sheets & utensils to make the job easier. There are recipes for dietary restrictions that your pet may have too. The recipes are easy to follow and my dogs love all of them!"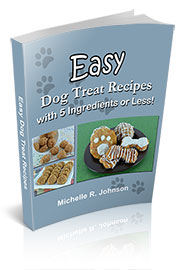 ---
DogTreatKitchen.com Testimonials
We get lots of feedback from our website visitors, just like you. Here's what some of them are saying . . .


"You are so helpful, thank you so much! Nobody has given me anything but short answers and I don't knows, except you. Thank you for your help!"


"Thanks so much. Having these treats makes me feel so much better when I train him, knowing he is getting healthy stuff without chemicals etc"


What are your thoughts? Don't keep them to yourself, Contact Us and let us know what you like, or even dislike, about Dog Treat Kitchen.com. The more you share, the more you help all dog treat bakers, and their dogs.


---
Are you and your dog hungry for more? Let me know what you would like to see on the Dog Treat Kitchen.com.

Want more of a certain type of recipe? Need treat ideas for your next dog party? Let me know what's missing from the dog treat pantry and I'll get to it right away.

Thanks for reading. Until next time,

Happy Dog Treat Baking!

Michelle

www.dogtreatkitchen.com