Dog Cookie Baking Tips,
Carrot Dog Treats,
& Pet ID Week
Join the fun on our Facebook page. Get up-to-date information regarding dog treat recalls, new dog treat recipes and my answers to dog treat baking questions.
Click the reply button and let me know what dog treat recipes you'd like to see on Dog Treat Kitchen. It's as easy as hitting reply and letting me know! :)
You can also read this newsletter online.
---
Helpful Dog Cookie Baking Tips
Baking your own homemade dog cookies is fun, saves money and is healthier than most commercially made dog treats. This month I hope to make it even easier for you to make the very best dog treats for your dog with a few helpful tips.

Gluten Free and Grain Free - It is so simple to make all of your homemade dog treats gluten and/or grain free. Take any of my dog treat recipes and substitute with a gluten free flour mix. Or, if you want your treats to be both gluten and grain free, you can make your own mix at home. For each cup of whole wheat flour that you want to substitute, replace it with a blend of 1/2 cup garbanzo bean flour, 1/4 cup almond flour and 1/4 cup of tapioca flour.

Measuring Flour - If you are making my dog treat recipes and find that sometimes your dough isn't coming together well, you might be using too much or too little flour. With all of my recipes I use the scoop and sweep method of measuring flour. Take your measuring cup, grab a regular spoon and slowly sift the flour into the measuring cup. Once the flour has made a slight mound over the top of the measuring cup, use the back of a butter knife and scrap off the top to make it even. I prefer a set of straight edged stainless steel measuring cups for all of my baking needs.

Replace Eggs - Some of our dogs can't tolerate eggs, so do you have to skip all the treat recipes with eggs? Absolutely not! :) Stir together 3 tablespoons of ground flax seed with 1 tablespoon of hot water. Set aside for about 5 minutes. Then when the recipe calls for the eggs, add the flax seed mixture instead.

I hope these few tips will help you to continue making homemade dog treats for your special four legged kitchen helper. :) If you have any questions about how to make homemade dog treats, feel free to reply to this newsletter or use my Contact Us form on the website.


---
Carrot Dog Treats
Spring is in the air and carrots are on my mind. It must be because every store I go into has rabbits everywhere, I just keep thinking about carrots and carrot dog cookies. :) Enjoy these few recipes and let your dog chomp on some sweet and healthy treats.

Low Fat Carrot Dog Treats - These treats have the sweetness of carrots, bananas and applesauce with very little fat, but a whole lot of taste.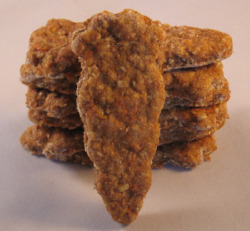 Apple Carrot Nibbles - This recipe uses rice flour, so it would be perfect for a gluten free dog treat. The addition of molasses makes these little nibbles even more sweet and delectable.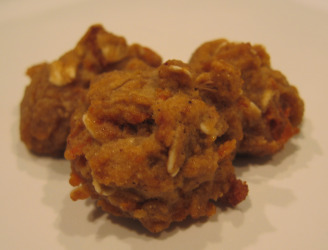 Carrot & Liver Brownies - If you're looking for a high reward, yet still healthy dog training treat, look no further. These liver and carrot brownies are sure to please even the pickiest of pooches.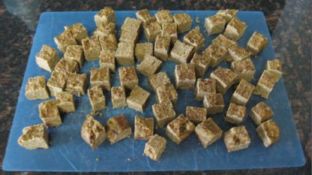 Spinach & Carrot Dog Cookies - This dog treat recipe usually focuses on the spinach, yet it has 1 full cup of grated carrots, too. :) Don't worry if you think your dog won't like the spinach. This homemade dog cookie has a little Parmesan cheese, chicken broth and extra virgin olive oil to entice a bite or two of these heart healthy treats.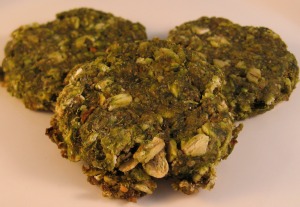 Carrots aren't the only healthy ingredient that isn't being supported in commercially made dog treats. There are plenty of healthy dog treat ideas our there just waiting to be made, marketed and enjoyed by dog parents who don't have the time to make them at home. Why not start your own dog treat bakery business? To help get you started, read my review of a leading eBook titled: Bake a Dog a Bone - Turning Your Passion for Pets Into Profits. Put your talents to use and help make dogs in your neighborhood beg for more of your homemade healthy dog treats. :)


---
National Pet ID Week
The third week in April is National Pet ID Week. No one wants to think of their dog being lost. Unfortunatley it can happen very quickly. It only takes a moment of a door being left open, a gap in the fence or another enticement and your dog could find himself alone and lost.

There are so many options now for you to be able to locate your dog. Let's look at a few:

Dog Tags - Tags have come a long way since a plain metal circle with your address and phone number. Now you can outfit your dog with a Web & GPS enabled QR code tag. Each tag allows you to set up a private, web page for your pet. At any time, update information like your address, facebook page, pet's medical information and more. Once your dog is found, a person can scan the QR code and their location is then sent to you to view.

Customized Collars - Your next line of defense can be an embroidered dog collar. Have your dogs name and your telephone number permanently sewn into their collar. You can also have the lettering be reflective to show up in the dark.

Microchip - This is a rice sized capsule that is implanted just under your pets skin. When it is registered with your information the agency that finds your dog can scan them implant and contact you immediately.

Tattoo Identification - This is a permanent application of an identification code that is put in the dog's ear, abdomen or on the inside of the thigh. Ask your Veterinarian for more information on this form of ID.

If the worst happens, and your beloved pet becomes lost, review this helpful article from the American Humane Association on what to do:

http://www.americanhumane.org/animals/adoption-pet-care/caring-for-your-pet/if-your-pet-gets-lost.html


---
April Featured Fan - Gardel
Our Featured Fan for the month of April is Gardel an English Black Lab.

His guardian Lourdes, has this to say: His favorite treat is a homemade apple honey cookies with whole wheat and corn meal.

He has 2 meals every day (lunch and diner) based on chicken, rice and vegetables (corn, green beans, carrots, sweet potatoes and broccoli). Once a week scrambled eggs, liver and Greek yogurt. He also loves pears, manzanas and watermelon.

Every day we share long walks, such us the Green Belt, the park or mountains. Summer time is beach time, swimming and running through the South Bay coast.

Favorite toy: Folgers coffee cans, if 2, better!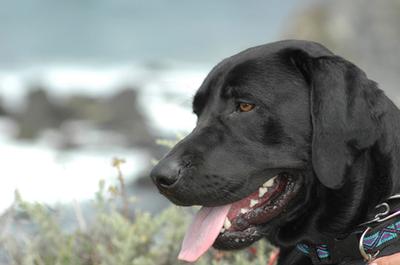 Be Our Next Featured Fan!
Shine the spotlight on your special dog by entering him or her into our Featured Fan newsletter feature. This newsletter goes out to thousands of people every month, why not share your adorable pup with us. :)

If you'd like to have your dog be our next Featured Fan, send in a photo, description and information regarding what homemade dog treat your dog loves.

Hit Reply to this newsletter, or use our Contact Us form to enter your dog to be next months Featured Fan.


---
Reviews for Easy Dog Treat Recipes eBook
Did you know you can have my eBook, 15 Easy Dog Treat Recipes with 5 Ingredients or Less! on your Kindle device? Easy and simple dog treat recipes are waiting for you. Here's another recent review from a happy eBook reader:

"Enjoyed her recipes. Very simple to make and easy ingredients you have on hand. My dogs give it 5 stars!"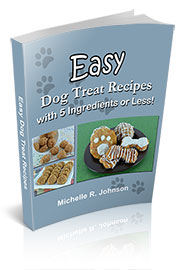 ---
DogTreatKitchen.com Testimonials
We get lots of feedback from our website visitors, just like you. Here's what some of them are saying . . .


"Just want to say I LOVE your site, all your help. You are an amazing dog lover and my little JRT loves everything I make. Then I started making treats for the 2 rescued dogs my daughter has now and they love when I visit 'cause I'm never empty handed. Then others asked and now I am supplying a number of rescued, elderly, and other pets that just need to start eating more healthy."


What are your thoughts? Don't keep them to yourself, Contact Us and let us know what you like, or even dislike, about Dog Treat Kitchen.com. The more you share, the more you help all dog treat bakers, and their dogs.


---
Are you and your dog hungry for more? Let me know what you would like to see on the Dog Treat Kitchen.com.

Want more of a certain type of recipe? Need treat ideas for your next dog party? Let me know what's missing from the dog treat pantry and I'll get to it right away.

Thanks for reading. Until next time,

Happy Dog Treat Baking!

Michelle

www.dogtreatkitchen.com