New Visitor Requested Recipe:
Banana Biscotti Dog Treats
& Your Turn to Request a Recipe
Please remember to "Like Us" on Facebook to keep up with all the fun and tasty dog treat recipes.
Facebook is also a great place to ask me questions about dog treats and post fun pictures of your own homemade dog treats! :)
*Special Note* Click the reply button and let me know what dog treat recipes are missing from Dog Treat Kitchen. What recipes would you like to see more of in the following months? It's as easy as hitting reply and letting me know! :)
As always, you can also read this newsletter online.
---
New Banana Biscotti Dog Treat Recipe
A special Thanks goes out to Sally & her Golden Retriever for requesting more banana dog treat recipes. :)

You can request a dog treat recipe, too. It's as easy as clicking reply to this newsletter, visiting me on Facebook, or contacting me at Dog Treat Kitchen.com

Bananas are a loved fruit by almost all dogs. They are not only sweet, but they are loaded with Vitamin B6, fiber, and of course, potassium. So pick a banana dog treat recipe and give your dog the very best in dog treats.

Our featured Banana Biscotti recipe: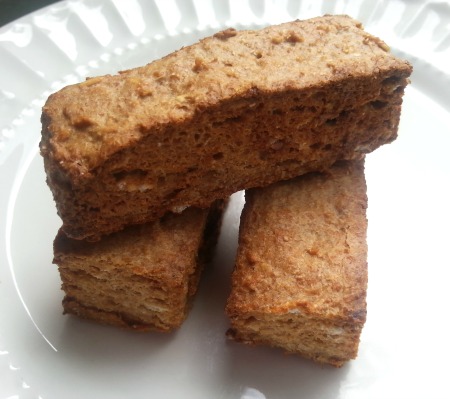 Ingredients:
2 medium bananas
1/4 cup peanut butter
2 eggs
1/4 cup water
2 1/4 cups whole wheat flour
1/2 cup rolled oats
Instructions:
Preheat oven to 350° F
Place the peeled bananas and peanut butter into a large microwave safe bowl.
Microwave the bananas and peanut butter for 30 seconds, or less to soften.
Thoroughly mash the bananas while mixing in the peanut butter.
Beat in the two eggs.
Stir in the water.
In a separate bowl, whisk together the flour and oats.
Make a well in the center of the flour and pour in the banana mixture.
Using a fork, stir together the wet and dry ingredients until completely combined. If needed, use your hands to mix together the mixture.
Lightly spray a baking sheet with non-stick cooking spray.
Turn out your dough ball onto the prepared baking sheet. Gently press the ball into a rectangular shape about 1 inch thick. Try to make your shape as uniform as possible for even baking.
Bake for 20 minutes.
Let the banana biscotti cool on a wire rack for 5 minutes.
Cut the rectangle in half, lengthwise.
Cut strips about 1 inch thick.
Place the slices, cut side down, and bake for another 20 minutes, turning them over half way through.
Turn the oven off and let the treats cool in the oven. Or, cool completely on a wire rack before serving.
Yield: 24 - 2 inch by 1 inch banana biscotti


---
More Banana Dog Treats to Love
Banana Bread Dog Treats - Banana bread is not just for the two-legged family members. This recipe is made with your dog in mind. Use a regular loaf pan or muffin tin to make this recipe. Or, to make the treats like the ones below, use a mini loaf pan, instead.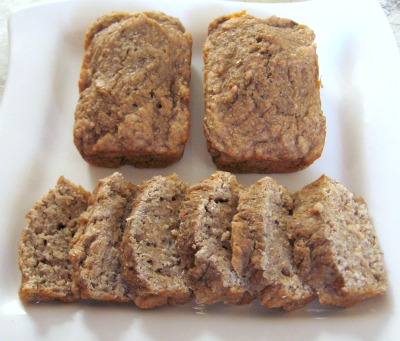 Banana & Peanut Butter Dog Cake - Another versatile recipe that you can make into a traditional cake form, or make into regular or mini muffins. Check out a visitor submitted picture from Facebook of her celebration cake made with this recipe below.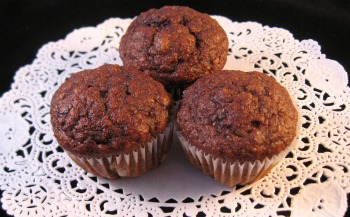 Banana & Carrot Dog Biscuits - Yes, I realize these dog treats are in the shape of a carrot, and have carrots in them. However, they also contain 1 full ripe banana, so I thought they deserved to be featured. :)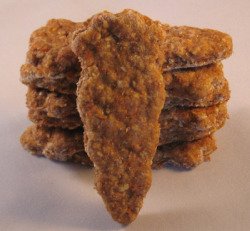 Are you thinking about taking your passion for making homemade dog treats to the next level? Then you must read my review of a very helpful eBook on How to Start Your Own Dog Bakery Business. There are tons of tips and tricks to get you started right and make a success of your very own bakery.


---
May is Pet Cancer Awareness Month
Take this month of May to educate yourself regarding the early warning signs for Cancer in your dog. A few small changes in your daily routine can make a huge difference in your dogs long term health.

For example, ditch your strong household cleaners for natural plant based cleaners. This is a good idea for all of your family members.

Second, review the types of commercial treats and food you give your dog. According to the PetCancerAwareness.org website - "Exposure to chemicals in the environment and even small daily doses of chemical additives and preservatives in their food can build up and be carcinogenic."

Learn about Cancer in our pets and be sure to share the information to help even more pet parents be prepared.


---
Join Us On Facebook - We're Having Fun! :)
Check out these adorable dogs who are already enjoying their homemade dog treats. Then, join us on Facebook, post a picture of your dog or ask me a question, I'm always here to help. :)

Oven Watching is Our Favorite Sport:

Sputnik - waiting for his "S" shaped dog treats:
Here's another sweet boy waiting for his homemade Apple and Carrot Nibbles:
Eventually the dog treats come out of the oven and you get to chow down! :)
Here's what the sweet boy above was devouring, our Peanut Butter & Banana Cake (Great looking cake, Jennifer!):
After a good homemade dog treat, you need a soft place to rest. Scuffy and Cash are doing that in style :)
---
What Makes My Recipe eBook Different
You have many choices of dog treat recipe books. People are beginning to see what you've known all along, homemade is fresh and includes quality ingredients. So, what makes the recipes I've developed in my eBook different?
Tested - All of my recipes are tested and perfected for you, the home dog treat baker. How do you know? Because I show you step by step photos of exactly how to make each recipe.
Original - I have developed each and every one of the 15 easy dog treat recipes in my eBook. You will not see them in any other book.
Easy - I made sure to make each recipe have 5 ingredients, or less. That's a tall order for a delicious and healthy dog treat. Each recipe also has common ingredients and simple equipment so you can get started making treats right away.
Healthy - When you make your own easy dog treats, you know exactly what is and isn't in them. Most packaged treats have twice or three times as many ingredients. Plus, those are full of artificial things and other products you can't pronounce.
Check out my eBook 15 Easy Dog Treat Recipes with 5 Ingredients or Less! and if you have questions, contact me on Facebook and I would be happy to help you in any way I can. Or, join the hundreds of people who have already started making their own easy, healthy and delicious dog treats by buying my recipe eBook today.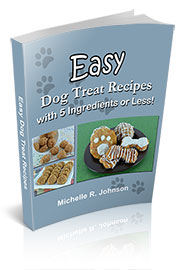 ---
DogTreatKitchen.com Testimonials
We get lots of feedback from our website visitors, just like you. Here's what some of them are saying . . .


"I just want to let you know that I have made several of the treats and my friends say that their pets are just begging for more."


"I made the peanut butter bacon biscuits for our German Shepherd, Maya, and you were right drool on the floor!"


What are your thoughts? Don't keep them to yourself, Contact Us and let us know what you like, or even dislike, about Dog Treat Kitchen.com. The more you share, the more you help all dog treat bakers, and their dogs.


---
Are you and your dog hungry for more? Let me know what you would like to see on the Dog Treat Kitchen.com.

Want more of a certain type of recipe? Need treat ideas for your next dog party? Let me know what's missing from the dog treat pantry and I'll get to it right away.

Thanks for reading. Until next time,

Happy Dog Treat Baking!

Michelle

www.dogtreatkitchen.com