We've Gone Head Over Heels for
Pumpkins, Pumpkins, Pumpkins!
What's Cooking? Dog treats, of course! The Dog Treat Mixing Bowl newsletter will keep you up-to-date on the latest recipes, ingredients, tips and techniques. Our goal is to make baking homemade dog treats simple, fun, and nutritious.
Do you know a dog that would appreciate a homemade dog treat? Then forward a copy of this newsletter to your friend and their dog.
If a friend DID forward this to you, and you'd like to know more, you can subscribe to this newsletter. Or, visit us online at Dog Treat Kitchen.com
If you'd prefer, you can read this newsletter online.
I would love to know what you think of this newsletter! Simply hit the reply button for your questions and comments about this newsletter.


---
In This Issue:
Pumpkin Dog Treat Recipes
How to Start a Dog Bakery
Upcoming e-Book
Praise for Dog Treat Kitchen.com
November Sneak Peek
---
Pumpkin Dog Treat Recipes
Pumpkin is a favorite seasonal food, so why not share some with your dog!

Pumpkin is low in calories and high in fiber, so it's great for dogs that may need to shed a couple pounds. It's sweet and filling so they won't feel left out when it comes to treat time.

Also, pumpkin helps aid in digestion. It can help your dog when constipated or when he has diarrhea, yep, it works both ways! :)

The pumpkin seeds are quite nutritious, too. The are high in essential amino acids and zinc, not to mention iron, fiber and protein. Please only give your dog shelled, raw, and unsalted pumpkin seeds.

OK, enough about pumpkins, let's make some homemade dog treats!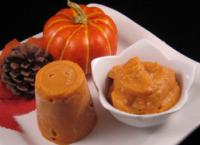 Pumpkin Pops for Pups - OK, so fall may not be the best time for frozen dog treats, but we just love how easy this dog treat recipe is.
We're sure your dog will agree that any time is a good time for pumpkin ice cream, especially when it's frozen into his favorite dog treat toy!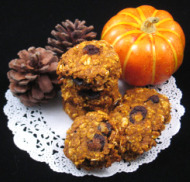 Pumpkin Carob Dog Cookies - This is our take on a traditional oatmeal dog cookie. We've added sweet pumpkin and carob chips to make it extra special. Go ahead, try one, we won't tell! :)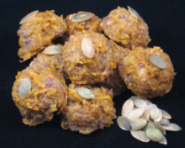 Crunchy Pumpkin Dog Treats - You'll be hard pressed to find a more savory pumpkin dog treat recipe. These dog cookies have sausage and potato mixed in with sweet pumpkin.


---
How to Start a Dog Bakery
I haven't spent all my time making pumpkin dog treats, even though that would have been fun!

I've recently bought, read, and reviewed a great e-Book on How to Start Your Own Dog Bakery. Actually I've bought and read three of the most popular dog bakery books, and I like this one the best.

If you're considering taking your hobby of baking homemade dog treats to the next level, you most likely have tons of great ideas and puzzling questions.

When you're just starting a new venture, the best thing you can do is plan. There are many well written business books on the market, but you will also need to read a book all about being a successful pet-trepreneur! :) So, read my review of How to Start a Dog Bakery: A Guide for the Animal-Loving Entrepreneur, and see why I think this is a great book for starting your own dog bakery.


---
Upcoming e-Book
I've recently been spending more time at my desk, than in the kitchen, making homemade dog treats. But, it's been worth it because I'm writing my first e-Book! :)

OK, so it may just be exciting to me, but I think you'll like it too, because it's all about Dog Treat Icing! :)

I get questions and requests for dog treat icing recipes all the time, so I know you're going to love the book. It will be out in December, so next month I'll share excerpts from the book, and maybe a picture or two!


---
Dog Treat Kitchen Testimonials
We get lots of feedback from our website visitors, just like you. Here's what some of them are saying . . .

"Your site is excellent!"

"I really like your site, and think it's a great idea. I know my dogs would agree!"

"I just wanted to comment on the layout and how simple your site is easy to navigate around. The tips and ideas all are great, and I look forward to trying out some of the yummy treats for my girls."

What are your thoughts? Don't keep them to yourself, Contact Us and let us know what you love, like, or even dislike about Dog Treat Kitchen.com. The more you share, the better we can become, for all dogs and dog treat bakers everywhere.


---
November Newsletter Sneak Peek
What's New for November? Turkey Dog Treats! :)

Those sweet big brown eyes of your dog sitting next to you at the dinner table, just waiting for a nibble of your turkey.

Don't make your dog beg! Make her very own savory turkey dog treats instead!

We'll bring you our favorite turkey dog treat recipes. And, if you have a favorite dog treat recipe, share it with us and dog lovers around the world.


---


Are you and your dog hungry for more? Let me know what you would like to see on the Dog Treat Kitchen.com.

Want more of a certain type of recipe? Need treat ideas for your next dog party? Let me know what's missing from the dog treat pantry and I'll get to it right away.

Thanks for reading. Until next month,

Happy Dog Treat Baking!

Michelle

www.dogtreatkitchen.com