Meat Dog Treats
What's Your Dogs Favorite?
---
Meaty Dog Treats ... Chicken, Beef, Fish ... Buffalo?
Our dogs may wear clothes, have spa days, a dedicated dog walker and personalized food bowls, but deep down they are still carnivores that love meat. :)

You may not want to nosh on a meat flavored cookie, but your four legged companion would like nothing better. So we've complied a variety of meaty homemade dog treats to make this month.

But, first, I want to know about your dog! :)
What's Your Dog's Favorite Meat? Beef, Chicken, Turkey, Fish?


Do You or Would You Feed Your Dog Unique or Novel Meat Sources? For Example, Buffalo, Rabbit, Venison, Kangaroo, Duck, Goat or even Alligator?


Do You or Would You Feed Your Dog Offal? This Includes the Internal Organs like Liver, Heart, Lungs, Tripe, etc.


I want to spice up the collection of meaty dog treat recipes available for our pet parents, so please reply to this newsletter and tell me what meaty treat recipes you feed your dog, and/or what you'd be willing to try. :) I look forward to hearing from you!


---
Meat Dog Treat Recipes to Please
Your Little Carnivore
What better place to start the meat treat rundown than with Beef.

Beef and cheese, how can you go wrong? This Cheesy Hamburger Happiness recipe only uses 1/3 lb. of ground beef, yet it makes at least a dozen patties. You can make them last longer or make them a better fit for a small dog by making each patty smaller.

Roxi, a finicky eater and her guardian Andrea from Indiana had this to say:

"These burger patties were a real hit with her! Even before I had everything mixed together she was in the kitchen "talking" at me (you all know how a hound can vocalize!) I couldn't believe it!"

Read more about Roxi and her full recipe review here.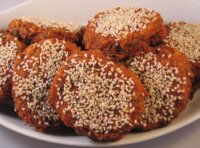 Not to be outdone by beef, one of our most popular dog treat recipes is our Chicken Jerky Dog Treats.

Not only is this recipe simple and inexpensive, it only uses one ingredient, Chicken! :)

We have so many positive reviews for this recipe, it's hard to pick just one to feature. The comments range from:

"My husband is calling it doggie crack because they just go wild"

"The dogs won't leave me alone now following me everywhere with tails up and expectant looks on their faces!" "My dogs love these treats! They will choose them over another treat any day."

Read all the reviews and see pictures of many happy dogs here.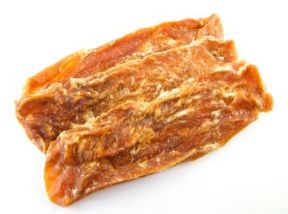 Our third featured dog treat recipe this month is our Four Herb Tuna Tots.

Tuna is a very easy meat source to bake dog treats with because it is already prepared, just empty the can and mix. To make this recipe even easier, you can omit the herbs if you don't have them on hand.

Ann from New Jersey had this to say about our Tuna Tots:

"Just made these today and my dog took one and ran into the other room to eat it. I noticed she was licking the floor to make sure she didn't miss even the smallest crumb! Another success! Now she will beg every time I open a can of tuna!"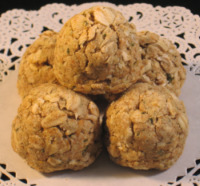 I hope these 3 dog treat recipes will get you started making savory meaty dog cookies for your dog this month. We couldn't list them all, so check out our list of over 20 free Meaty Dog Treat Recipes and find a new favorite meat dog treat today.


---
May Dog Events
The entire month of May is National Pet Month. There will surely be many events this month that emphasis the multitude of benefits that pets bring to our lives. Check your local area for fun things to do with your dog this month.

May 8th is National Animal Disaster Preparedness Day. Get more info at:

http://www.humanesociety.org/issues/animal_rescue/tips/pet_disaster_preparedness_kit.html?credit=vid_yt_sDRMmAmFXLk

There's even a cute video of a kitten preparing for a disaster. :)


---
Even More Meaty Gourmet Dog Treat Recipes
Both of my eBooks, 15 Easy Dog Treat Recipes and my second eBook Dog Cake Recipes for Every Occasion have several meat centered recipes.

For example you will find a Double Bacon Dog Cookie recipe and a Wet Food Frosting in my Easy recipes eBook.

In my Cake eBook you'll find an exclusive meat cake that is as pretty as it is delicious. And a bacon and carob cake that will please every meat lover around.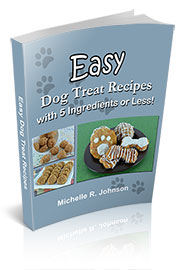 ---
Featured Fan & Tribute
Our dogs are our family. We care for them, feed them the best food available and share our lives with them.

They may only touch our lives for a few years, but the lessons, laughs and love they give us lasts a lifetime.

Here is one of those sweet creatures who is no longer with us, but will always be in the hearts of those whose lives he touched.

Angelika from Germany has this to say:

"I just want to thank you for all the work you do, the wonderful ideas for cookies - my dog loves them all and all the neighbors dogs also :-)"

"So many things have happened in the meantime and most of all I had to say Good Bye to my little Manolito - he suddenly started to lose a lot of weight even he still ate very good .. and then one day .. I know this for sure he gave me a sign, this was a Friday, so we just had the weekend to say good bye and on the next Monday I had to sent him over the bridge. 11 very long years and almost no day without him .. hurts a lot."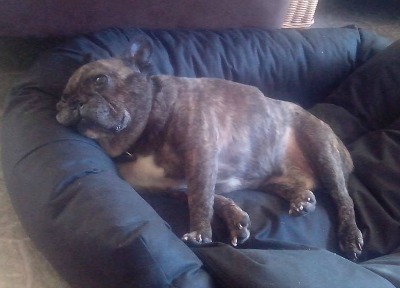 Thank you Angelika for letting me share your words and this picture of Manolito. I know we all feel your pain and hope that time will ease your sorrow and happy memories will fill the void.

If you'd like to send a tribute of your dog, please hit reply to this email, send me a picture and tell me about the special love you have for your four legged family member who is no longer with you in person, but will always be in your heart.


---
DogTreatKitchen.com Testimonials
We get lots of feedback from our website visitors, just like you. Here's what some of them are saying . . .


"Wanted to let you know that I have used some of your recipes and told neighbors about you. We have a wonderful neighborhood and I started a Critter Coop where we help each other with our animals.

I generally have a couple of Coop parties a year. This year I had a Cookie Exchange and everyone had to bring Homemade Dog Snacks. We had so much fun trading our goodies. Now a lot of us are baking at home for our critters and the dogs LOVE it. Thanks for your site! Barbara in Pittsburgh PA"


What are your thoughts? Don't keep them to yourself, Contact Us and let us know what you like, or even dislike, about Dog Treat Kitchen.com. The more you share, the more you help all dog treat bakers, and their dogs.


---
Are you and your dog hungry for more? Let me know what you would like to see on the Dog Treat Kitchen.com.

Want more of a certain type of recipe? Need treat ideas for your next dog party? Let me know what's missing from the dog treat pantry and I'll get to it right away.

Thanks for reading. Until next time,

Happy Dog Treat Baking!

Michelle

www.dogtreatkitchen.com