Liver Dog Treats =
New Happy Dance
& National Dog Day
Join me on my Facebook page and post pictures of your homemade dog treats. :) Also, get updates on commercial dog treat recalls, ask me questions, and generally chat about how great our dogs are.
Do you know someone who would like this once a month newsletter? Then please forward it to them and ask them to subscribe. Thanks. :)
You can also read this newsletter online.
---
Homemade Liver Dog Treats will Give Your Dog a New Happy Dance Routine
Liver may not be your first choice, but I can guarantee that it is your dogs top contender for favorite dog treat. Make one or all of the following liver dog treats to see a whole new happy dance.

Easy Dehydrated Liver Treats can be made with calf liver or chicken livers.

Katrina from Tucson, AZ says:

"As soon as I cut that pack of liver open my dog, Java, did not leave my side. This was the easiest ever to make. When they came out he was once again in the kitchen hoping for a taste.

Well, Java LOVES them and so do I. This is one doggy treat we are sharing. LOL Seriously. And this will help with his training as he was getting tired of the other treats. Now he has something new and exciting. Can't wait to do other meat this way!"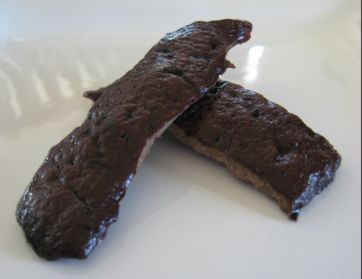 Liver & Carrot Brownies Recipe are a great introduction to liver without as much "smell" factor. :)

Lesley from Norwich, England says:

"Made the liver and carrot dog treats today, used gluten free flour instead of wheat as I'm gluten intolerant and that's what I had in the cupboard.

My dog, Kes, was very interested in the whole process, think it was the smell of the liver, and she snaffled a bit of carrot as usual.

Once in the oven she wandered off but as soon as they came out she was back and bouncing round the kitchen desperate for a taste. Her reaction on trying a cube was so funny, her tail was going round in circles, she had a grin on a her face and was begging for more. I think I can safely say I will be making more."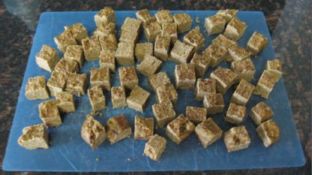 Are you not sure what a Dog Happy Dance is? Check out this adorable video of a Golden Retriever doing a very happy, "Happy Dance".

https://youtu.be/nID77Ekq3sw

PS - If the video doesn't show up here, scroll all the way down to the bottom of the newsletter for a picture link. :)


---
National Dog Day - August 26th
Life with our dogs is priceless. They give so much with asking very little in return. Take time out of your busy schedule to appreciate what your dog means to you.

http://www.nationaldogday.com/

Celebrate the day by making homemade dog treats for your dog and your local animal shelter.

Or, read the 20 other ways to make August 26th extra special - http://www.nationaldogday.com/#!celebrate/cee5

---
Dog Treat Baking Tips -
I Want YOUR Feedback!
We all need a helpful tip from time to time, and I'm no exception. I was recently asked this question by a website visitor named Angie:

"I have been making my 2 big dogs cookies and food for about 14 months. I have used many of your recipes which are all fantastic. Thank you. I have been looking for ways to make my cooking process quicker and was wondering if you could recommend a non commercial inexpensive machine to roll out the dough? Any guidance is appreciated."

My response was:

"Unfortunately I haven't been able to find a specific cookie dough machine, but I do have a couple alternatives for you to consider.

The first would be a pasta maker. You can purchase one for $30, or less, attach it to your counter and roll out your dough. The only limitation would be that your dough would need to be smooth. In other words, you wouldn't be able to use carob chips, or other mix-ins, as these wouldn't roll out very well.

The other option is a cookie press. These little gadgets would work great if your dough is on the thinner or softer side. You could easily press out little cookie shapes. You would probably need to adjust your baking time as these cookies will most likely be smaller than your usual roll and cut out dog cookies."

What do you suggest for Angie to quickly roll out her dog treat cookie dough? What do you do to make the whole process of making dog treats fun and quick? I'd love to hear your answers and tips! :) Hit reply to this newsletter or use my Contact Us form to email me. Thanks. :)


---
Easy Dog Treat Recipes - Sneak Peek
Are you still on the fence about my Easy Dog Treat Recipes eBook?

Then let me give you a sneak peek into the names of the recipes included in the eBook:

Tiny Peanut Butter Trainers
Peanut Butter Dog Cookies
Cheesy Slice & Bake Cookies
Double Bacon Cookies
Microwave Morsels
Sweet Potato Chewers
Carrot Crunchies
Frozen Fruity Cream Pops
No Bake Crispy Rice Wedges
No Bake Peanut Butter & Banana
Popcorn Poppers
Tuna Cornmeal Tidbits
Peanut Butter & Honey Cupcakes
Wet Food Frosting
Greek Yogurt Glaze


Read more about what you get in my Easy Dog Treat Recipes eBook, like 15 original recipes and over 90 original step by step photos.

Did you know you can have my eBook, 15 Easy Dog Treat Recipes with 5 Ingredients or Less! on your Kindle device? Easy and simple dog treat recipes are waiting for you.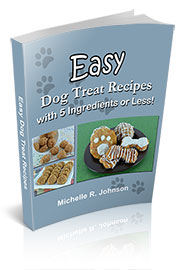 ---
DogTreatKitchen.com Testimonials
We get lots of feedback from our website visitors, just like you. Here's what some of them are saying . . .


"I'm making these again for the thousandth time.........this is the best recipe you have, as far as my dogs are concerned. :) Sometimes I add molasses to the recipe, like today. Just 2 T is about all I add. They love it. Thanks again for your website, we really love it!"


What are your thoughts? Don't keep them to yourself, Contact Us and let us know what you like, or even dislike, about Dog Treat Kitchen.com. The more you share, the more you help all dog treat bakers, and their dogs.


---
Are you and your dog hungry for more? Let me know what you would like to see on the Dog Treat Kitchen.com.

Want more of a certain type of recipe? Need treat ideas for your next dog party? Let me know what's missing from the dog treat pantry and I'll get to it right away.

Thanks for reading. Until next time,

Happy Dog Treat Baking!

Michelle

www.dogtreatkitchen.com