Gluten Free Dog Biscuits
Decorated like Candy Canes
What's Cooking? Dog treats, of course! The Dog Treat Mixing Bowl newsletter will keep you up-to-date on the latest recipes, ingredients, tips and techniques. Our goal is to make baking homemade dog treats simple, fun, and nutritious.
You are receiving this email because you are a subscriber to the Dog Treat Mixing Bowl Newsletter.
If you'd prefer, you can read this newsletter online.
---
Gluten Free Dog Biscuit Recipe
Gluten Free Dog Biscuits can be rolled and cut into any shape you want. We love the seasonal favorite candy cane, so we wanted to show you just two ways to decorate this dog treat recipe.

The first way is to cut out the shape of a candy cane. Then mix up a batch of our egg paint dog treat icing and decorate before you bake your dog biscuits.

We did the traditional striped pattern, but don't be limited with the shape or color. You could easily do purple polka dots just as easily as red stripes! :)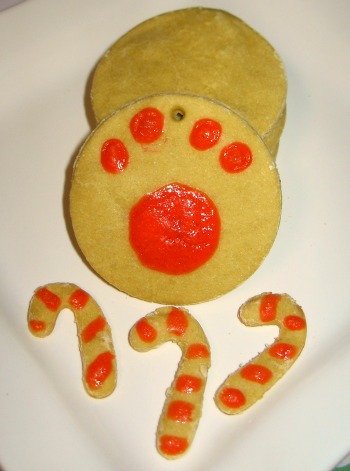 The second way to decorate these gluten free dog biscuits is to make it into a sandwich cookie. Cut two circles of dough and cut out a shape, ours is a candy cane, in one of the circles.

After the dog biscuits are baked and cooled, use one teaspoon of natural 100% fruit spread to fill in the cutout shape.

We used a berry mix spread, but if you chose a strawberry or cherry spread your dog biscuit filling would be more red.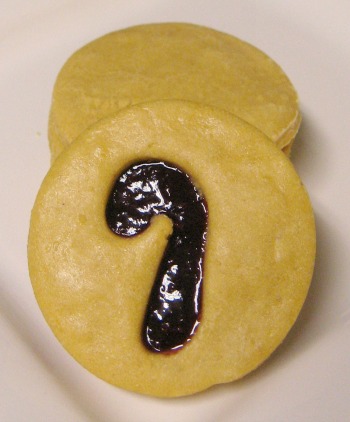 Can't get enough dog treats? It may be time to start your own dog bakery business.

If you're ready to turn your love of dogs and baking into a profitable business, start with reading my review of a great dog bakery business eBook.


---
We Love Dogs
It is probably obvious after 4 years of making homemade dog treat recipes that I have a great love for dogs.

What you may not know is that I also love all of my website visitors! :)

When I see the love you have for your dog, it warms my heart that I am able, in some small way, to improve the relationship between you and your dog all with a simple dog treat.

Thank you for making my job of developing the best homemade dog treat recipes possible.

As you enjoy this holiday season be safe and remember to tell the ones you love, just how much you love them.


---
Classic Seasonal Dog Treat Recipes
I love winter. Plain and simple. The oven warms the home and fills it with the smell of homemade dog treats! Make one or all of these classic seasonal dog treat recipes:
---
DogTreatKitchen.com Testimonials
We get lots of feedback from our website visitors, just like you. Here's what some of them are saying . . .


"This is a totally extensive, easy to use website."


"I love your site and the recipes are great - my dog and the other testers I know have loved every single recipe I have tried! - even the dog whose human says is very picky about treats loved treats made with oat flour."


What are your thoughts? Don't keep them to yourself, Contact Us and let us know what you like, or even dislike, about Dog Treat Kitchen.com. The more you share, the more you help all dog treat bakers, and their dogs.


---


Are you and your dog hungry for more? Let me know what you would like to see on the Dog Treat Kitchen.com.

Want more of a certain type of recipe? Need treat ideas for your next dog party? Let me know what's missing from the dog treat pantry and I'll get to it right away.

Thanks for reading. Until next time,

Happy Dog Treat Baking!

Michelle

www.dogtreatkitchen.com