Classic Sandwich Dog Cookie
What's Cooking? Dog treats, of course! The Dog Treat Mixing Bowl newsletter will keep you up-to-date on the latest recipes, ingredients, tips and techniques. Our goal is to make baking homemade dog treats simple, fun, and nutritious.
You are receiving this email because you are a subscriber to the Dog Treat Mixing Bowl Newsletter.
Do you know a dog that would appreciate a homemade dog treat? Then forward a copy of this newsletter to your friend and their dog.
If a friend DID forward this to you, and you'd like to know more, you can subscribe to this newsletter. Or, visit us online at Dog Treat Kitchen.com
If you'd prefer, you can read this newsletter online.
I would love to know what you're thinking! Simply hit the reply button for your questions and comments about this newsletter.


---
Dog Treat Recipe of the Month:
This Classic Sandwich Dog Cookie is an ooey gooey homemade dog treat. The "chocolate" cookie is made with carob, a dog safe chocolate alternative. The creamy center is sugar free, made with cream cheese, milk and a hint of vanilla.

This dog treat recipe is for special occasions or for a very active dog. The reason is that, unlike most of the recipes here at Dog Treat Kitchen, the carob cookie contains sugar. But rest assured, this homemade dog treat recipe still has less sugar than most store bought dog treats.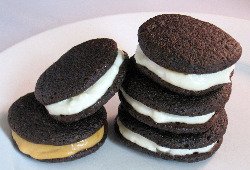 You can make these sandwich cookies as small or as large as you'd like. Ours are about 2 inches across and filled with a tablespoon of creamy filling.
Although the vanilla center is the classic choice, we couldn't stop at ordinary. We created a peanut butter dog treat filling recipe for you to try as well.
If your dog doesn't care for peanut butter, or you're watching your dog's sugar intake, opt for sugar free preserves or jam to be the filling for this sandwich cookie.
Don't want the mess, or not enough time to make the filling? Don't worry about it, these cookies are delicious all by themselves.


---
Dog Treat Baking Tips
We're starting a new feature here at the Dog Treat Mixing Bowl Newsletter. We're going to share a great tip each month that will undoubtedly make baking dog treats more fun and easy.

This Month's Tip ~ You don't have to roll out and cut dog treats, even when a dog treat recipe calls for it.

Sometimes we don't have time (or the patience) to roll and cut dog treats with a cookie cutter. If that's the case for you, just pull out your favorite cookie scooper instead. We prefer the kind with a tablespoon capacity, or if you and your dog prefer smaller treats, a teaspoon sized cookie scooper is a great alternative.

Share your dog treat baking tips with your fellow bakers! We know you have lots of great ways of making treats. Share your tips and they just might be featured in our newsletter! :)


---
Dog Treat Toys
Fall is upon us, kids are going back to school, and life is getting into a routine.

What's your dog's routine? Hopefully it's not sleep all day and then go absolutely coo-coo when you get home. If that's the case, what can you do?

Entertain your dog, even while you're away. How?

Dog Treat Toys!
:)
Fill a few toys before heading out for the day, hide them in new places and let your dog go to work finding the toys and discovering how to get those delicious homemade dog treats out of each new toy.
Read all about how to choose a dog treat toy for your individual dog, and then pick a few to help your dog keep her mind, and sometimes body, active throughout the day.


---
Our First Contest Winner!
Congratulations to Teri Clawson from Lexington, North Carolina!!!

Her submission of her Dog Bakery Drool O'Licious Pet Bakery caught our eye and we thought the idea of peanut butter french fries was adorable.

If you own a dog bakery or dog business, be sure to check out our free business listing directory.


---
Dog Magazines
I love dog magazines. They brighten my day with adorable pictures of dogs every month, and help me to keep up to date with all of the health information for our beloved companions.

So, I thought I'd share with you where I've found many dog magazine subscriptions for a very reasonable price. It's at BlueDolphin.com
. They have so many dog and pet related magazines to choose from, and great discount prices, too.


---
Newsletter Sneak Peek
What's New for October?

Sweet and satisfying Sweet Potato Dog Treats. This low fat, high fiber, and deliciously sweet veggie is a dog favorite. Embrace fall with a new sweet treat dog treat recipe.


---


Are you and your dog hungry for more? Let me know what you would like to see on the Dog Treat Kitchen.com.

Want more of a certain type of recipe? Need treat ideas for your next dog party? Let me know what's missing from the dog treat pantry and I'll get to it right away.

Thanks for reading. Until next month,

Happy Dog Treat Baking!

Michelle

www.dogtreatkitchen.com