Pumpkin Dog Treats,
*Announcing* Printed
Versions of Both eBooks
& National Senior Pet Month
---
Pumpkin Dog Treats
Fall is in full swing, and the pumpkins are plentiful. Now is the time to stock up on canned puree pumpkin or even make your own with fresh pumpkins.

Roasting a pumpkin may sound intimidating, but it couldn't be easier! Select sugar pie pumpkins from your local store. You'll know they're sugar or pie pumpkins because they are considerably smaller than regular carving pumpkins. You can use the larger pumpkins, but the smaller ones are sweeter and easier to handle.

Make Your Own Pumpkin Puree:
Preheat your oven to 350° F
Carefully pierce each pumpkin several times with a sharp knife.
Place as many pumpkins will fit onto a baking tray.
Bake in the oven for 30 - 45 minutes.
You'll know your pumpkins are ready once you can easily pierce the skin with a fork.
Once they are soft, let them cool for 30 minutes, or until you're able to handle them.
Cut each pumpkin in half and scoop out the threads and seeds. You can save the seeds to make roasted pumpkin seeds for your two-legged family members.
The pumpkins should be soft enough to peel away the skin. Remove all the skin from the roasted pumpkins.
Put the flesh into a food processor and puree until smooth.
Store in a sealed container in the refrigerator for up to a week. Place in the freezer for at least 6 months.
Now that you're all set with pumpkin puree, let's explore some dog treat recipes to make for your special little pal. :)
Pumpkin Biscotti Recipe - This is one of our visitor favorites.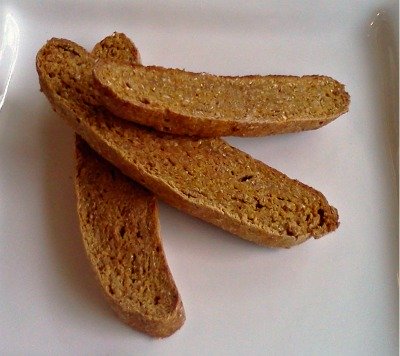 Pumpkin Pie Dog Biscuits Recipe - Or, try this pumpkin recipe that also has peanut butter and can be cut out to any shape you want. :)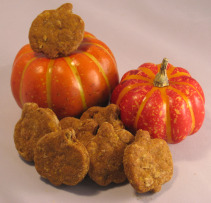 There are many more pumpkin dog treat recipes to choose from on my site. Don't forget about the helpful Search Box to sift through the dozens of free dog treat recipes to find the perfect one for your individual dog.


---
Announcing ~ Print Versions of Both
Cookbook eBooks
& More Coupon Codes
I asked if anyone was interested in a printed version of my eBooks and the feedback was impressive! :) So now I am offering a simple printed version of each of the cookbook eBooks.

Dog Cake Recipes for Every Occasion

and

Easy Dog Treat Recipes with 5 Ingredients or Less!

Scroll down to the bottom of each page to purchase the printed version.

Please note, this is not a professionally bound book, it is only a printed version of the eBook. However, the price is higher due to the time and materials required to provide the book in printed form. There will not be shipping costs. The price of the printed cookbook includes shipping. Please also note, I will be mailing the printed cookbooks twice a week.

Coupon Codes:

We're extending the coupon codes for our loyal newsletter subscribers! For the entire month of November you can get $1 off each book by using the coupon code:

November

You can also now purchase both eBooks in a bundle with a discount of $3, no coupon code needed. This discount only applies to the electronic (eBook) version of the cookbook.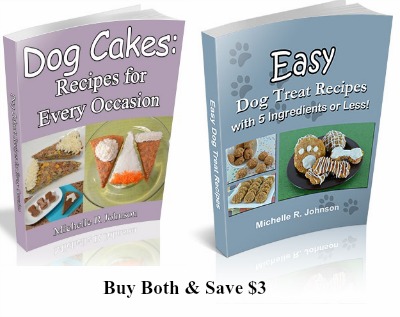 ---
National Senior Pet Month
November is National Senior Pet Month. If you already share your life with a senior dog, then you know the rewards of these golden oldies. :)

If you're thinking of adding a member to your family, please take a moment to consider the many benefits of a senior dog.

Benefits of a Senior Dog:
Good Manners ~ Most senior dogs already know basic manners and are potty trained. And you CAN teach an old dog new tricks!
Calm ~ Once a dog reaches adulthood their energy level begins to decrease. If you have a calm household a senior dog will fit right in with the flow of life.
Personality ~ A senior dog has already developed their disposition so you know exactly what you're getting from the beginning.
Help to Save a Life ~ There are too many senior pets waiting for homes. If you have room in your heart for one more fur-child, consider saving the life of a sweet senior dog.
Do you share your life with a senior dog? Tell us why you love your senior boy or girl by hitting reply to this newsletter. :)


---
DogTreatKitchen.com Testimonials
We get lots of feedback from our website visitors, just like you. Here's what some of them are saying . . .


"I took some of your doggie treats to friends' dogs and found out the people ate them too! Said they were wonderful."

"Thank you, I LOVE the treat recipes and so do my girls. All are always organic, of course :-)"


What are your thoughts? Don't keep them to yourself, Contact Us and let us know what you like, or even dislike, about Dog Treat Kitchen.com. The more you share, the more you help all dog treat bakers, and their dogs.


---
Are you and your dog hungry for more? Let me know what you would like to see on the Dog Treat Kitchen.com.

Want more of a certain type of recipe? Need treat ideas for your next dog party? Let me know what's missing from the dog treat pantry and I'll get to it right away.

Thanks for reading. Until next time,

Happy Dog Treat Baking!

Michelle

www.dogtreatkitchen.com