March is National
Peanut Butter Month
Make Our "Sweet & Salty" or "Double Mock-Choc"
Dog Treat Recipes to Celebrate!
What's Cooking? Dog treats, of course! The Dog Treat Mixing Bowl newsletter will keep you up-to-date on the latest recipes, ingredients, tips and techniques. Our goal is to make baking homemade dog treats simple, fun, and nutritious.
You are receiving this email because you are a subscriber to the Dog Treat Mixing Bowl Newsletter.
Do you know a dog that would appreciate a homemade dog treat? Then forward a copy of this newsletter to your friend and their dog.
If a friend DID forward this to you, and you'd like to know more, you can subscribe to this newsletter. Or, visit us online at Dog Treat Kitchen.com
If you'd prefer, you can read this newsletter online.
I would love to know what you think of this newsletter! Simply hit the reply button for your questions and comments about this newsletter.


---
In This Issue:
Sweet & Salty Dog Treat Recipe


Double Mock-Choc Dog Treat Recipe


The Complete Guide to Your Dog's Nutrition


~New Feature~ Bark Back


Dog Treat Kitchen Testimonials


April Sneak Peek
---
Sweet & Salty Dog Biscuit Recipe
You've probably already guessed that the "sweet" part of this dog treat recipe is peanut butter. The "salty" half of this dog biscuit comes from savory bacon.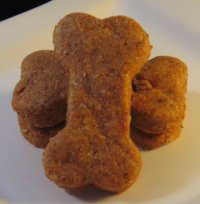 Sweet & Salty - If you've never baked your own homemade dog treats, this is the recipe to start with. Your efforts will be highly rewarded since this recipe not only uses two slices of thick cut bacon, but also a small portion of the bacon grease! :)


---
Double Mock-Choc Dog Cookie Recipe
These carob dog cookies are not only adorable, but healthy, too! Carob is low in fat and sodium, and high in fiber, potassium, and calcium. So go ahead, have two cookies. :)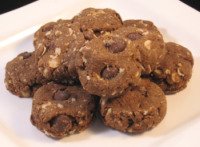 Double Mock-Choc Cookie - This plate full of dog cookies look good enough for people to eat, but with all the flavors your dog will love!


---
The Complete Guide to Your Dog's Nutrition
I just read a great eBook. It's all about how to choose the best dog food for your dog. I'll be the first to say that although I know my fair share about dog treat ingredients, I know very little about dog food ingredients and labels.

That's why I bought The Complete Guide to Your Dog's Nutrition, and you can read my review of it.

Overall I found it to be a wonderful introduction to, not only how to read and understand a list of dog food ingredients, but also an introduction to the BARF diet, and a homemade diet.


---
Bark Back
We're starting a new feature in our newsletter called Bark Back because I want to know what you think! :)

Each month we'll have a different survey or poll that I would really appreciate hearing your own "Bark".

For this month, I'd wag my tail in glee if you would tell me What Day of the Week do You Read this Newsletter?


---
Dog Treat Kitchen Testimonials
We get lots of feedback from our website visitors, just like you. Here's what some of them are saying . . .

"Thanks so much. Having these treats makes me feel so much better when I train him, knowing he is getting healthy stuff without chemicals, etc."



"I have recently found your site and LOVE it!!! I was fostering, and now have officially adopted, a 10yo chi/rat terrier mix who has Addison's disease. Finding wheat/soy/corn/additive-FREE recipes for doggie treats has been a challenge - but your site has given me hope with recipes that I can use - I have already made one and Taz simply loves the treat!!! Please keep special recipes for treats coming for our 4-legged children who have medical issues and hence special needs."

What are your thoughts? Don't keep them to yourself, Contact Us and let us know what you like, or even dislike, about Dog Treat Kitchen.com. The more you share, the more you help all dog treat bakers, and their dogs.


---
April Newsletter Sneak Peek
What's New for April?

Herbs! With warmer weather just around the corner, we're going to discuss planting an herb garden for you and your dog to enjoy. We'll also give you recipes you can make with herbs, and talk about their nutritional benefits.


---


Are you and your dog hungry for more? Let me know what you would like to see on the Dog Treat Kitchen.com.

Want more of a certain type of recipe? Need treat ideas for your next dog party? Let me know what's missing from the dog treat pantry and I'll get to it right away.

Thanks for reading. Until next month,

Happy Dog Treat Baking!

Michelle

www.dogtreatkitchen.com