Classic Thumbprint Cookies
Transformed Into Peanut Butter Dog Treats
What's Cooking? Dog treats, of course! The Dog Treat Mixing Bowl newsletter will keep you up-to-date on the latest recipes, ingredients, tips and techniques. Our goal is to make baking homemade dog treats simple, fun, and nutritious.
You are receiving this email because you are a subscriber to the Dog Treat Mixing Bowl Newsletter.
Do you know a dog that would appreciate a homemade dog treat? Then forward a copy of this newsletter to your friend and their dog.
If a friend DID forward this to you, and you'd like to know more, you can subscribe to this newsletter. Or, visit us online at Dog Treat Kitchen.com
If you'd prefer, you can read this newsletter online.
I would love to know what you're thinking! Simply hit the reply button for your questions and comments about this newsletter.


---
Dog Treat Recipe of the Month:
Classic Thumbprint Peanut Butter Dog Treats - Sweet and chewy, these treats won't last long once your dog has a taste. Easily change up the color and taste of these treats buy using different varieties of sugar free fruit jams.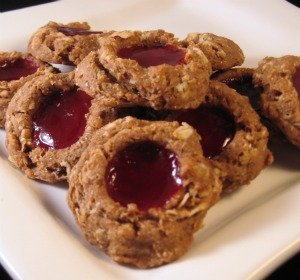 March is National Peanut Butter Month, so don't hesitate to make these tasty morsels.

This peanut butter dog treat recipe is rather simple, a few ingredients, and you get to use your microwave for a few of the steps! :)

These thumbprint cookies are fun to make. However, I found that I was lousy at making little indentations with my thumbs. I realized I had a challenge on my hands.

So I started to look around the kitchen for a hardworking dual-use utensil. That's when my little candy thermometer jumped into my hands and said "I'm ready to go to work!".

OK, so I have an active imagination, but the thermometer worked great! :)

The face of mine is about the size of a nickle, and the thermometer part was perfect to use as a handle. I placed the face of the thermometer on the center of the cookie, then gently pressed down and wiggled. As I did this I watched the cookie, and kept it as a round shape by coaxing any of the sides that were trying to get out of shape with my fingers.

Add variety to these treats by using any flavor of fruit jam. But, make sure that whichever one you choose it is sugar free. Our dogs don't need all that extra sugar in their homemade dog treats.

Do you enjoy making homemade dog treats that are just as adorable as the ones you see in professional dog bakeries? Then you may want to consider starting a dog treat business. To help you get started, read my review of the book about how to start your own dog bakery business.


---
Dog Treat Recipe Index
Did you know there's a place to find ALL of the recipes on Dog Treat Kitchen? It's like having your own dog treat recipe box:

All of Our Homemade Dog Treat Recipes

Have you been looking for a certain dog treat recipe? Or, are you longing to use a specific ingredient in your homemade dog treats?

Then you'll want to use our Custom Search Box. By entering an ingredient that you'd like to bake with, you'll find every recipe, and mention of that ingredient on our website.


---
DogTreatKitchen.com Testimonials
We get lots of feedback from our website visitors, just like you. Here's what some of them are saying . . .


"I made the peanut butter bacon biscuits for our German Shepherd, Maya, and you were right, drool on the floor!"


"Thank you so much for your efforts and hard work. I just found a few nice recipes for my new son "Titus" and have made him about 3 different treats now. He loves them and they are cost effective (much cheaper than buying treats at the store). Thank you so much!"


What are your thoughts? Don't keep them to yourself, Contact Us and let us know what you like, or even dislike, about Dog Treat Kitchen.com. The more you share, the more you help all dog treat bakers, and their dogs.


---
Dog Treat Baking Tips
Do You know how to measure flour?

OK, it sounds easy, but there is a right way to measure it. You will need your flour, the measuring cup, a large spoon and a butter knife.

Start by stirring up the flour in the sack with your spoon. Then scoop a heaping spoon full and gently shake it into the measuring cup.

You will most likely get flour all over your counter. I typically will put down a paper towel first. Then when I'm all done, if I've spilled a lot, I'll pick up the paper towel and funnel it back into the flour sack.

Keep scooping and gently shaking the flour into your measuring cup until it's slightly over filled. Then take the back of your knife, level it on the top of the measuring cup and scrape all the excess off the top.

Resist the urge to shake the measuring cup and make the flour settle.

This process will give you lighter dog biscuits and make the dry to wet ingredient ratio considerably more accurate when making your homemade dog treats.

I hope this helps you get the most out of these recipes! :)


Share your dog treat tips with your fellow bakers! We know you have lots of great ideas, ways of making dog treats, and creative ways of decorating homemade dog treats.


Share your tips and they might be featured in our newsletter. Or, if you have a baking question you'd like answered here, let us know and the answer could be published in the next issue.


---
Newsletter Sneak Peek
What's New for April?

CHEESE, CHEESE & MORE CHEESE!

We recently noticed a lack of cheese recipes on our site, and we intend on correcting that. Look forward to our delectable, tangy and melty dog treat recipes to come. :)


---


Are you and your dog hungry for more? Let me know what you would like to see on the Dog Treat Kitchen.com.

Want more of a certain type of recipe? Need treat ideas for your next dog party? Let me know what's missing from the dog treat pantry and I'll get to it right away.

Thanks for reading. Until next month,

Happy Dog Treat Baking!

Michelle

www.dogtreatkitchen.com