Low Fat Dog Treats Can
Help Your Dog Lose Weight
What's Cooking? Dog treats, of course! The Dog Treat Mixing Bowl newsletter will keep you up-to-date on the latest recipes, ingredients, tips and techniques. Our goal is to make baking homemade dog treats simple, fun, and nutritious.
Do you know a dog that would appreciate a homemade dog treat? Then forward a copy of this newsletter to your friend and their dog.
If a friend DID forward this to you, and you'd like to know more, you can subscribe to this newsletter. Or, visit us online at Dog Treat Kitchen.com
If you'd prefer, you can read this newsletter online.
I would love to know what you think of this newsletter! Simply hit the reply button for your questions and comments about this newsletter.


---
In This Issue:
Low Fat Dog Treats


Help Your Overweight Dog Lose Weight


Weight Management Treats, Food, & Vitamins


Praise for Dog Treat Kitchen.com


February Sneak Peek
---
Recipes for Low Fat Dog Treats
January is a time of change and new goals. Maybe your goal for your dog this year is to go for regular walks and shed a few pounds. Well, whether your dog needs to lose weight or not, she'll love these tasty low fat dog treats. There's one to match every taste bud.
Fruity & Sweet Carrot Treats Try this low fat sweet treat. It has carrots, banana, and applesauce to satisfy your dogs desire for sweets.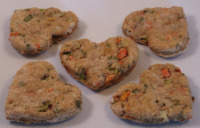 Salad in a Dog Biscuit We've crammed 4 veggies and one fruit into this delicious dog biscuit. Just try and keep your dog away from the delectable spinach, broccoli, cauliflower, carrots, and applesauce.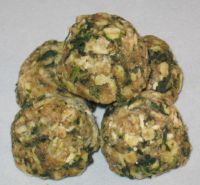 Italian Spinach Balls These savory treats are loaded with vitamins. But your dog will notice the delicious hint of nutty Parmesan cheese and aromatic oregano.


---
Tips for Dog Weight Loss
Your dogs road to weight loss may seem like an unpleasant one. But it doesn't need to be. With a few tips and techniques, you'll both be surprised at how much fun it is to drop a few unwanted pounds.

Read our tips on how to help fat dogs lose weight and gain vitality and years to their life.


---
Weight Management Treats, Food, & Vitamins
After consulting with your Veterinarian, you may want to look for low fat dog treats, reduced calorie dog food, and even vitamins and minerals that can help your dog lose weight.


---
Dog Treat Kitchen Testimonials
We get lots of feedback from our website visitors, just like you. Here's what some of them are saying . . .

"I found a great recipe for dog treats in your site which is suitable for a pooch with Addison's disease. He tolerates them with no effects - HOORAY!!! Thank you."

"My little Ginger knows what she likes and "does not eat everything", but your pumpkin pie dog biscuits were a HUGE favorite for her. She loved them and went absolutely wild over them. I need to make her some more liver treats because she loved those as well. My little Ginger is a great test kitchen dog, she has approved with great enthusiasm many of your recipes, keep up the good work."

What are your thoughts? Don't keep them to yourself, Contact Us and let us know what you like, or even dislike, about Dog Treat Kitchen.com. The more you share, the more you help all dog treat bakers, and their dogs.


---
February Newsletter Sneak Peek
What's New for February?

While most peoples thoughts turn to romance and love in February, we're going to take a slightly different approach.

We're going to go to the source, the heart. We'll help you keep your dog's heart in tip top condition with heart healthy dog treats. This way you can show and share love all year long! :)


---


Are you and your dog hungry for more? Let me know what you would like to see on the Dog Treat Kitchen.com.

Want more of a certain type of recipe? Need treat ideas for your next dog party? Let me know what's missing from the dog treat pantry and I'll get to it right away.

Thanks for reading. Until next month,

Happy Dog Treat Baking!

Michelle

www.dogtreatkitchen.com