Do Your Homemade Dog Treats
Contain Milk?
What's Cooking? Dog treats, of course! The Dog Treat Mixing Bowl newsletter will keep you up-to-date on the latest recipes, ingredients, tips and techniques. Our goal is to make baking homemade dog treats simple, fun, and nutritious.
You are receiving this email because you are a subscriber to the Dog Treat Mixing Bowl Newsletter.
You can also read this newsletter online.
---
Is Milk Safe for Your
Homemade Dog Treats?
Is milk safe for your dog? This may not be something you've considered, but it should be. So many dog treats and dog treat recipes contain milk, so is it a healthy ingredient for your dog?

The short answer is yes. But, this also depends on your dog.

The reason why people believe that milk, and milk products, aren't safe ingredient for your dog treat recipes, is because so many dogs are lactose intolerant.

Just like people, dogs can become lactose intolerant. Most are not born this way, but it may develop over time.

If you choose to give your dog regular cow's milk you will want to keep a close eye for any lactose intolerant symptoms.

Common Symptoms of Lactose Intolerance:
Bloating
Abdominal Pain
Diarrhea
and Vomiting
There are many alternatives to using cow's milk in your dog treat recipes. You could use plain fresh water, low sodium chicken broth, or any of the many non-dairy milks available. For example, you can use soy milk, almond milk or coconut milk.
However, if your dog shows no signs of an intolerance, cow's milk is a healthy ingredient with many nutrients and vitamins that can be added to your homemade dog treats.

---
Easiest Dog Treat Recipes
A great big "Thank You!" to all my newsletter subscribers who purchased my first eBook Cookbook.

The reviews are coming in and every person (and dog) are impressed! :)

Check out my Easiest dog treat recipes, yet. Read more about all the features, like over 90 original photos, of our first eBook 15 Easy Dog Treat Recipes with 5 Ingredients or Less!.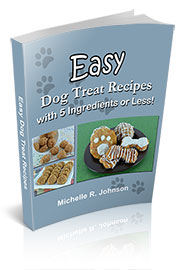 ---
Dog Ice Cream Recipes
Now that you know what, why and when you may want to avoid milk, let's talk about making some tasty dairy free dog ice cream!

Start with two carob favorites, either our Carob Chip or Peanut Butter & Carob Swirl ice cream recipes.

Make all of our frozen dog treat recipes with or without dairy! :)


---
DogTreatKitchen.com Testimonials
We get lots of feedback from our website visitors, just like you. Here's what some of them are saying . . .


"Love your newsletter! Look forward to it each month!"


"I just wanted to let you know my two whippets love your recipes. I am recommending your website to anyone that asks. I have your website saved to my phone, so if dogs have special needs, I can accommodate them also. Your peanut butter dog biscuit and gingerbread cookie recipes are my dogs favorites."


What are your thoughts? Don't keep them to yourself, Contact Us and let us know what you like, or even dislike, about Dog Treat Kitchen.com. The more you share, the more you help all dog treat bakers, and their dogs.


---


Are you and your dog hungry for more? Let me know what you would like to see on the Dog Treat Kitchen.com.

Want more of a certain type of recipe? Need treat ideas for your next dog party? Let me know what's missing from the dog treat pantry and I'll get to it right away.

Thanks for reading. Until next time,

Happy Dog Treat Baking!

Michelle

www.dogtreatkitchen.com