Pumpkin Biscotti &
Cranberry Liver Brownies -
Plus A Special Thank You
What's Cooking? Dog treats, of course! The Dog Treat Mixing Bowl newsletter will keep you up-to-date on the latest recipes, ingredients, tips and techniques. Our goal is to make baking homemade dog treats simple, fun, and nutritious.
You are receiving this email because you are a subscriber to the Dog Treat Mixing Bowl Newsletter.
Do you know a dog that would appreciate a homemade dog treat? Then forward a copy of this newsletter to your friend and their dog.
If a friend DID forward this to you, and you'd like to know more, you can subscribe to this newsletter. Or, visit us online at Dog Treat Kitchen.com
If you'd prefer, you can read this newsletter online.
I would love to know what you're thinking! Simply hit the reply button for your questions and comments about this newsletter.


---
Pumpkin Biscotti
Pumpkin Biscotti Recipe - A traditional Italian cookie is made dog safe, and tasty, just for your little one. We used pure pumpkin puree to make this biscotti a seasonal favorite. View the full recipe on the link above. The pictures and tips below are exclusive to our newsletter subscribers.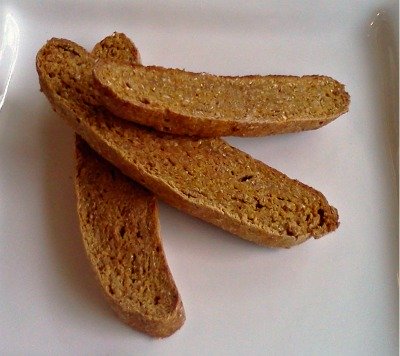 A new feature of our quarterly newsletters is more photos! We hope these exclusive pictures will help give you the confidence to make your own homemade dog treats.

1. When making your pumpkin biscotti, this is how your wet and dry ingredients should look after combined and kneaded into a ball: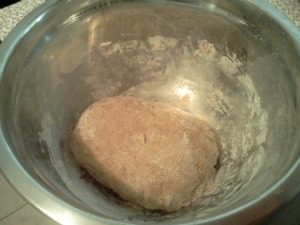 2. This is a photo before the first baking time. You want an even loaf about an inch thick. Work with the ball of dough to get it as even and rectangular as possible. The more even the size, the more even the baking and sizing of your individual biscotti dog treats will be.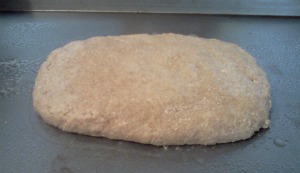 3. After you've baked your loaf, and it has had a chance to cool, you'll need to slice the biscotti. We prefer a nice thick slice of cookie, so we chose 1/2 inch thickness. If you have large breed dogs, you may want to make the slices a little thicker. However, if you change the dimensions, be aware that you will need to adjust the baking time. Plus, you will get fewer individual treats from each loaf.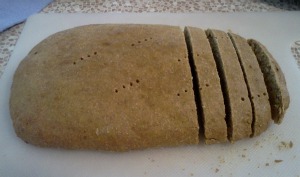 4. After your slices are cut, place them cut side down on your baking sheet. The outer crust of the biscotti will be firm, but the inside will still be very moist. You can still see the color difference of the baked outer and soft center in the pictures below.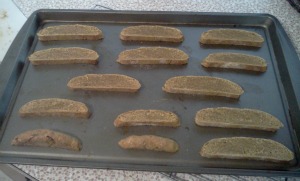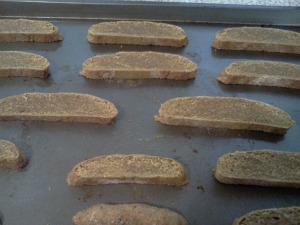 5. Once they've baked a second time, and cooled completely, there's just one thing left to do. Serve them to your waiting companion! :)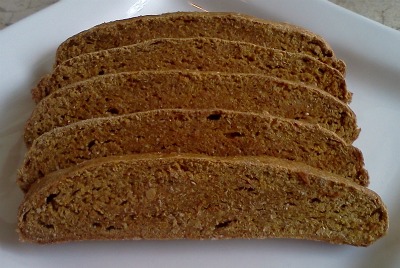 Have you thought about starting your own at home Dog Bakery business? What are you waiting for? Start by reading why I recommend this book on how to start your own dog bakery business. It just might give you the confidence you've been needing to start your very own business.


---
Special Thanks to My Fellow Bakers
To all my fellow dog treat bakers, I just want to say Thanks. As most of you know, it's just me and my husband behind the website Dog Treat Kitchen.com and I have enjoyed another wonderful year of getting to know you and your sweet dogs.

It brings a smile to my face and a warmth to my heart to know that your dogs are loving my recipes. When we started, I never imagined I'd have a hand in filling so many doggie tummies with delicious and nutritious homemade treats.

I also want to thank all of you who have purchased the book on How to Start Your Own Dog Bakery Business. I believe we all should be able to turn our passions into a profitable business.

Since all of the recipes on our site are free to you, I'd like to ask a favor. If you plan on making any dog gift purchases, or any purchases through Amazon, please consider starting through my website. This will allow me to continue providing the best free dog treat recipes, with pictures, that can be found on the internet.

It's easy to do, and will cost you absolutely nothing. Just start by clicking this link to Amazon.com.
Then go about shopping for new dog toys, dog beds, dog treat ingredients or anything else that you would normally shop for. You can also bookmark this link for any future shopping you are going to do through Amazon.
Thank you so much for continuing to use our site to treat your dog to the very best treats there are, homemade dog treats that you make with love.
Our next newsletter is in March, so until then, we hope you and your dog have a happy and healthy winter season. Keep sharing the love of dog treat recipes with your family and friends. I'll see you here next year with even more new and tasty dog treat recipes! :)


---
Cranberry Liver Brownies
Liver & Cranberry Brownie Recipe - Our brownies skip the chocolate and go straight for the good stuff, liver! Ok, it may only be the "good stuff" to your dog, but that is who you're baking for. :)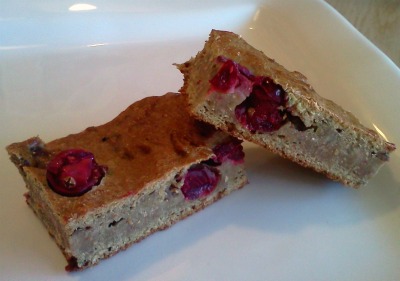 1. Once you've pureed your ingredients, except the cranberries, your dough should look something like this:
2. The dough will be very thick. You'll need to spoon it into the prepared pan. Then you can gently spread it out to the entire pan. It will still be very pink in color before it's baked.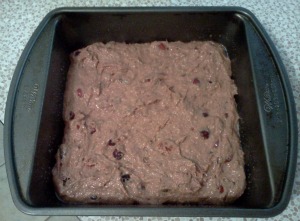 3. After it is baked the brownies will be darker in color, more brown than pink. I sprinkled some fresh cranberries on the top of the dough before baking. They turned out well. You don't have to do this step, I just thought it was cute. :)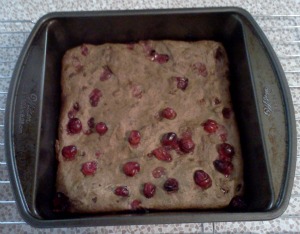 ---
DogTreatKitchen.com Testimonials
We get lots of feedback from our website visitors, just like you. Here's what some of them are saying . . .


"I just wanted to comment on the layout and how simple your site is, and easy to navigate around. The tips and ideas all are great, and I look forward to trying out some of the yummy treats for my girls."


"I have made the pumpkin and clove muffins for my "kids" as well as several co-workers' four-legged friends. They are a hit. Everybody loves them and won't let their "parents" hold back - if they smell 'em, they want 'em! Thanks so much!"


What are your thoughts? Don't keep them to yourself, Contact Us and let us know what you like, or even dislike, about Dog Treat Kitchen.com. The more you share, the more you help all dog treat bakers, and their dogs.


---
Newsletter Sneak Peek
What's New for the March Quarterly Issue?

We're finally adding PIZZA to our long list of dog treat recipes! :) The yummiest toppings, how to serve and bake the best pizza dog treats ever.

We're also featuring a warm and delicious human favorite, made especially for your dog. Banana Bread!

Join us in March for these wonderful recipes. :)


---


Are you and your dog hungry for more? Let me know what you would like to see on the Dog Treat Kitchen.com.

Want more of a certain type of recipe? Need treat ideas for your next dog party? Let me know what's missing from the dog treat pantry and I'll get to it right away.

Thanks for reading. Until next time,

Happy Dog Treat Baking!

Michelle

www.dogtreatkitchen.com