Summer Dog Treat Recipes,
Take Your Dog to Work Day &
National Preparedness Month
Please remember to "Like Us" on Facebook to keep up with all the fun and tasty dog treat recipes.
Facebook is also a great place to ask me questions about dog treats and post fun pictures of your own homemade dog treats! :)
*Special Note* Click the reply button and let me know what dog treat recipes you'd like to see on Dog Treat Kitchen. What recipes do you want to see in the following months? It's as easy as hitting reply and letting me know! :)
As always, you can also read this newsletter online.
---
Summer Time Dog Treat Recipes
Keep your pup cool and comfortable this summer by providing lots of fresh water, plenty of shade and delicious frozen dog treats.

Start with a crowd pleasing frozen meatball recipe that can be made with any cooked ground meat that your dog prefers.

Make very small meatballs for a quick and easy training treat. Instead of using the cookie scooper, pinch off small amounts of meatballs and freeze before using in a training session.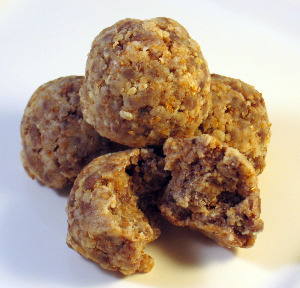 One of the easiest frozen dog treat recipes is our Yogurt Tuna Pops. You can mix up the recipe by substituting the tuna with canned salmon, chicken or even ham.

Use a fun shaped silicone ice cube tray like the treats pictures below, or a regular ice cube tray for a tasty frozen treat.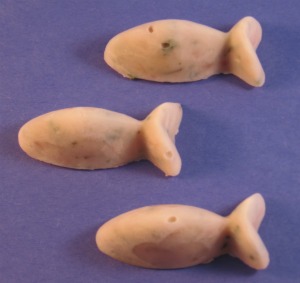 For all of our fruit loving dog friends out there, we've got a tempting frozen treat for you, too. Whip up a batch of creamy peanut butter and fruit smoothie pops for a refreshing snack.

Easily change the blueberries for another dog friendly fruit that is in season. Plus, the peanut butter can be substituted for almond butter or sunflower butter for a healthy change.
Take your passion for making homemade dog treats to the next level. Read my review of a very helpful eBook on How to Start Your Own Dog Bakery Business, to help you get started. There are tons of tips and tricks to get you started right and make a success of your very own bakery.


---
June 20th - Take Your Dog to Work Day
Have fun on Friday, June 20th by taking your dog to work with you.

There are several things to consider before showing up with your companion by your side. Check with your boss, your co-workers, and your dog. Yes, consider if your dog has the temperament and interest in being the center of attention in a new environment.

Once everyone is on board with bringing your dog to work, use this fun day to bring awareness to your local animal shelter by raising funds. Ask for a small donation or sell homemade dog treats and give the proceeds to an animal charity.

Get more ideas with the article, 10 Ways to Celebrate Take Your Dog to Work Day.


---
Reviews for Easy Dog Treat Recipes eBook
For the cost of a box of commercial dog treats, you can have my eBook, 15 Easy Dog Treat Recipes with 5 Ingredients or Less! Then you can make endless amounts of healthy, yummy, tested dog treat recipes that are already being enjoyed by countless dogs.

Here is a recent review for my eBook:

"I have I diabetic dog and it is very easy to adapt these recipes for my dog. Now I don't have to order very expensive from the east coast. I can put in the flavors he likes and leave out the sweetener and he likes them very much."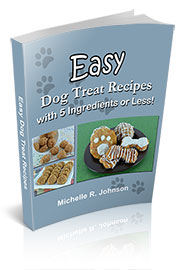 ---
Join Us On Facebook - See What We're Baking :)
Catch up on what we've been up to on Facebook. Then, join us on Facebook, post a picture of your dog or ask me a question, I'm always here to help. :)

Adorable Oven Watcher, Cello: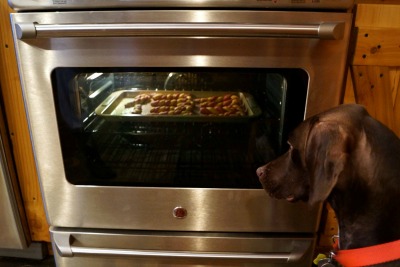 Sweet Cello was waiting for her Peppermint Candy Canes in the previous picture. But her and her Mom made last month's newsletter recipe Banana Biscotti, too. (Great looking treats, Cello!) :)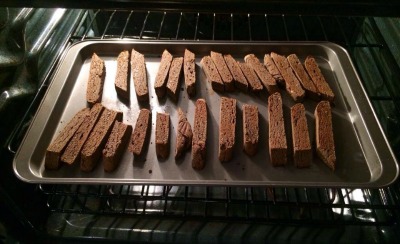 The quickly becoming famous, Sputnik, also made last month's featured recipe. The treats are in the oven while he waits patiently in his adorable red apron. :)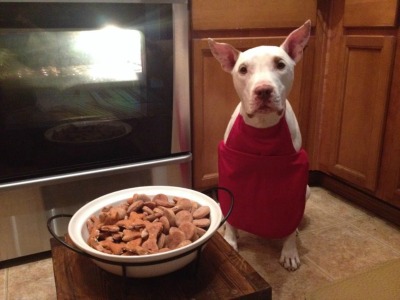 Don't forget to be a good boy, like Sputnik, and clean up after your baking session. :)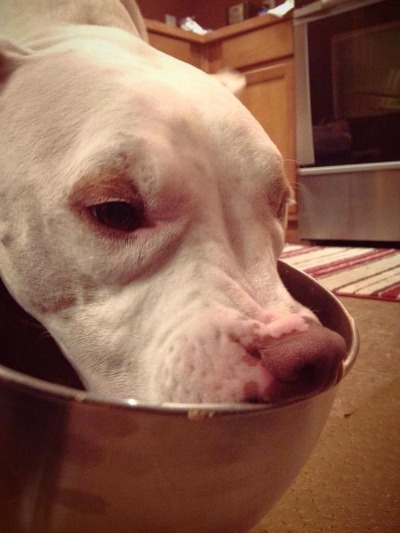 ---
June is National Pet Preparedness Month
Put your mind at ease and take some time this month to gather the Top 10 Items for your Pet Preparedness Kit:

1. Food (your pet's regular food)
2. Water
3. Leash and collar
4. Bowls
5. Photo of your pet, pet ID, and a photo of you with your pet.
6. Medications your pet needs
7. Immunization/vet records (keep both updated)
8. Pet carrier
9. First Aid Kit
10. Contact list of pet-friendly hotels, veterinarians, American Red Cross, American Humane Association and out-of-town friends/family

This list was taken directly from the American Humane Association website. Please review all of their tips to prepare your pets, your family and yourself.
---
DogTreatKitchen.com Testimonials
We get lots of feedback from our website visitors, just like you. Here's what some of them are saying . . .


"My dog LOVED these treats. He was licking the crumbs off the floor!"


"I LOVE the newsletters from you! The recipes are always amazing and delish. My canine adores the recipes and she woofs you very much for the newsletters chalk full of cool ideas. Thank you!"


What are your thoughts? Don't keep them to yourself, Contact Us and let us know what you like, or even dislike, about Dog Treat Kitchen.com. The more you share, the more you help all dog treat bakers, and their dogs.


---
Are you and your dog hungry for more? Let me know what you would like to see on the Dog Treat Kitchen.com.

Want more of a certain type of recipe? Need treat ideas for your next dog party? Let me know what's missing from the dog treat pantry and I'll get to it right away.

Thanks for reading. Until next time,

Happy Dog Treat Baking!

Michelle

www.dogtreatkitchen.com