3 Easy Carrot
Dog Treat Recipes &
National Pet First Aid Month
---
3 Easy Carrot Dog Treat Recipes
Whether you are a two legged or four legged family member, carrots are a perfect snack all by themselves. But, who wants a plain carrot when you can have a cookie?!? :)

Start your carrot dog treat baking with a simple and wheat free recipe:

Apple & Carrot Nibbles - With a 1/2 cup of grated carrots, this dog treat is full of sweet goodness that your dog will love.

Here's what one baker/reviewer said:

"I have been making these treats for awhile now and my two beagles LOVE them! They prefer these treats over any store bought treats, Thanks for the recipe!!"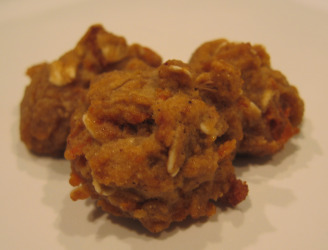 The second carrot dog treat waiting to be made is a low fat dog biscuit. But, don't let it fool you, it's full of flavor and sweetness any dog would devour.

Carrot & Banana Dog Biscuits - This recipe makes a large batch of dog biscuits, so you will have plenty to share (or plenty to freeze for later). Make the recipe gluten and grain free by substituting the whole wheat flour for your favorite GF flour blend.

Lisa in Indiana had this to say:

"I made the dog biscuits for my overweight girl tonight and she absolutely loved them. I have to admit I tasted a piece of one just to see what it tasted like and they are really good!

I will be making this recipe for friends with fur babies also! Good job! Thank you for sharing this recipe!"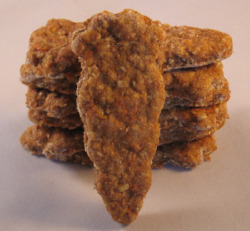 Our third recipe is for the brave dog parents. Baking with liver is a true testament to the love of your dog. It is a smelly ingredient, but once you see the look of joy on your dogs face, and that wagging tail, you'll keep this recipe in a constant rotation of homemade dog treats to make.

Liver & Carrot Dog Brownie Bites - You will win your dog over to any command, routine or trick you ask them to do with these liver dog treats as the reward. So, be brave, bake with liver for your dog and be rewarded yourself with unconditional love from your ever adoring four legged fan club.

Brenda in Texas shared this:

"I have 2 dogs -one small Bichon and one that is 100 lb. mix breed and I made these and they were laying by the oven as they baked. They devoured them in just a few days, so easy to make and low cost.

Great recipe - Thanks from all of us!!!"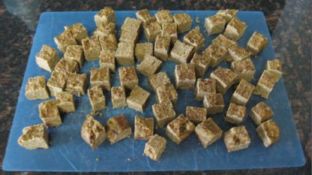 ---
April Dog Events
April - National Pet First Aid Awareness Month. All of April is dedicated to bringing awareness to pet first aid. This is highly important to do NOW ... not later, and definitely not when there's a real emergency. So, what can you do?
April 16th - 22nd - National Pet ID Week - Take the opportunity to double check all the info on your dogs tag to ensure it is correct.
April 26th - International Guide Dog Day - Get your tissues out, then watch these amazing videos on how guide dogs have transformed people's lives.
April 30th - National Adopt a Shelter Pet Day - Are you ready to bring a new little bundle of joy into your home? Then please consider adopting your next family member from a shelter.


---
What Makes My Dog Cookbooks Different
You have many choices of dog treat recipe books. People are beginning to see what you've known all along, homemade is best and includes quality ingredients. So, what makes the recipes I've developed in my eBook different?
Tested - All of my recipes are tested and perfected for you, the home dog treat baker. How do you know? Because I show you step by step photos of exactly how to make each recipe.
Original - I have developed each and every one of the 15 easy dog treat recipes in my eBook. You will not see them in any other book.
Easy - I made sure each recipe has 5 ingredients, or less. That's a tall order for a delicious and healthy dog treat. Each recipe also has common ingredients and simple equipment so you can get started making treats right away.
Healthy - When you make your own easy dog treats, you know exactly what is and isn't in them. Most packaged treats have twice or three times as many ingredients. Plus, those are full of artificial things and other products you can't pronounce.
Check out my eBook 15 Easy Dog Treat Recipes with 5 Ingredients or Less! Or, make a day special with a celebration dog cake with my Dog Cake Recipes for Every Occasion.
If you have questions, contact me on Facebook and I would be happy to help you in any way I can. Or, join the hundreds of people who have already started making their own easy, healthy and delicious dog treats by buying my recipe eBooks today.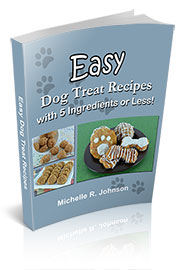 ---
Are you and your dog hungry for more? Let me know what you would like to see on the Dog Treat Kitchen.com.

Want more of a certain type of recipe? Need treat ideas for your next dog party? Let me know what's missing from the dog treat pantry and I'll get to it right away.

Thanks for reading. Until next time,

Happy Dog Treat Baking!

Michelle

www.dogtreatkitchen.com