Cheesy Gluten Free Dog Treats
Heart Healthy Dog Treats
& a Little About Me
Have you joined us on Facebook yet? Be sure to check us out, after reading this newsletter, to keep up with new dog treat recipes. Plus, read my answers to other dog treat bakers questions.
Facebook is also a wonderful place to share pictures of your own homemade dog treats! :) And don't forget about your treat recipients, share photos of your dogs, too. :)
*Special Note* Click the reply button and let me know what dog treat recipes you'd like to see on Dog Treat Kitchen. What recipes do you want to see in the following months? It's as easy as hitting reply and letting me know! :)
As always, you can also read this newsletter online.
---
Cheese Gluten Free & Grain Free Dog Treats
Baking with gluten and/or grain free flours can seem like a daunting task. Where do I start, where do I get them and will my baked goods turn out ok?

With just a couple common ingredients, you can whip up this batch of cheesy crisp dog treats that your dog, and maybe even you, will love. :)

Almond flour, also called almond meal is becoming much more accessible. Most major grocery stores will carry it, but you can also find almond flour online in larger quantities and brands.

Tapioca flour, also called tapioca starch or tapioca powder, helps to replace the texture of gluten in your gluten free dog treats. Tapioca flour can be found in major health food stores, but of course, it can also be found online.

Ingredients:
1 cup almond flour
1/4 cup tapioca flour
1 egg, lightly beaten
1/2 cup finely shredded cheddar cheese
1 1/2 Tbsp extra virgin olive oil
Instructions:
Preheat oven to 350° F
In a large bowl, whisk together the almond flour and tapioca flour.
In a small bowl, beat the egg. Then stir in the cheese and olive oil.
Pour the cheese mixture into the flour mixture and stir with a fork until thoroughly combined.
Measure and cut out a piece of parchment paper to fit your baking sheet. Place this piece on your counter top.
Next, place the cheese dough ball onto the parchment paper and cover with another piece of parchment paper. Using your hands or a rolling pin, flatten to a very thin consistency, around 1/16 inch.
Remove the top piece of parchment paper and transfer parchment with the dough onto your baking sheet.
Using a pizza cutter, cut 1 inch by 1 inch squares.
Bake for 15 minutes. Leave the treats in the oven to cool after the oven has been turned off.
Yield & Storage: Cutting the treats into 1 inch squares should yield you about 75 treats. These cheesy dog treats should be kept in the fridge for up to 1 month or in the freezer for up to 6 months.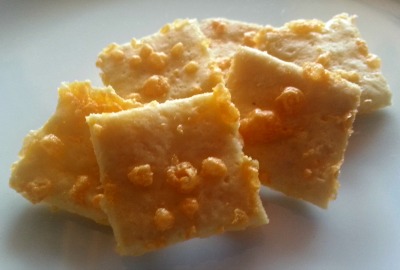 ---
Love Your Dogs Heart
February is filled with love, but don't forget to take special notice of your dog this year.

You can help to strengthen the health of your dogs heart by making a couple heart conscious dog treats.

Start with a cholesterol lowering ingredient, kidney beans in our Kidney Bean Morsels: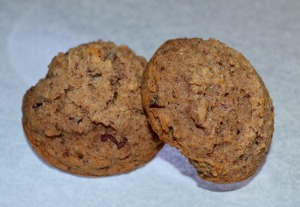 The second recipe has spinach which is full of antioxidants, omega-3 fatty acids and a host of vitamins and minerals. Try the Cheesy Spinach Dog Cookies: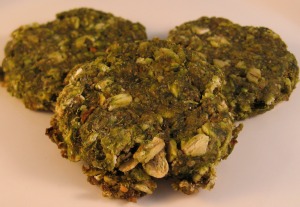 Dog parents are becoming more and more aware of the dangers of commercially made dog treats. Be the first in your area to start your own dog treat bakery.

Start by reading my review of a very helpful book on How to Start Your Own Dog Bakery Business.


---
Our Newsletter is 6 Years Old :)
I almost couldn't believe it myself, it's already been 6 years since I started this newsletter. My very first mailing went out to 34 people, and now we're in the 10's of 1,000's. Thank you all so very much for continuing to listen to my musings of dog treats and new ways to love our sweet companions.

Do you ever wonder how I got started? It's actually quite simple. I had a strong desire to work from home, but I didn't know where to start. I didn't want to spend a lot of money to get started or fall into a scheme where all I did was call people and try to sell them something they didn't want or need.

That's when my husband and I stumbled upon SBI! a company that helps you to not only build a website, but to build an actual business.

Please don't think that I'm unique. There are so many people who have created fun, profitable online businesses with SBI. Take just a moment and read about the overwhelming proof and case studies from hundreds of satisfied people.

You can also watch a cute video:




It has worked for me, there's no reason why it can't work for you. :)

---
Be Our Next Featured Fan!
Shine the spotlight on your special dog by entering him or her into our Featured Fan newsletter feature. This newsletter goes out to thousands of people every month, why not share your adorable pup with us. :)

If you'd like to have your dog be our next Featured Fan, send in a photo, description and information regarding what homemade dog treat your dog loves.

Hit Reply to this newsletter, or use our Contact Us form to enter your dog to be next months Featured Fan.


---
Reviews for Easy Dog Treat Recipes eBook
For the cost of a box of commercial dog treats, you can have my eBook,
15 Easy Dog Treat Recipes with 5 Ingredients or Less! Then you can make endless amounts of healthy, yummy, tested dog treat recipes that are already being enjoyed by countless dogs.

Here is a recent review for my eBook:

"This is a compilation of some very tasty sounding and easy recipes that any and every dog would love to chomp!"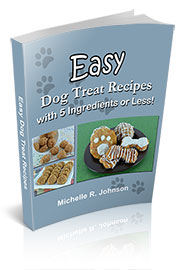 ---
DogTreatKitchen.com Testimonials
We get lots of feedback from our website visitors, just like you. Here's what some of them are saying . . .


"You have an amazing website!"


"I love your website and have tried a few of your recipes for my dogs. Thank you so much for sharing your great recipes with us."


What are your thoughts? Don't keep them to yourself, Contact Us and let us know what you like, or even dislike, about Dog Treat Kitchen.com. The more you share, the more you help all dog treat bakers, and their dogs.


---
Are you and your dog hungry for more? Let me know what you would like to see on the Dog Treat Kitchen.com.

Want more of a certain type of recipe? Need treat ideas for your next dog party? Let me know what's missing from the dog treat pantry and I'll get to it right away.

Thanks for reading. Until next time,

Happy Dog Treat Baking!

Michelle

www.dogtreatkitchen.com