Cheesy & Flavorful Dog Treats,
Responsible Dog Ownership
& Deaf Dog Week
---
Pass the Cheese, Please!
Make these Flavorful
Cheese Dog Treats
Cheese is an all time favorite of most dogs. Often small cubes of cheese are used to reward our dogs to go into their crate, after a successful training session or to hide a pill or two. The strong aroma and flavor of cheese will get your dog to do just about anything you may ask of her.

But serving cheese alone as a treat could be too much fat and calories for some dogs. Or it may be on the expensive side to give as a regular treat.

That's where these tempting dog treat recipes come into play. Make one or all of the recipes below to stretch the flavor of delicious cheese.

Gluten & Grain Free Cheese Squares - We'll start things off with a newsletter exclusive. This recipe has only been published once in this newsletter in February of 2015. We're keeping this recipe secret just for you, our newsletter subscribers! Enjoy:

Ingredients:
1 cup almond flour
1/4 cup tapioca flour
1 egg, lightly beaten
1/2 cup finely shredded cheddar cheese
1 1/2 Tbsp extra virgin olive oil
Instructions:
Preheat oven to 350° F
In a large bowl, whisk together the almond flour and tapioca flour.
In a small bowl, beat the egg. Then stir in the cheese and olive oil.
Pour the cheese mixture into the flour mixture and stir with a fork until thoroughly combined.
Measure and cut out a piece of parchment paper to fit your baking sheet. Place this piece on your counter top.
Next, place the cheese dough ball onto the parchment paper and cover with another piece of parchment paper. Using your hands or a rolling pin, flatten to a very thin consistency, around 1/16 inch.
Remove the top piece of parchment paper and transfer parchment with the dough onto your baking sheet.
Using a pizza cutter, cut 1 inch by 1 inch squares.
Bake for 15 minutes. Leave the treats in the oven to cool after the oven has been turned off.
Yield & Storage: Cutting the treats into 1 inch squares should yield you about 75 treats. These cheesy dog treats should be kept in the fridge for up to 1 month or in the freezer for up to 6 months.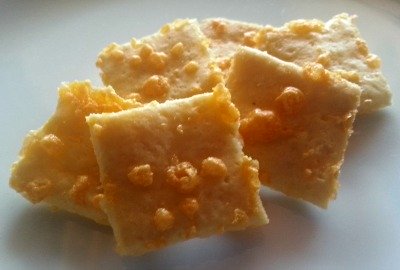 Our second dog treat recipe is loaded with cheese. The treat has two kinds of cheese and the optional filling is loaded with cheese and peanut butter.

Cheesy Dog Biscuits with Cheese Filling - You can substitute the whole wheat flour for a gluten free mix. Customize this recipe even further by using a blend of cheeses instead of only cheddar cheese. Note - Don't over bake yours like I did mine. These dog biscuits aren't normally quite so dark around the edges. ;)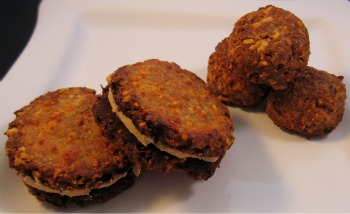 Last, but not least, our Cheesy Twists Dog Treats. You can make these easy dog treats more simple, by omitting the herbs, if you want. Two tablespoons of grated Parmesan may not seem like a lot of cheese, but freshly grated Parmesan cheese has a robust aroma that your dog will appreciate. Change up the organic baby food to sneak in a serving of vegetables in this homemade dog treat.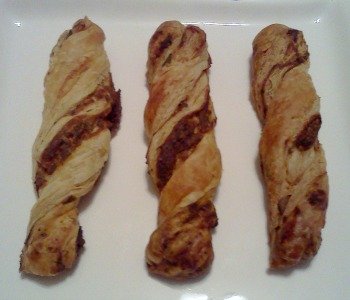 ---
September Dog Events
September is chock full of fun and important dog events:

September - All of this month is dedicated to Responsible Dog Ownership. Check out the following link to a state wide search for events in your local area:

https://www.apps.akc.org//classic/clubs/rdod/events/index.cfm?_ga=1.75860949.1782598822.1467304574

Or take the pledge. Make the Pet Promise to be a Responsible Dog Owner here:

http://images.akc.org/pdf/rdod/Pet_Promise.pdf?_ga=1.179602404.1782598822.1467304574

September 18th - 24th - National Deaf Dog Week - Most people, including myself, have little to no experience with deaf dogs. Well, after the research I've done, my next dog just might be deaf. First, check out this sweet list of why deaf dogs rock:

https://deafdogsrock.com/10-reasons-why-deaf-dogs-rock

Dogs are simply amazing. Learn more about how to help or adopt a deaf dog from these helpful sites:

http://www.deafdogs.org/

https://deafdogsrock.com/

September 19th - 25th - National Dog Week - Also helps promote responsible dog ownership. Not only being a good dog-parent to the dog you already have, but supporting spay and neutering efforts in your community. Learn more from their blog and Facebook page:

https://www.facebook.com/National-Dog-Week-218596591491974/?ref=page_internal

https://nationaldogweekbook.wordpress.com/


---
Are You New to Baking
Homemade Dog Treats?
If you're new to making your own homemade dog treats, or new to baking in general, you'll LOVE my two dog treat cookbooks. There are step by step photos, substitutions, and list of helpful supplies you'll need to get started.

Read more about each of my cookbook eBooks, 15 Easy Dog Treat Recipes and my second eBook Dog Cake Recipes for Every Occasion to see how they can help you get in the kitchen and make the very best dog treats for your beloved dog.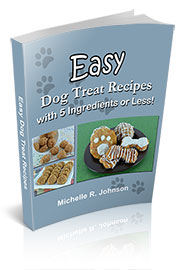 ---
DogTreatKitchen.com Testimonials
We get lots of feedback from our website visitors, just like you. Here's what some of them are saying . . .


"You have sure put a lot of work and time into this website and I'm sure have helped lots others like myself. I love your website so much and have found it very helpful. Your site is to the T with the most helpful information. I go to it constantly as a tool. Thank you for providing such good information. I have asked several questions that have been answered so thoroughly and I also appreciate that."


What are your thoughts? Don't keep them to yourself, Contact Us and let us know what you like, or even dislike, about Dog Treat Kitchen.com. The more you share, the more you help all dog treat bakers, and their dogs.


---
Are you and your dog hungry for more? Let me know what you would like to see on the Dog Treat Kitchen.com.

Want more of a certain type of recipe? Need treat ideas for your next dog party? Let me know what's missing from the dog treat pantry and I'll get to it right away.

Thanks for reading. Until next time,

Happy Dog Treat Baking!

Michelle

www.dogtreatkitchen.com