Pina Colada &
Ham & Cheese on Rye
Homemade Dog Treats
for Your Precious Pup
What's Cooking? Dog treats, of course! The Dog Treat Mixing Bowl newsletter will keep you up-to-date on the latest recipes, ingredients, tips and techniques. Our goal is to make baking homemade dog treats simple, fun, and nutritious.
You are receiving this email because you are a subscriber to the Dog Treat Mixing Bowl Newsletter.
Do you know a dog that would appreciate a homemade dog treat? Then forward a copy of this newsletter to your friend and their dog.
If a friend DID forward this to you, and you'd like to know more, you can subscribe to this newsletter. Or, visit us online at Dog Treat Kitchen.com
If you'd prefer, you can read this newsletter online.
I would love to know what you're thinking! Simply hit the reply button for your questions and comments about this newsletter.


---
Pina Colada Dog Cookies
Pina Colada Dog Treats - Of course, these are "virgin" cookies, no alcohol is needed for this plump little beauties. These dog cookies have it all - sweetness, texture, uniqueness, pop-ability, and all wheat and gluten free!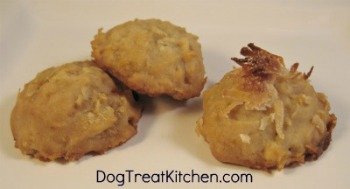 You can use whole wheat flour if your dog is not sensitive to wheat or gluten. The flaked coconut on top is also optional. You can leave it off and they are still just as cute, delicious and healthy.


---
Once You're Addicted to Making
Homemade Dog Treats ...
One dog treat recipe leads to another, and then another, and then another. Before you know it the neighborhood dogs are beginning to recognize your smell and the sound of your car. They are looking forward to all your delicious and healthy homemade dog treats.

It may be time to start a dog bakery. You don't have to have a store. You can sell your homemade dog treats at a local groomers, Vet's office or pet store.

Get creative. Wherever there are dogs, there are waiting and happy tummies to devour your dog treats.

But, a first great step is to plan a strategy. One way to do that is to read my review of a great eBook entitled Bake a Dog a Bone - Turning Your Passion for Pets Into Profits. I don't hold back. I'll tell you the good and the not so good.

Having a plan of action and your research or due diligence behind you, you can focus on the fun part: Making and selling the best homemade dog treats.


---
Ham & Cheese on Rye - Dog Cookies
Ham & Cheese on Rye Dog Treats - This wheat free delight is going to turn your dogs head. The aromatics of warm ham and cheese would make anyone's head turn! :)

Using rye flour makes this tempting treat a wheat free dog treat that you can make for your dog whether or not she has a sensitivity to wheat.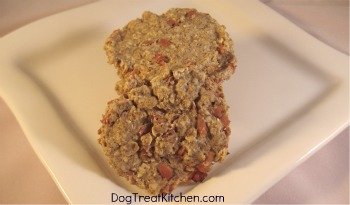 ---
DogTreatKitchen.com Testimonials
We get lots of feedback from our website visitors, just like you. Here's what some of them are saying . . .


"I made some of your homemade dog treats and my Mastiff and Terrier loved them. They do the happy dance when I open the treat jar. Thank you for sharing, they were so easy to make."


"Just wanted to let you know that I love your website. Use it all the time!"


"I really enjoy your recipes and web site. These are some of the best dog cookie recipes that I have found!"


What are your thoughts? Don't keep them to yourself, Contact Us and let us know what you like, or even dislike, about Dog Treat Kitchen.com. The more you share, the more you help all dog treat bakers, and their dogs.


---
Newsletter Sneak Peek
What's New for the September Quarterly Issue?

Our first Charcoal Dog Treat Recipe. Never heard of such a thing? Well, you're in for a treat. They can help rid your dog of bad breath. There's lots more health benefits that we'll share with you next time.

We'll also have a Triple Apple Dog Cake that you won't want to miss out on.

Until then I'll be baking away on more new and healthy dog treat recipes. Take your dog for a walk, bake some delicious homemade dog treats, and report back to me to let me know how your baking efforts are being received!

Join us in September for these wonderful recipes. :)


---


Are you and your dog hungry for more? Let me know what you would like to see on the Dog Treat Kitchen.com.

Want more of a certain type of recipe? Need treat ideas for your next dog party? Let me know what's missing from the dog treat pantry and I'll get to it right away.

Thanks for reading. Until next time,

Happy Dog Treat Baking!

Michelle

www.dogtreatkitchen.com