Delectable Turkey
Dog Treats &
National Pet Diabetes Month
---
Delectable Turkey Dog Treats
November is all about the turkey. You may look forward to digging into a moist roasted turkey once a year, but your dog can enjoy these turkey dog treats all year long.

*Special Note* - If you choose to share some turkey with your dog this holiday season, please keep the following tips in mind. Only share a small amount of white turkey meat with your dog. Do not give your dog turkey skin, turkey bones or turkey covered in gravy. To be on the safe side, only make approved turkey dog treats and give these sparingly.

Wheat Free Turkey Dog Biscuits - this recipe uses canned turkey, so you can make these any time of year. Although you can omit the dried sage in this dog treat recipe, you and your dog will appreciate how yummy it makes the treats smell. :) If you don't need to use wheat free flour, you can substitute the oat flour for all purpose or whole wheat flour.
Turkey & Stuffing Dog Treats - these are a more traditional turkey dog treat. They combine everything about a turkey meal into one tasty morsel. If possible, try to find an organic turkey baby food that has a limited ingredient list. Make these dog treats extra big or extra small to fit your particular dogs appetite.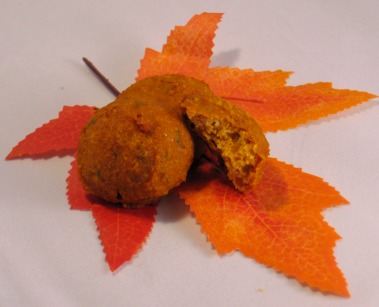 ---
November Dog Events
Month of November - National Pet Diabetes Month - Does someone you know have diabetes? Did you know dogs and cats can develop diabetes, too? Read all about the early warning signs of diabetes in your pet in this helpful website:

Your dog can still lead a healthy and happy life with diabetes, watch a couple videos about their success stories here:
---
The Secret is Out ...
Homemade Dog Treats are the Best!
There are a lot of free or very inexpensive dog treat recipe eBooks out there these days. But, are you really getting a good recipe? Are they healthy treats that are good for your dog? Will your dog even like the finished dog biscuit?

I have taste tested every one of my dog treat recipes on multiple dogs (plus I taste test them, too!). If my panel of testers turn their nose up to a treat, I go back to the drawing board to make a healthy and delicious dog biscuit. You will only get healthy recipes that will actually work in a regular kitchen.

So, what are you waiting for? Get to baking with tested dog treat recipes developed and written for beginner bakers.

Check out my eBook 15 Easy Dog Treat Recipes with 5 Ingredients or Less! Or, make any day special with a celebration dog cake with my Dog Cake Recipes for Every Occasion.

If you have questions, contact me on Facebook and I would be happy to help you in any way I can. Or, join the hundreds of people who have already started making their own easy, healthy and delicious dog treats by buying my recipe eBooks today.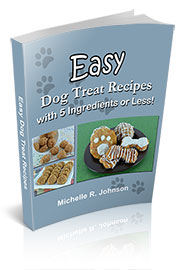 ---
Are you and your dog hungry for more? Let me know what you would like to see on the Dog Treat Kitchen.com.

Want more of a certain type of recipe? Need treat ideas for your next dog party? Let me know what's missing from the dog treat pantry and I'll get to it right away.

Thanks for reading. Until next time,

Happy Dog Treat Baking!

Michelle

www.dogtreatkitchen.com