Speedy Snacks and
Easy Dog Treat Recipes
What's Cooking? Dog treats, of course! The Dog Treat Mixing Bowl newsletter will keep you up-to-date on the latest recipes, ingredients, tips and techniques. Our goal is to make baking homemade dog treats simple, fun, and nutritious.
You are receiving this email because you are a subscriber to the Dog Treat Mixing Bowl Newsletter.
Do you know a dog that would appreciate a homemade dog treat? Then forward a copy of this newsletter to your friend and their dog.
If a friend DID forward this to you, and you'd like to know more, you can subscribe to this newsletter. Or, visit us online at Dog Treat Kitchen.com
If you'd prefer, you can read this newsletter online.
I would love to know what you're thinking! Simply hit the reply button for your questions and comments about this newsletter.


---
Dog Treat Recipe of the Month:
Molasses & Oat Speedy Dog Snacks - Finally we've added a microwavable dog treat recipe to our ever growing list of free dog treat recipes. Now there's no reason to keep you from making healthy homemade dog treats for your dog.

Summer can be a hectic time. Kids are out of school, family vacations and all those to do lists around the house. That's why we created this fast dog treat recipe for your dog. Make an extra large batch and freeze them for homemade dog treats all summer long.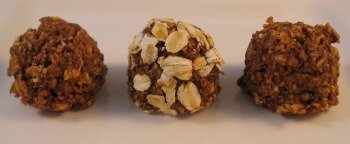 If ever there were a perfect dog treat recipe for kids to make or help you make, this is it. The primary precaution is to make sure they use pot holders when taking the plate out of the microwave, and when transferring the treats to a cooling rack, as the treats may be too hot for young hands.

Decorate these cute treats by rolling them in oats before microwaving. Or, try a variety of other dog safe ingredients to roll the treats in. You could use ground flax, cinnamon, carob powder or sesame seeds. Use your imagination and create a truly unique and delicious homemade dog treat.

Do you love to decorate homemade dog treats? Or do you dream of helping dog parents create memorable and fun dog parties complete with homemade dog treats? Then you may want to consider starting a dog treat business. To help you get started, read my review of the book about how to start your own dog bakery business.


---
Keep Your Dog Cool with Frozen
Toys & Treats
Summer is such a fun time, but it can be difficult for your dog who is still wearing her fur coat. Besides keeping a constant supply of fresh, clean water available, you can provide a cool down in a fun and challenging way.

Our favorite "cool" toy is the Premier Kool Dogz Ice Treat Maker Dog Toy. You create a giant ice cube filled with toys and treats. Once given to the dog, he has to lick away at the melting ice to reveal the dog biscuits and toys frozen inside. You can add a little bit of chicken broth to the water to make it more enticing the first few times you give this toy to your dog.

Our second favorite dog toy is the Petmate Dogzilla Arctic Bone. It's half rubber toy and half ice compartment. It's great for all sizes of dogs because it comes in medium, large and extra large.

Both treat toys are reusable, which is great for your budget. But they also keep your dog cool and safe during the hot days of summer.


---
DogTreatKitchen.com Testimonials
We get lots of feedback from our website visitors, just like you. Here's what some of them are saying . . .


"Thanks so much Michelle!! Your website has been a huge help to me and one of the best I've found for at home dog treat baking."


"You have sure put a lot of work and time into this website and I'm sure you have helped lots others like myself. I love your website so much and have found it very helpful. Your site is to the T with the most helpful information. I go to it constantly as a tool. Thank you for providing such good information. I have asked several questions that have been answered so thoroughly and I also appreciate that."


What are your thoughts? Don't keep them to yourself, Contact Us and let us know what you like, or even dislike, about Dog Treat Kitchen.com. The more you share, the more you help all dog treat bakers, and their dogs.


---
Dog Treat Baking Tips
Do you enjoy using ground flax, wheat bran and carob powder? How about wheat and gluten free flours? Do you know that there is a proper way to store these and all powdered or ground ingredients?

If you use these items quickly, you can store them in an air tight container in the refrigerator. However, if they are seldom used, the freezer is the best place.

Use a heavy duty freezer bag or freezer safe plastic container. The paper sacks that flours and such come in can absorb smells and that does not make for good dog treats. Empty the contents into a freezer bag, or put the whole bag in the freezer bag. Squeeze out all the excess air and seal. Your ingredients should stay fresh for at least 6 months.

Share your dog treat tips with your fellow bakers! We know you have lots of great ideas, ways of making dog treats, and creative ways of decorating homemade dog treats.


---
Newsletter Sneak Peek
What's New for August?

Frozen Tuna Treats

Tuna and canned fish are not just for our kitty friends. Dogs love the taste of tuna and salmon. Come back next month for an easy, oven free treat that will keep your dog cool during the summer months.


---


Are you and your dog hungry for more? Let me know what you would like to see on the Dog Treat Kitchen.com.

Want more of a certain type of recipe? Need treat ideas for your next dog party? Let me know what's missing from the dog treat pantry and I'll get to it right away.

Thanks for reading. Until next month,

Happy Dog Treat Baking!

Michelle

www.dogtreatkitchen.com