Gingerbread Dog Biscuits
A Tasty New Tradition
What's Cooking? Dog treats, of course! The Dog Treat Mixing Bowl newsletter will keep you up-to-date on the latest recipes, ingredients, tips and techniques. Our goal is to make baking homemade dog treats simple, fun, and nutritious.
You are receiving this email because you are a subscriber to the Dog Treat Mixing Bowl Newsletter.
Do you know a dog that would appreciate a homemade dog treat? Then forward a copy of this newsletter to your friend and their dog.
If a friend DID forward this to you, and you'd like to know more, you can subscribe to this newsletter. Or, visit us online at Dog Treat Kitchen.com
If you'd prefer, you can read this newsletter online.
I would love to know what you're thinking! Simply hit the reply button for your questions and comments about this newsletter.


---
Dog Treat Recipe of the Month:
Fall beckons us to turn on the oven and pull out our favorite traditional recipes.

This year, start a new tradition of baking these easy to make gingerbread dog bones.

This Gingerbread Dog Biscuits Recipe can be made into any shape you want using dog cookie cutters. We chose the classic bone and gingerbread man shape to show you just how adorable these little biscuits can be.

Your dog won't miss the sugar in these treats as the ginger, cinnamon and cloves makes it a spicy and delicious treat.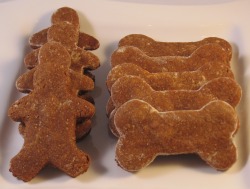 You can use this recipe to make a Gingerbread Dog House. The only adjustments you need to make is to bake the cut outs (depending on their size) a minimum of 10 minutes longer. Since each dog house can be a different size, check the treats as they bake. You want a very dry and hard "cookie" to be able to put your house together.

To decorate your gingerbread cookies, or if you're building a house, use this sugar free yogurt icing, instead of a traditional royal icing recipe that is made up of mostly sugar. That way your dog can enjoy eating all the fruits of your labor.

Then follow the instructions of building a "regular" gingerbread house, but make it a special one just for your dog.

Do you look forward to the cooler months so you can bake? Do you love making homemade dog treats for your dog? Are you starting to be known and loved by the dogs of your families and friends? Then you may want to consider starting a dog treat business. To help you get started, read my book review about how to start your own dog bakery business. It's fun, exciting and not as complicated as you may think! :)


---
Dog Treat Baking Tips
Make baking dog treats more fun and easy with our tips:

"Make any dog treat recipe Organic by using organic ingredients.

If the cost of the ingredients is higher than you'd like, use just a few organic ingredients to make your homemade dog treats extra healthy while not breaking the bank."

Share your dog treat tips with your fellow bakers! We know you have lots of great ideas and ways of making treats. Share your tips and they might be featured in our newsletter.


---
Fight the Winter Blues with Toys
It's chilly, windy and rainy ... you look at your dog, she looks at you ... and you both go jump back into bed instead of taking that morning walk.

But later in the day, your dog will have all that pent up energy that needs to be released in a healthy constructive way.

That's where new fun toys come into the picture. Even one new toy can help keep your dogs brain and body active, keep her out of trouble and set your mind at ease.
For a limited time get a discount on popular dog toys, many of which you can stuff with homemade dog treats.


---
Newsletter Sneak Peek
What's New for December?

Candy Cane Dog Treats! You heard right, we're creating a special recipe to look like a candy cane, but have a satisfying and safe crunch for your dog.


---


Are you and your dog hungry for more? Let me know what you would like to see on the Dog Treat Kitchen.com.

Want more of a certain type of recipe? Need treat ideas for your next dog party? Let me know what's missing from the dog treat pantry and I'll get to it right away.

Thanks for reading. Until next month,

Happy Dog Treat Baking!

Michelle

www.dogtreatkitchen.com