4 Ways to Tag Your Dog:
ID Tags that Work &
Peanut Butter & Jelly Dog Treats
---
4 Ways to Tag Your Dog
Does your dog have an ID tag? Is it up-to-date? Does it have the Vet's Information? Does it function properly? Is it old and scratched beyond reading?

April 2nd is the American Humane Associations Every Day Is Tag Day™. Also, April 17th through the 23rd is National Pet ID Week. So let's take a moment to learn about our dog's tags.

What are the 4 Ways to Tag Your Dog?
Identification Tags - Every color and shape of Dog ID Tags are available to choose from. What's most important is that they contain your dog's name, your name, address and telephone numbers. A separate tag for any medical problems or medication is a good idea. And lastly, the Vet's name and number.


Collar - You'll need a place to put your custom ID tags. How about a Custom Embroidered Collar with your pet's name and your telephone number. This is sort of a back-up plan for the tags. Just in case the tags go missing, the collar will have contact information. Or, at the very least, you can use indelible ink to write your phone number.


Microchip - This is a very common step when adopting a dog. But, what may be forgotten is to update the information on the microchip. There are several microchip manufacturers and registries, so make sure to cover all your bases.


Tattoo ID System - OK, so a tattoo may seem overboard, but when in comes to your dog and their safety, it's just another step to consider. A tattoo code will be placed on the dog's ear or the inside of their thigh. The code can be registered with several different national organizations.
No one ever wants to think about their dog being lost, scared and alone. But, with a few simple steps you can ensure that your dog is safely returned to you if the unthinkable ever happens.


---
Peanut Butter & Jelly Dog Treats
This month we're featuring our Peanut Butter & Jelly Thumbprint Dog Cookies.

The weather is just starting to warm up, so there's still plenty of time to warm the house with the oven. :) Don't shy away from these treats just because they may look complicated. Trust me, they're not! :)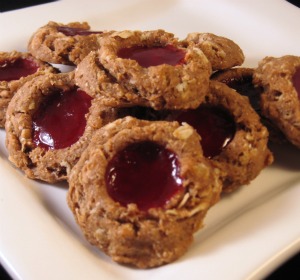 Here's what our reviewers are saying about these Peanut Butter dog treats:

Krista says: "I made half with jam and half with cream cheese. My dogs loved them. I'm so happy I made them!!

I love all the recipes on this site! This is such a wonderful website!!"

and Angie says: "I have 5 goldens, aka "cheese monsters". I made these, but instead of jam .... used low fat cheese instead.

Wonderful! Thanks so much!"

Below is a picture of 2 of Angie's Golden Retrievers. They look happy to me. :)

Try this recipe this month and add your review, too.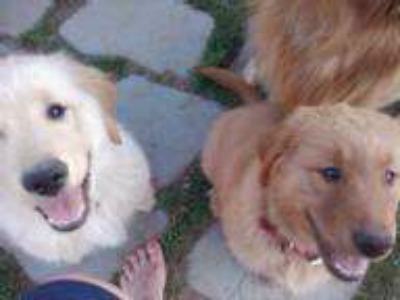 ---
April Dog Events
Besides the Dog ID days we mentioned above, you'll also want to keep an eye on these dates:

April 11th - National Pet Day

http://www.petdayusa.com/

April 27th - International Guide Dog Day

http://www.igdf.org.uk/

April 29th - National Adopt a Shelter Pet Day


---
Reduced Price on my eBooks
Both of my eBooks, 15 Easy Dog Treat Recipes and my second eBook Dog Cake Recipes for Every Occasion have been reduced in price. No need for a temporary coupon code, they're both now only $4.95 each. So, if you've been hesitating to check out my original, tested and tasty dog treat recipes, now's the time! :)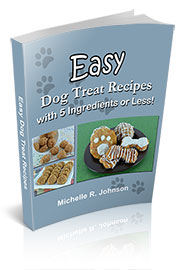 ---
Newsletter Feedback
Last month I asked if your dog would eat broccoli. I was amazed at the responses. Here are just a couple ...

Joy said: "My dogs love spinach, broccoli and most other vegetables. I know they do not digest carrots well so I give them Olewo Carrots and Beets for dogs. Both are good for digestion, coat and a lot of other things. My dogs love it when their kibble comes with the carrots and beets reconstituted and a tsp of plain yogurt on top. Since I started feeding the beets and carrots I have had almost no illness and I have 4 small dogs. I think feeding them veggies is a great idea! Thanks for the great suggestions and recipes."

Here are pictures of her crew Dillon, Dandy, Dory and MoJo: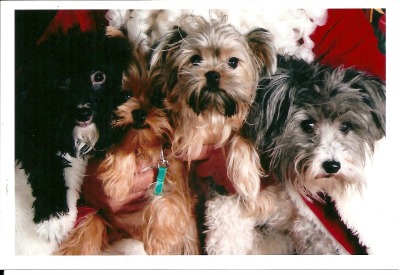 Plus Mary Jo gave us a great tip for getting your dog to try a new homemade dog treat. She says:

"I have 3 dogs, if they think one of the others wants it, they will eat it. One, Max, is our "Mikey". Max will eat most anything... lol"

Thank you ladies for sharing your adorable pups with us! :)

I would love to hear from you ... about anything ... well, especially dog related. :) Hit reply to this newsletter and let me know the funny things your dog does, what treats you plan to make or ask my a question. I'm happy to help in any way I can.


---
DogTreatKitchen.com Testimonials
We get lots of feedback from our website visitors, just like you. Here's what some of them are saying . . .


"Just wanted to say thanks for a great website. It is my go-to site for answers and great recipes. I've also passed it along to others who need education about care and feeding of dogs."


What are your thoughts? Don't keep them to yourself, Contact Us and let us know what you like, or even dislike, about Dog Treat Kitchen.com. The more you share, the more you help all dog treat bakers, and their dogs.


---
Are you and your dog hungry for more? Let me know what you would like to see on the Dog Treat Kitchen.com.

Want more of a certain type of recipe? Need treat ideas for your next dog party? Let me know what's missing from the dog treat pantry and I'll get to it right away.

Thanks for reading. Until next time,

Happy Dog Treat Baking!

Michelle

www.dogtreatkitchen.com