Have You Made
Liver Dog Treats Yet?
Get Started with Our
Recipes & Tips
What's Cooking? Dog treats, of course! The Dog Treat Mixing Bowl newsletter will keep you up-to-date on the latest recipes, ingredients, tips and techniques. Our goal is to make baking homemade dog treats simple, fun, and nutritious.
You are receiving this email because you are a subscriber to the Dog Treat Mixing Bowl Newsletter.
You can also read this newsletter online.
---
Make Your Dog Happy
with Our Liver Dog Treats
OK, yes, liver is smelly. But, there are many reasons to take the plunge and start making liver dog treats.
Liver dog treats, as well as other homemade dog treats, are completely customizable for your individual dog.
There are other smelly dog treats that we buy for our dogs, why not make a healthy homemade treat, which will probably cost less than store bought treats.
With our tips and recipes, you'll make the tastiest liver treats that will have your dog doing back flips in no time.
Face your smelly fears, grab your apron and let's start making the best liver dog treats. In the process we'll make you look like an epicurean hero to your dog.
Here are a few tips to get you started and on how to choose liver for homemade dog treats.
Start with the most versatile liver dog treat recipe our lip smacking liver gravy (pictured below). You can use it as a food topper, or drizzle on other dog treats for a special treat. You can even freeze the gravy for a cool and tasty treat.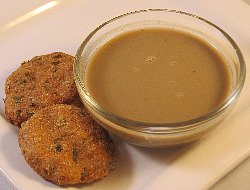 Or, you can try a tasty "brownie style" liver treat recipe like our highly rated liver & carrot brownies.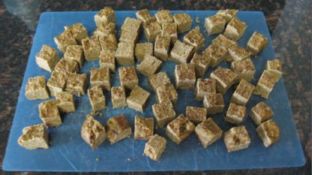 Also try the classic liver treat, dehydrated liver dog treats. Nothing but pure delicious flavor.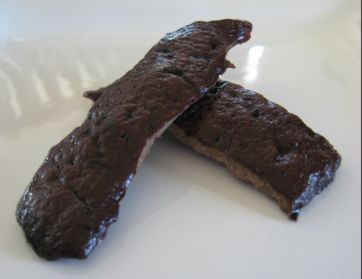 ---
Should You Get
a Puzzle Toy for Your Dog?
Has your dog ever politely sniffed at a new toy and then walked away? It can be frustrating. If you're concerned your dog won't like a puzzle toy, check out these cute videos of dogs who love their treat puzzle toys. It may be time to challenge your little one with a new toy. Don't forget to make little homemade dog treats to put in the toys, too! :)

This first video is of a dog's first try playing with a puzzle toy.

Sometimes a dog needs three tries to figure out a puzzle treat toy.

The third video is my favorite because not only does this Rough Collie play with her puzzle toy, she learns to put the pieces away after play time! :)


---
DogTreatKitchen.com Testimonials
We get lots of feedback from our website visitors, just like you. Here's what some of them are saying . . .


"Love your recipes! My Newf (Newfoundland) give them a 4 paw star rating."


"I really like your site, and think it's a great idea. I know my dogs would agree!"


What are your thoughts? Don't keep them to yourself, Contact Us and let us know what you like, or even dislike, about Dog Treat Kitchen.com. The more you share, the more you help all dog treat bakers, and their dogs.


---


Are you and your dog hungry for more? Let me know what you would like to see on the Dog Treat Kitchen.com.

Want more of a certain type of recipe? Need treat ideas for your next dog party? Let me know what's missing from the dog treat pantry and I'll get to it right away.

Thanks for reading. Until next time,

Happy Dog Treat Baking!

Michelle

www.dogtreatkitchen.com