Love Your Dog's Heart
with Heart Healthy Dog Treats
What's Cooking? Dog treats, of course! The Dog Treat Mixing Bowl newsletter will keep you up-to-date on the latest recipes, ingredients, tips and techniques. Our goal is to make baking homemade dog treats simple, fun, and nutritious.
You are receiving this email because you are a subscriber to the Dog Treat Mixing Bowl Newsletter.
Do you know a dog that would appreciate a homemade dog treat? Then forward a copy of this newsletter to your friend and their dog.
If a friend DID forward this to you, and you'd like to know more, you can subscribe to this newsletter. Or, visit us online at Dog Treat Kitchen.com
If you'd prefer, you can read this newsletter online.
I would love to know what you think of this newsletter! Simply hit the reply button for your questions and comments about this newsletter.


---
In This Issue:
Heart Healthy Dog Treats


National Pet Dental Health Month


How to Start a Dog Bakery


Praise for Dog Treat Kitchen.com


March Sneak Peek
---
Heart Healthy Dog Treats
In the month of February we are often reminded of just how much we love our dogs. To return a small portion of the unconditional love that our dogs show us, we can help them improve or maintain a healthy heart.

There are several dog treat ingredients that can aid to a healthy heart. They include olive oil, fish oil, canola oil, taurine, and flax seed. Since many dog treat recipes may already use the above mention oils, we wanted to focus on taurine and flax seeds.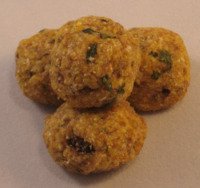 Tripe Pom Poms - Green tripe contains taurine, and although it's a little smelly, you must give this dog treat recipe a try! I can almost guarantee that you have never seen your dog quite as happy as you'll see him after he's tasted these treats. These treats also make fantastic training treats. They are small for frequent training rewards, and since they are so flavorful, your dog will gladly pay attention and do what you ask for these tripe cookies.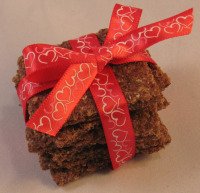 Cheesy Flax Seed Squares - Flax seed is a heart healthy ingredient. It's loaded with omega-3 fatty acids for the heart, skin, and coat. Your dog may not have a taste for flax seed, but she'll love the cheesy flavor added by the Parmesan.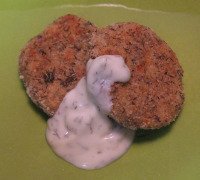 Salmon Cakes - This isn't a new recipe on our site, but we wanted to remind you that this is a wonderful treat to make if you wanted to help maintain a healthy heart. The salmon is rich in fish oil not to mention the fact that it is just plain yummy! :)


---
National Pet Dental Health Month
Did you know you needed to brush your dog's teeth, provide toys and treats to help them clean their teeth?

If you've been putting off taking care of your dog's teeth, now is the month to get started.

The American Veterinary Medical Association has a great video to show you how to brush your dogs teeth.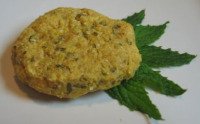 Mint Kiss Dog Cookies - Cleaning your dog's teeth is important. But to help with a little doggie breath, try our mint kiss cookies with fresh mint and a little cheddar cheese.
---
How to Start a Dog Bakery
Has your love of baking treats for your own dog extended to making treats for all dogs? If that's the case you may have considered starting your own dog bakery business.

I've bought, read, and reviewed a great e-Book on How to Start Your Own Dog Bakery. Actually I've bought and read three of the most popular dog bakery books, and I like this one the best.

If you're considering taking your hobby of baking homemade dog treats to the next level, you most likely have tons of great ideas and puzzling questions.

When you're just starting a new venture, the best thing you can do is plan. There are many well written business books on the market, but you will also need to read a book all about being a successful pet-trepreneur! :) So, read my review of this eBook How to Start Your Own Dog Bakery: A Guide for the Animal-Loving Entrepreneur and see why I think this is a great book for starting your own dog bakery.


---
Dog Treat Kitchen Testimonials
We get lots of feedback from our website visitors, just like you. Here's what some of them are saying . . .

"My dog LOVED the Peanut Butter & Molasses dog treats. He was licking the crumbs off the floor!"

"Thank you so much, I'm so glad you have this site, I love your ideas."

What are your thoughts? Don't keep them to yourself, Contact Us and let us know what you like, or even dislike, about Dog Treat Kitchen.com. The more you share, the more you help all dog treat bakers, and their dogs.


---
March Newsletter Sneak Peek
What's New for March?

Since March is National Peanut Butter Month, we're going to explore even more dog treat recipes with this all time favorite dog treat ingredient.


---


Are you and your dog hungry for more? Let me know what you would like to see on the Dog Treat Kitchen.com.

Want more of a certain type of recipe? Need treat ideas for your next dog party? Let me know what's missing from the dog treat pantry and I'll get to it right away.

Thanks for reading. Until next month,

Happy Dog Treat Baking!

Michelle

www.dogtreatkitchen.com