Fresh & Green
Dog Treats for Spring &
Pet Poison Prevention Month
---
Mean Green Homemade Dog Treats
Spring is a time of renewal, fresh air, and homemade dog treats with greens and vegetables. It's also the perfect time to crank up the oven as there are still a few days of chilly mornings that your family will appreciate some extra warmth.

Let's start with a versatile dog cookie that is full of greens, flavor and fiber. Collard Greens Dog Cookies can be made with collards, mustard greens, kale, spinach or turnip greens. The recipe uses gluten and grain free flour, but if your dog doesn't need those, you can use whole wheat flour.

Here's what Erica in California said:

"My 3 pups loved them so much, each had one and licked the bowl, that I have decided to share the treats with all my friends' dogs and make more tomorrow. This was an easy recipe and so nutritious! Thank you!"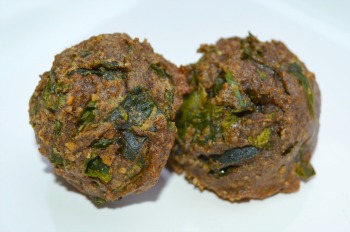 Our second choice for fresh and green dog treats is an easy, cheesy, spinach filled cookie. Spinach is heart healthy and you can use frozen spinach as a quick substitute in this dog treat recipe. You can make these Cheesy Spinach Dog Cookies gluten and grain free by substituting the cup of whole wheat flour for almond flour or your favorite GF flour blend.

Liz in Virginia had this to say:

"I love this recipe and my 2 boxers, Ben and Emmy, love it more! I am making it weekly because they love it so much."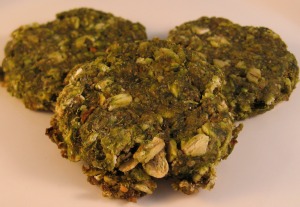 Lastly a lighter dog treat will round out our spring trio of healthy green dog cookies. Low Fat Green Bean Dog Cookies can be cut into shapes, like our gingerbread people, or you can scoop them into balls and flatten into cookie shapes for a quick treat. This recipe makes a big batch of green bean treats, so be sure to share the extras, or make a half batch.

One reviewer shared this:

"I keep these on hand. Just made a batch and even when I'm mixing the ingredients, our dogs "know" I'm baking for them...they LOVE these."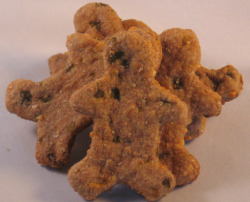 ---
March Dog Events
March 19th - 25th - Pet Poison Prevention Week. Why wait until the moment is upon you, go through your house now and remove or put away everything that your dog could get into.

Use this cute infographic as a starting point. Print it out, keep it on the fridge and get to work clearing your home of dangerous items.

Even better, download the free mobile app from the ASPCA. It will give you quick access to tons of potential harmful substances to avoid, plus their hotline number in case of emergency to quickly talk to a Vet.

March 9th - 12th - Crufts, the largest Dog Show will be held. Check their website for your local viewing options. Then cheer on your favorite breeds from all over the world, from the comfort of your couch. :)

http://www.crufts.org.uk/

March 23rd - National Puppy Day - The website for this special day is worth going to for the adorable pictures and videos of puppies. But, more than that, the site is designed to help us remember that adopting is a wonderful way to give a forever home to puppies and dogs. Check out their 50 ways to celebrate Puppy Day here:

http://www.nationalpuppyday.com/celebrate


---
Dog Treat Recipe eBooks
For the cost of a box of commercial dog treats, you can have my eBook,
15 Easy Dog Treat Recipes with 5 Ingredients or Less! Or, make a day special with a celebration dog cake with my Dog Cake Recipes for Every Occasion. Then you can make endless amounts of healthy, yummy, tested dog treat recipes that are already being enjoyed by countless dogs.

Here is a review for my eBook:

"I love the pictures, not only of the finished product, but the step by step pictures! The list at the beginning of tools you will need will come in handy for those of us who aren't experts in the kitchen. Also, I love that you listed how long it will last in the fridge or freezer! When you say easy recipes, you mean easy!!"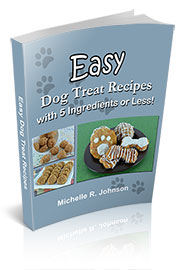 ---
Are you and your dog hungry for more? Let me know what you would like to see on the Dog Treat Kitchen.com.

Want more of a certain type of recipe? Need treat ideas for your next dog party? Let me know what's missing from the dog treat pantry and I'll get to it right away.

Thanks for reading. Until next time,

Happy Dog Treat Baking!

Michelle

www.dogtreatkitchen.com