*New Recipe*
Creamy Peanut Butter & Banana
Frozen Cupcakes
Join the fun on our Facebook page. Get up-to-date information regarding dog treat recalls, new dog treat recipes and my answers to dog treat baking questions.
Click the reply button and let me know what dog treat recipes you'd like to see on Dog Treat Kitchen. It's as easy as hitting reply and letting me know! :)
You can also read this newsletter online.
---
Frozen Creamy Peanut Butter
& Banana Dog Treats
Summer is quickly approaching. Be prepared to cool off your dog with plenty of fresh cool water, and these creamy frozen "cupcakes".

The classic flavor combination of peanut butter and banana come together in a new chilly way in these frozen dog treats.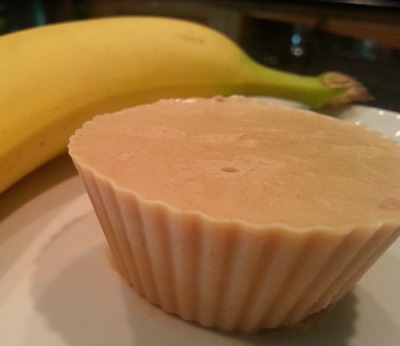 Since many dogs are sensitive to dairy, we've opted for a coconut milk yogurt in the recipe. If you can't find coconut yogurt, you can easily substitute it with another non-dairy yogurt like almond milk yogurt or soy yogurt.

Whichever type of yogurt you use for this dog treat recipe, make sure that it is plain and does not contain any artificial sweeteners like aspartame or xylitol.

The banana acts like a cupcake "crust" at the bottom of each cupcake. However, if your dog isn't fond of bananas, you can use another dog safe fruit. For example, thin slices of strawberry would be adorable in these frozen treats. You could also drop a couple whole blueberries into the treats before they're frozen for another flavor option.

We used silicone baking cups for this recipe, but if you don't have these on hand, you can use a regular ice cube tray instead.

OK, enough with the tips, let's get on to the recipe! :)

Ingredients:
2 medium bananas
1/2 cup creamy peanut butter
1/2 cup water
1 cup plain coconut yogurt
Instructions:
Peel the bananas and slice into thin circles.
Place one banana slice into the bottom of each cup. (Optional - Place two slices of banana into the bottom of each cup, like shown below).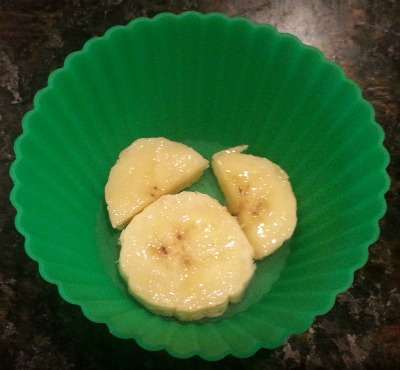 In a glass measuring cup combine the peanut butter and water.
Microwave the peanut butter for 10 - 15 seconds to warm the peanut butter slightly. Once warmed, stir the peanut butter and water together until completely combined.
Stir in the yogurt.
Slowly pour the peanut butter mixture into each prepared cup.
Place the filled cups on a baking sheet, or other flat surface. Freeze for 2 hours or until frozen solid.
Remove the silicone baking cup and serve.
If you aren't going to serve these immediately, you can place the treats in a labeled zip top freezer bag for up to 4 months.
We have even more Frozen Dog Treat Recipes on our site for your dog to enjoy. Or, do you have an idea for a new frozen dog treat recipe? Let me know by hitting the reply button. I'm always on the look out for more healthy and tasty treats to whip up in the dog treat test kitchen. :)


---
June Featured Fan - Lolo
Our Featured Fan for the month of June is Lolo a Saint Pyrenees Mix.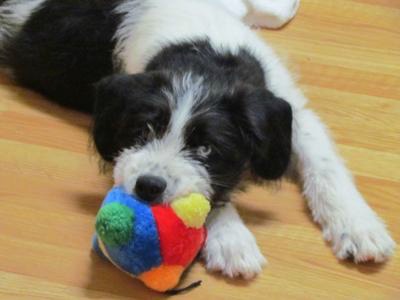 His guardian Cori, has this to say:

My boyfriend spotted him on PetFinder.com and fell in love at once - Lolo is black and white, and looks a lot like our late Newfy mix, Sprinkles, except that he has one blue eye and one brown eye. His shelter name was Fats, for Fats Domino, since he was not only the largest pup in the litter, but also the usual instigator.

Apart from people food, Lolo's favorite treats so far are homemade - I have a recipe for gluten free peanut butter treats I got from my sister, which he loves (as do I), and he especially loves dehydrated sweet potatoes or yams. He will do pretty much anything for either of these treats.

He is funny when he is trying to communicate, as he is very much the talker, which I understand is a Saint Bernard trait. I have had Newfoundlands in the past and it is very much a trait with them as well. His vocalizations can be very intricate and involved, and sometimes he looks at me as if to say "You sure don't speak Dog very well."
Be Our Next Featured Fan!
Shine the spotlight on your special dog by entering him or her into our Featured Fan newsletter feature. This newsletter goes out to thousands of people every month, why not share your adorable pup with us. :)

If you'd like to have your dog be our next Featured Fan, send in a photo, description and information regarding what homemade dog treat your dog loves.

Hit Reply to this newsletter, or use our Contact Us form to enter your dog to be next months Featured Fan.


---
Easy Dog Treat Recipes eBook ~
Frozen Dog Treat Recipe
Did you enjoy the frozen dog treat recipe featured this month? There's one frozen dog treat recipe in the eBook that isn't featured on the website or any newsletter. Curious? Did you know that all of the recipes in the eBook aren't published on the website? Yes, you get 15 easy, original, fully photographed recipes to make.

Read more about what you get in my Easy Dog Treat Recipes eBook, like 15 original recipes and over 90 original step by step photos.

Did you know you can have my eBook, 15 Easy Dog Treat Recipes with 5 Ingredients or Less! on your Kindle device? Easy and simple dog treat recipes are waiting for you.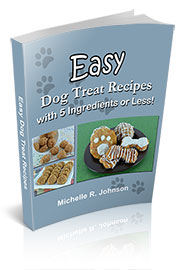 ---
DogTreatKitchen.com Testimonials
We get lots of feedback from our website visitors, just like you. Here's what some of them are saying . . .


"Love your newsletter! Look forward to it each month! I just wanted to let you know my two Whippets love your recipes. I am recommending your website to anyone that asks. I have your website saved to my phone, so if dogs have special needs, I can accommodate them also. Your peanut butter dog biscuit and gingerbread cookie recipes are my dogs favorites."


What are your thoughts? Don't keep them to yourself, Contact Us and let us know what you like, or even dislike, about Dog Treat Kitchen.com. The more you share, the more you help all dog treat bakers, and their dogs.


---
Are you and your dog hungry for more? Let me know what you would like to see on the Dog Treat Kitchen.com.

Want more of a certain type of recipe? Need treat ideas for your next dog party? Let me know what's missing from the dog treat pantry and I'll get to it right away.

Thanks for reading. Until next time,

Happy Dog Treat Baking!

Michelle

www.dogtreatkitchen.com